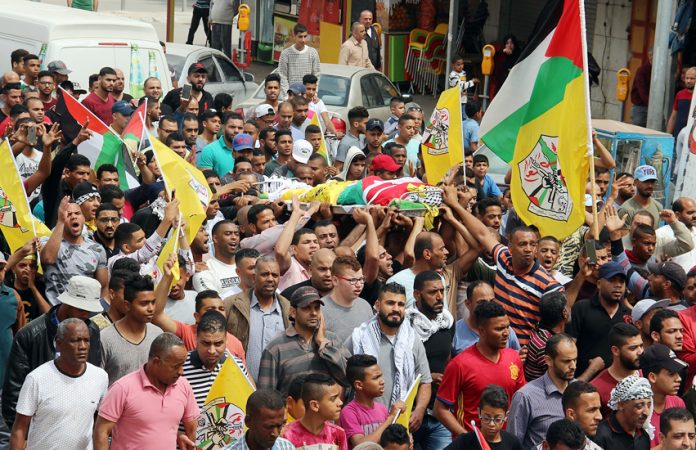 ISRAELI forces opened fire on Friday afternoon at thousands of Palestinians who participated in the Great March of Return along Gaza borders, killing at least eight and injuring over 500 others. A Palestinian farmer was killed and another injured several hours before the Great March of Return began, as an Israeli tank shell struck east of Qarara village in the southern Gaza district of Khan Younis. The slain Palestinian, identified as Omar Samour, 27, had been reportedly gathering crops to sell later.
On Friday afternoon, two more Palestinians were killed by Israeli snipers, 100 of whom are stationed along the Gaza border. One of the fatalities was identified as Amin Mahmoud Mu'ammar, 38, from Rafah in the southern Gaza and the other slain Palestinian was identified as Muhammad Kamal Najjar, 25, from eastern Jabalia refugee camp in the northern strip.
Later on, medical sources confirmed that two others were killed by Israeli snipers. The fatalities were identified as Muhammad Abu Omar, 19, and Ahmad Ibrahim Odeh, 16, from the northern Gaza Strip. Israeli troops intensively fired tear gas canisters and live ammunition at the peaceful march, injuring 356 protestors, including 10 who sustained critical injuries after being hit with live rounds in their upper extremities.
Thousands of Palestinians launched the Great March of Return in the besieged Gaza Strip on Friday morning to protest against Israel's refusal to allow the refugees right of return to their pre-1948 homes. More Palestinians are expected to arrive at tent cities that have been set up in five locations along the Gaza border, including Khan Younis, Rafah and al-Bureij refugee camp, to demand their right of return to their villages and towns they were forcibly displaced from in 1948.
The peaceful protests coincide with the 42nd anniversary of Land Day, which marks the day Israeli forces killed six Palestinians during protests against land confiscation in 1976. Organised by a large network of Palestinian activists, the 46-day mass protests are expected to continue until May 15, which marks the 70th anniversary of the Nakba (catastrophe), in which over 750,000 Palestinians were forcibly displaced from their homes to make way for the creation of Israel in 1948.
Israeli officials have launched a campaign painting the Great March of Return as violent despite organisers' statements that protesters are not seeking confrontation. The Israeli cabinet has decided to beef up military deployments, including over 100 snipers, and use of live fire and shoot-to-kill orders 'if Palestinians breach (or approach)' the border fence.
The Palestinian Red Crescent and Health Ministry have declared a state of emergency in all health centres in anticipation of any casualties during the Great March of Return in Gaza and the West Bank. Medical teams are already deployed along the eastern border of Gaza.
According to the Palestinian Central Bureau of Statistics' 2018 population census, Palestinians living in the besieged Gaza Strip were 1.9 million people, 1.3 of them are refugees.