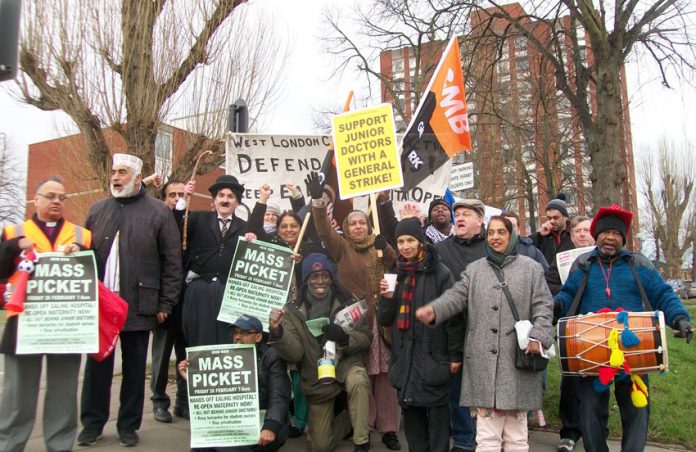 'STRIKE action is the only way forward. How can we drive our buses safely if there is no A&E at Ealing hospital?' bus driver and Unite member Vikas Kumar said yesterday.
He was speaking on the mass picket of over 50 local residents and supporters at Ealing Hospital yesterday morning to stop the closure of the Charlie Chaplin Children's Ward, to stop the closure of Ealing A&E and to re-open the Maternity Department.
Pickets shouted 'Save Ealing Hospital! Victory to junior doctors, call a general strike!'
The slogans rang out to the rhythm of an extremely loud Bangra Dhole drum, while other pickets blew whistles and vuvuzelas.
The mass picket was joined by Charlie Chaplin who entertained the passing motorists with magic tricks. The mass picket was called by the West London Council of Action and takes place on the last Friday of every month.
Every single morning between 7am and 9am there is a daily picket of Ealing Hospital.
Vikas Kumar continued: 'It is disgusting that they want to close the Children's Department, this is terrible.
'It is bad enough that they closed the Maternity Department, now they want to close the A&E and Children's. I am up for strike action and I am going to put it to my union rep at the Greenford bus garage.'
Equity member David Girt, who came to the picket as Charlie Chaplin, said: 'Charlie Chaplin would have wanted the people to be looked after and not hassled. He always played the person most in need because he started his life as a person most in need.
'He would have fought to save the NHS, I am sure. Especially to save a ward that has his name on it.'
Another Unite bus driver, Kuga Kuna, said: 'I have brought my drum to support the picket. I live in Southall and my children were born here in 2006. My neighbours had a baby recently and the doctor referred them to Hillingdon Hospital because they have shut the Maternity Department at Ealing Hospital down.
'It took me three buses, the 195, 427 and then U4 to get to Hillingdon Hospital to visit them, this took me an hour and a half. Re-open the maternity! Unite must take strike action to defend the hospital. I am an active member in the union and this is what I am going to fight for.'
Local resident Stephen Hayes said: 'They need to keep the Charlie Chaplin Children's Ward open. We need to get all the unions together and take action. A force of combined unions, that is the way to get more power and more enforcement to save the hospital.'
Jemima Nelson, a nurse working at Ealing Hospital, said: 'It is dangerous to close the Children's Ward. We have all heard the horror stories on the news of babies dying of meningitis and sepsis.'
Betty Melekela, also a nurse at Ealing Hospital said: 'The Children's Department must stay open. There is no hospital which is nearby. Save our children!'
Sohaib Xec from the Southall Young Socialists came down to join the mass picket before he started his day at college. He said: 'I believe in justice and I believe in fighting for the hospital. It is horrible that they want to close the Children's Department down. It would be an absolute disaster.
'We have to save the hospital. I am for revolution because we need to bring a change in the world and with the Young Socialists movement we can fight for a better world for tomorrow.'
Vijay Kashyap, a Unison member working as an assistant to the radiologist at Ealing Ultrasound Department told News Line: 'I have worked here since Ealing Hospital opened in 1979. I support the daily picket. After they closed the maternity services at Ealing Hospital, Northwick Park Hospital has not been coping well with the extra patients.'