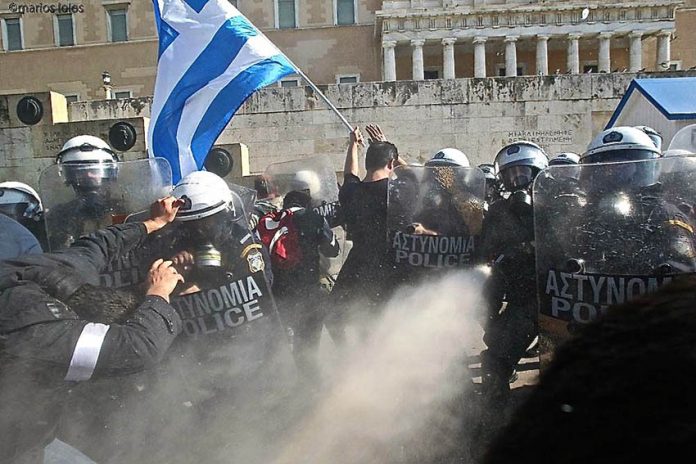 GREECE has recalled its ambassador to Austria amid sharp divisions among EU states over the migrant crisis.
The move came after Austria hosted a meeting with Balkan states on the migrant issue, to which Greece was not invited. Greece called the move an 'unfriendly act'. It said its ambassador was recalled for 'consultations'.
Officials said that Greece would not allow the EU to turn it into one great refugee camp, walled off by razor wire fences from the rest of the EU. Greece warned yesterday that any EU deal on the 'refugee crisis' must incorporate mandatory distributions of the refugees as ministers of the bloc meet to tighten regulations.
'Greece will not agree to deals if a mandatory allocation of burdens and responsibilities among member countries is not secured,' Greek Prime Minister Alexis Tsipras told parliament in Athens.
His comments came as EU interior ministers gathered for a meeting in Brussels to hear plans by Austria and eight Balkan countries to fingerprint all refugees. Greece is grappling with a crisis from Macedonia's decision to block entry to Afghans. Austria and Balkan nations have also agreed measures to restrict numbers, while Hungary plans to hold a referendum on whether to accept mandatory quotas of refugees.
In Brussels, EU interior ministers were discussing plans under which anyone who does not have a passport or holds fake documents would be turned away. Greek migration minister Yannis Mouzalas criticised other countries for taking 'unilateral' actions that affect Greece.
He told reporters: 'A very large number (of participants) here will attempt to discuss how to address a humanitarian crisis in Greece that they themselves intend to create.
'Greece will not accept unilateral actions. Greece can also carry out unilateral actions. Greece will not accept becoming Europe's Lebanon, a warehouse of souls, even if this were to be done with major (EU) funding.'
Mouzalas in particular criticised Balkan countries over excluding Greece for agreeing border measures that would affect his country. 'The exclusion of our country at this meeting is seen as a non-friendly act since it gives the impression that some, in our absence, are expediting decisions which directly concern us,' said Foreign Minister Nikos Kotzias.