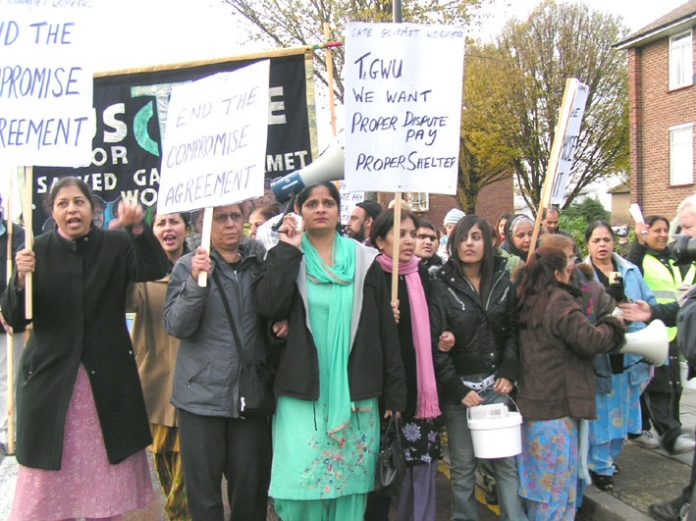 'WE are now about to move to ballot 270,000 members for industrial action, unless the government withdraws its threat of compulsory redundancies.'
This is what PCS civil servants' union general secretary, Mark Serwotka, announced yesterday at his union's pre-TUC Congress press conference.
Serwotka continued: 'DWP members will have a pay ballot result tomorrow (Monday). I'm confident members will reject the offer.
'It represents one per cent for many members and nought per cent for many others.
'On Wednesday there will be a strike by PCS members in the Parliamentary Ombudsman's Office.
'Our members are angry at what they consider is a kick in the teeth from the government.'
He added: 'We believe our motion on public sector pay, for coordinated action across the public sector, will be unanimously carried.'
He said: 'If the government is not prepared to seriously listen to our grievances, we will talk to as many unions as possible to link up with our action over pay.
'From where we stand, it looks like there will be industrial action.'
At his press briefing, UNISON General Secretary Dave Prentis attacked the government's two per cent pay limit 'when inflation is running at 3.8 per cent'.
He said: 'Our members have gone through massive changes.
'At the end of that process, our members are being told they have to have a pay increase of half the inflation rate.'
He added: 'Things have got to such a state young people coming into the public sector can't even afford to get on the housing ladder.'
He warned: 'We are now moving to a ballot of our local government members to take industrial action – strike action.
'Public sevice unions have to come together and coordinate their response to below-inflation pay offers.
'We don't just have a problem this year, but for the next three years and it's escalating.
'Our members expect us to stand up for them.'
He concluded: 'We will be balloting in November with a recommendation to take industrial action.'
RMT leader Bob Crow told his press briefing: 'We will be concentrating on the lobby for the Trade Union Freedom Bill.
'We still don't have the right to go on strike in Britain.
'Take the example of British Airways, who subcontracted its catering work to Gate Gourmet.
'Workers weren't allowed to take solidarity action when the Gate Gourmet workers were sacked.'
He added: 'We believe Metronet is a grand example of the failure of the private sector.
'We were criticised for losing millions in the strike last week, while Metronet lost billions.
'It is a complete disaster. Our strike was successful.
'We raised our concerns with Metronet for five weeks, they only talked to us when we went on strike.'
He said: 'The tube issue has been settled and the jobs has been settled, but there is one issue left: that is, Bombadier has been given the contract for building trains.
'We don't believe our members should be contracted out.'
He said that the RMT would not be withdrawing its motion on the EU Treaty, calling for a referendum and a 'No' vote in that referendum against the Treaty.
He said: 'UNISON will be seconding our resolution.
'The EU is there to privatise public services and do away with the Welfare State.'