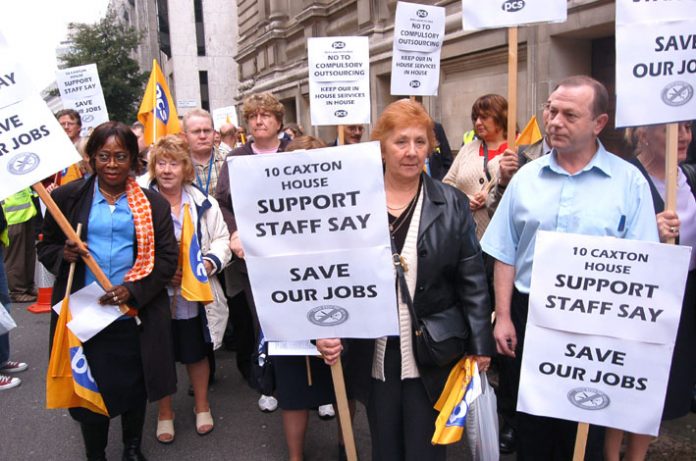 Claimants are going hungry because of the government's axing of thousands of civil service jobs, warned the Public and Commercial Services Union (PCS) yesterday.
Further evidence has emerged of the damage being wrought by government job cuts as part of its so called efficiency agenda, the PCS said.
It added: 'In Scotland it emerged that Stirling Citizen Advice Bureau (CAB) has begun handing out food vouchers because new claimants are going hungry as they wait up to eight weeks to get their benefit paid.'
With nearly 30,000 jobs axed and the closure of over 600 jobcentres and benefits offices across the UK, the union warned that situation could get worse and echoed Stirling CAB's fears that up to 22,000 people in Scotland could be in need of emergency help in terms of food supply.
The PCS stressed: 'Job cuts in the Department for Work and Pensions (DWP) have already led to 21 million calls going unanswered, people having to travel unacceptable distances to get help back into work, as well as waiting longer to access benefits.'
The news comes as 270,000 PCS members are voting in a consultative ballot for national industrial action across the civil service in a campaign against job cuts, below inflation pay, and privatisation.
Elsewhere, following a report by the Chief Scientific officer on the control of Bovine TB, the union warned that the government would be unable to act on his advice in utilising all the options available to contain the disease as it had axed the frontline staff responsible for tackling Bovine TB earlier this year.
The PCS criticised the Department for Environment, Food and Rural Affairs (DEFRA) for appearing to base its policy on the control of Bovine TB on cost cutting rather than science.
Commenting, Mark Serwotka, PCS general secretary, said: 'It is scandalous that people are having to rely on food vouchers because the system is failing them due to arbitrary job cuts and office closures.
'There is a genuine fear that the situation will only get worse as more job cuts follow and more offices close.
'Added to this you have the government unable to act on the latest scientific advice regarding the spread of Bovine TB because it has axed frontline staff who control the spread of the disease.
'Job cuts across a number of areas in the name of efficiency are resulting in failing services and limiting the government's ability to respond to issues and events.
'The government needs to recognise the damaging impact cuts are having by halting further job losses and addressing the union's concerns on services, pay and privatisation.'
The union's campaign has already seen two strongly supported national one day strikes this year.
The ballot closes on 31 October 2007 and the result is expected to be announced shortly after.