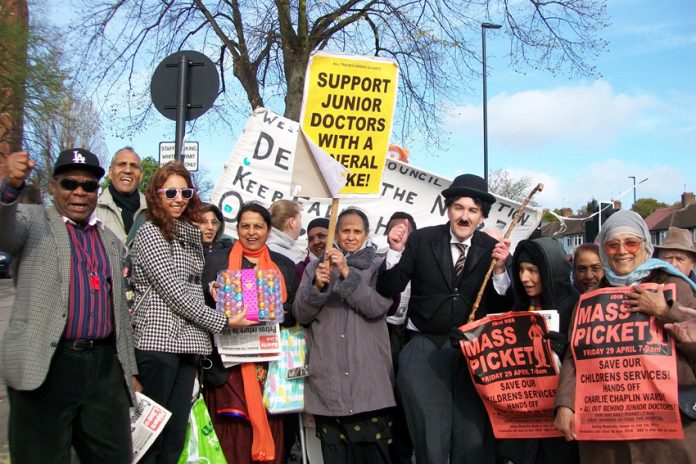 'CHILDREN'S lives are in danger!' Surinder Grewal warned on the mass picket of Ealing Hospital in west London yesterday to stop the closure of the Charlie Chaplin Children's Ward.
She was speaking at the 50-strong West London Council of Action picket which won big support from junior doctors, nurses, patients and staff, who stopped to join the campaign outside the front of Ealing Hospital.
The Council of Action organises a daily picket of the hospital from 7am until 9am every morning and has called a demonstration for Saturday May 21 to save the Children's Ward, earmarked for closure on June 30.
Surinder Grewal continued: 'People are angry, people are shocked, they want the Children's Ward to stay open!'
Equity member David Girt was on the picket as Charlie Chaplin, performing magic tricks to the delight of passing motorists. "Defend Charlie Chaplin Children's Ward! Save Children's Services!' chanted the picket.
Junior doctor, Dr Shergill joined the picket, she presented the picket with a gift of 24 chocolate Easter eggs. She said: 'We have just had our strike earlier in the week, they want junior doctors to work longer hours for less pay, we already work long hours, we can't do that.
'It is awful that they want to close down the children's services at Ealing Hospital. This government want to end the NHS. We are not going to let that happen, we are not going to stop until we win.'
Mark Colwell, a local dispatch worker had just come off a night shift, he said: 'It is not right. Central Middlesex is my local hospital. It is a disgrace that they closed down the A&E at Central Middlesex and closed the A&E at the Hammersmith Hospital as well.
'It is the elderly and children that are more at risk, we need our hospitals open. If they shut the Children's Ward down here at Ealing, parents will have to travel with sick children and the potential for the child to get sicker is quite high. This government is a shambles.'
Regular picket Anselm Adims said: 'The Tory party are not only trying to close down the Children's Ward, they are trying to neutralise Ealing Hospital, so that each and every department will become unproductive. They are already sending patients to Northwick Park Hospital and Hillingdon Hospital.'
Angela Whitear from Acton Young Socialists joined the picket, she said: 'People need to know about what is happening at Ealing Hospital. My mum uses Northwick Park and Central Middlesex and she also has an appointment at the Hammersmith Hospital.
'If they close the A&E at Ealing then Northwick Park will be overrun. Waiting times are already atrocious. We have to do whatever it takes to save our hospitals and defend the NHS.'