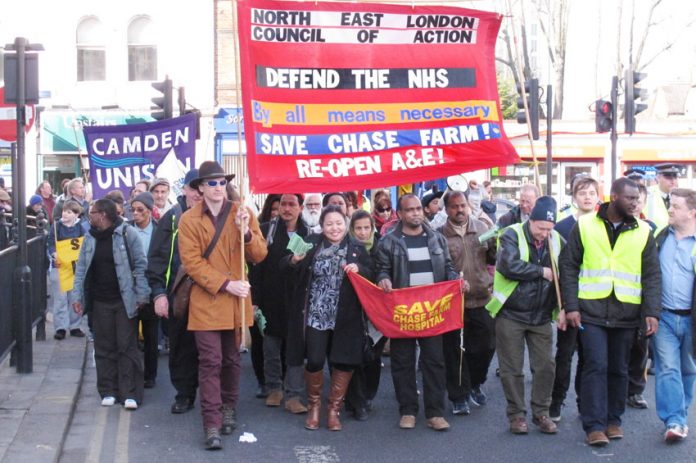 THE Hampstead-based Royal Free Hospital NHS trust, which will take over Chase Farm Hospital in Enfield and Barnet Hospital this July, has confirmed its plans to sell a huge chunk of the Enfield site.
The sell-off is to be dubbed 'redeveloping health services', with the NHS to be situated on a much smaller part of the Chase Farm site.
A Royal Free spokesman said that 'the Royal Free intends to redevelop health services on a smaller part of the land so as to provide clinical services in contemporary and fit-for-purpose accommodation.'
The newly formed super trust covering the Royal Free, Barnet Hospital and Chase Farm plans to balance its budget by selling Chase Farm NHS land off for private housing.
Meanwhile, the Borough of Enfield's health watchdog has called on trust bosses to tell the truth about performance at Barnet and North Middlesex hospitals, saying management claims of coping since the A&E closure at Chase Farm 'do not stack up'.
Speaking after a recent meeting of the Barnet, Enfield and Haringey joint health scrutiny panel, Lorna Reith, chief executive of HealthWatch Enfield, rubbished claims made by Barnet and Chase Farm NHS Trust.
One such claim was made at the health scrutiny panel meeting by the trust's chief operating officer Fiona Smith. Smith had claimed that admissions, particularly of elderly patients, had gone up during the winter, which she tried to suggest was partly responsible for causing big delays at Barnet Hospital's A&E, which had had to declare emergency measures.
But watchdog Reith said: 'They say admissions have gone up, but figures show that emergency admissions are going down. The picture clearly is more complicated.'
A HealthWatch report published on March 18 shows that emergency admissions, when an A&E patient is admitted to a ward, gradually dropped from 486 in the week ending January 26 to 423 in the week ending February 23.
And HealthWatch figures show that cancellations of elective surgery at the Barnet and Chase Farm trust have gone up. During the period between the start of November and the end of February, there were 48 cancellations, compared to only seven last year.
Reith complained it is difficult to get to the truth, saying: 'We can't get the figures broken down by hospital, so we don't get a full picture of what is going on. There seems to be no spare capacity at Chase Farm, so either the modelling is incorrect or they have closed too many beds down. They should be more transparent so we know what we are dealing with.'
Despite the warm winter Barnet Hospital has not coped. Waiting times showed in the week ending February 2, that Barnet Hospital treated 81.9 per cent of A&E patients in the target time of four hours, rising to 86.6 per cent in the week ending February 23. Performance fell well below the expected 95 per cent.
Meanwhile, North Middlesex University Hospital, in Sterling Way, Edmonton, reported six elective surgery cancellations.