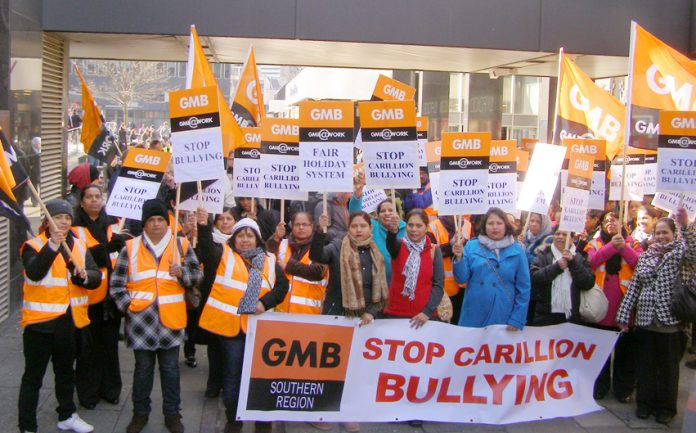 THE BOMBSHELL announcement yesterday morning that Carillion had gone into liquidation had immediate and devastating consequences for the 20,000 workers employed by the private company and the vast array of public services they provided.
The 20,000 Carillion employees were urged by the government to 'go in to work' with no guarantee that they will be paid or indeed receive a pension – the pension pot has a £600m black hole. Despite running up debts of £1.5bn Carillion was handed multiple government contracts, which it juggled on top of its building contracts and other private contracts.
This included schools, hospitals, prisons, motorways, the HS2, the rail network and ministry of defence homes, to mention but a few. In Oxfordshire, firefighters were put on standby yesterday to deliver school meals, following the collapse. Oxfordshire County Council re-nationalised the services with immediate effect including meal provision in 90 schools. The authority said the fire service would deliver meals if needed.
'What we are demanding is that Theresa May assures us that all of these public sector contracts are taken back in-house where they should have been in the first place,' Tim Roache, GMB general secretary, said yesterday. 'Secondly,' he continued, 'there should be an immediate moratorium on any further contracts, any further public sector contracts awarded to any private sector companies.
'Several thousands of our members are affected by the collapse from Scotland right down to the south and including London and across the Shires. It is an extremely bleak day, it is "Blue Monday" and it is certainly a blue Monday for those Carillion workers who are GMB members. There is no guarantee that there is going to be a pay packet at the end of this and that is part of the crucial question.
'These are crucial services, these are crucial jobs, we are talking about prisons, we are talking about schools, we are talking about the NHS. Private sector companies have no role to play in public sector contracts, they never had. The contracts for private sector are all about profit. What we see in public sector, with public sector in-house contracts, is about services, it is about servants.
'Its about public servants, GMB members, school meals women, cleaners, people who keep the hospitals clean, they are the ones who should be properly awarded with a contract of employment, not hived off to the lowest bidder in a race to the bottom, when they can make profits on the back of abusing workers.'
'Most contracts run up and down the UK are still in-house by direct labour organisations employed directly by the local authority and long may that continue. Carillion is the tip of the iceberg. Continued privatisations have mortgaged our future and services that we all rely on, to profiteering companies.'
Mark Serwotka PCS General Secretary said: 'Protecting the jobs and pensions of our members is our first priority. Carillion is yet another example of the failings of privatisation – once again profit has been put before vital public services and workers. We have seen privateers walk away from failing contracts on our railways and the taxpayer having to pick up the mess they leave behind.
'We call on the government to issue a moratorium on all future and planned outsourcing, to bring all Carillion's public sector contracts and workers back "in house" and to urgently consider a public sector model to take on delivery of these services.'
Train union RMT demanded immediate protection and guarantees for workers caught in the Carillion collapse. RMT General Secretary Mick Cash said: 'The blame for this lies squarely with the government who are obsessed with outsourcing key works to these high risk, private enterprises. RMT will be demanding urgent meetings with Network Rail and the train companies today with the objective of protecting our members' jobs and pensions. Chris Grayling and his Tory colleagues must be forced to take responsibility for this crisis which is wholly of their making.'