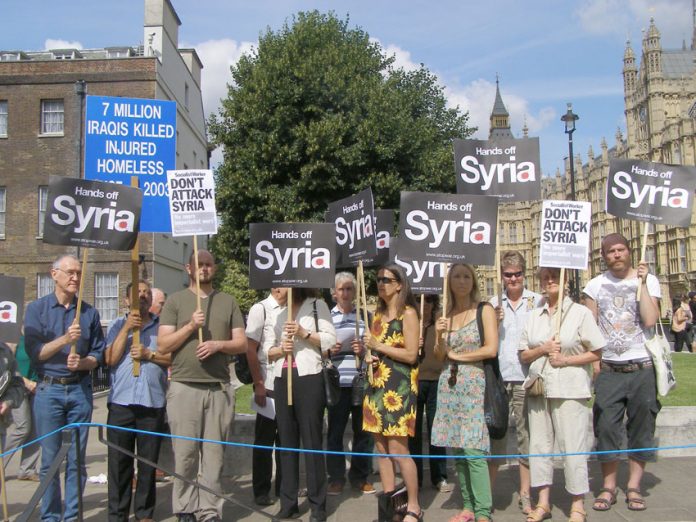 PM Cameron yesterday disclosed that the government's legal advice over an imminent attack on Syria was that it would be legal since it was to defend Syrians against chemical weapons and therefore constituted a humanitarian action.
Cameron went into the House of Commons to move a motion that 'a strong humanitarian response is required from the international community and that this may, if necessary, require military action . . .'
Further, it notes that 'the principle of humanitarian intervention provides a sound legal basis for taking action.'
The Labour amendment stated Labour 'will only support military action involving UK forces if and when the following conditions have been met:
• The production of compelling evidence that the Syrian regime was responsible for the use of these weapons;
• The UN Security Council having considered and voted on this matter in the light of the reports of the weapons inspectors and the evidence submitted;
• There being a clear legal basis in international law for taking collective military action to protect the Syrian people on humanitarian grounds;
• That such action must have regard to the potential consequences in the region, and must therefore be legal, proportionate, time-limited and have precise and achievable objectives designed to deter the future use of prohibited chemical weapons in Syria.
Moving his motion, Cameron told MPs: 'The question is to respond to one of the most abhorrent use of chemical weapons.'
He claimed: 'It's not about taking sides, it's not about invading.
'It's about large scale use of chemical weapons which is a war crime.'
He cited the Attorney General's legal advice and the joint intelligence committee report which both claimed military action would be legal.
Labour's Yvette Cooper asked why the advice wasn't published in full.
Cameron said the Attorney General's advice had not been published at all before.
He claimed: 'This is not like Iraq, we are not invading a country.'
He added: 'In Iraq NATO was divided, the Arab League was opposed to action, now it's calling for it.'
He maintained throughout his speech that 'it's not about regime change, it's not about anything at all but chemical weapons'.
He claimed: 'You can't describe Barack Obama as a president who wants more wars, but a red line has been crossed.
'I told him because of Iraq we would have to take a number of steps before carrying out any action.'
He pledged no action would be taken 'until we've heard from UN weapons inspectors' and 'another vote in parliament.'
He later admitted: 'In the end there is no 100 per cent certainty about who's responsible, you have to make a judgement.'
He repeated: 'In the end we just have to make a judgement.'
Moving the Labour amendment, Miliband said: 'It does not rule out military intervention' but 'we need to be clear what impact this would have.'
He said: 'We must let the UN weapons inspectors do their work', that 'evidence should precede decision, not decision precede evidence'.
He said the UN weapons inspectors are 'not irrelevant' if their view 'will give the world greater confidence in identifying who is responsible'.
But went on to say: 'I don't agree that a veto of Russia and China makes action illegal.'
He claimed 'action can be taken without a UN resolution' but there must be a legal basis and 'there has to be no practical alternative to the use of force' and that any force 'must be proportionate'.
He stressed that there had to be 'compelling evidence' that the regime was responsible for the use of these chemical weapons and rejected Tory claims that his refusal to withdraw the amendment is a blow to national unity.
TAMAROD CALLS TO CLOSE SUEZ CANAL
EGYPT'S Tamarod (rebellion) movement has called on Egyptian authorities to close the Suez Canal to vessels carrying weapons for a potential US strike on Syria.
The Egyptian movement said in a statement on Wednesday that 'it is a national duty to support the Syrian army.'
Tamarod also condemned 'people who betray their country.'
Tamarod spokesperson Hassan Shahin said that Egypt should take a firm stance against any US aggression on Syria.
'We should shut the Suez Canal before destroyers, machinery or oil vessels pass to strike Syria,' he said.
'We'll support the Arab Syrian army. No place for traitors. Arab people should revolt after schemes by the Free Syrian Army and its supporters of the Muslim Brotherhood and extremists to strike the whole Arab world were disclosed,' he added.
• Russia has announced plans for deploying an anti-submarine ship and a missile cruiser to the Mediterranean, amid the escalating Western war rhetoric against Syria.
Britain has deployed six Typhoon jets to its Akrotiri base in Cyprus.