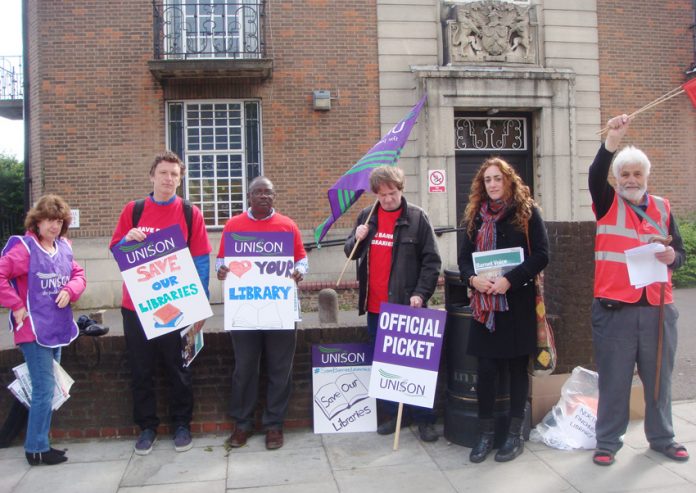 BARNET Unison, members of Unite Community and local supporters were out on strike all over the north London borough yesterday in defence of public libraries and against cuts and the outsourcing of services. They will be out again today from 7am.
Barnet plans to privatise the borough's 14 libraries, first handing them over to a 'mutual' or 'community' group. Some libraries will be closed but most will be reduced in size to just 50 square metres, the size of a living room. The council is offering three options in its public consultation, all of which are draconian, and option two involves six closures.
Librarians offering advice and help will be replaced by self-service machines. News Line spoke to the 15-strong picket at the East Finchley library.
Hugh Jordan, the Unison Convenor for Library Services, said: 'Council workers are on strike to defend public services under attack by Barnet Council, who want to privatise all remaining services. If this happens, services for the people of Barnet will deteriorate, as will the terms and conditions of the remaining workers, as public good is replaced by private gain.'
Jordan added: 'On one of the options, to replace staff by self-service machines, that would immediately bar any under-16s from using the services unsupervised because of health and safety regulations." Barnet social worker and Unison member Kushla Nolan, also out on strike and supporting the library workers, said: 'There is a lot of uncertainty and worry that our work is being outsourced to private companies. Everything is threatened, our working terms and conditions, contracts, bands and pensions.
'I specialise in mental health, and highly qualified and experienced staff are now to be replaced by "mental health practitioners" who are not qualified, but cheap. There is a constant restructuring to save costs. The case loads have increased to such an extent in adult mental health that it is now being proposed that social workers stay overnight with patients in their own homes. Only last week, we had an emergency message from managers that there are no acute beds available in any psychiatric unit in the whole of the country.'