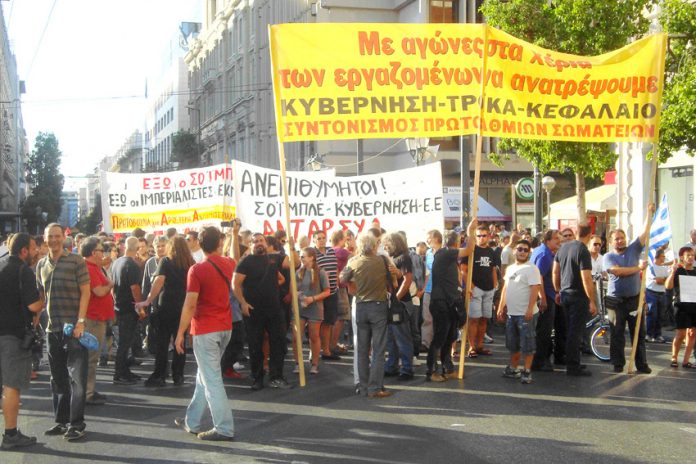 OVER 1,500 workers, militants, trade-unionists and youth marched through the Athens city centre to the Vouli (Greek parliament) on Thursday evening against the visit to Athens of German Finance Minister Schaeuble.
The march expressed the Greek working class' anger and determination and it was a head-on challenge to the diktats of the EC-IMF-ECB troika.
To protect its overlord, the Greek coalition government had imposed a dictatorial ban on all meetings and demonstrations in the centre of Athens, including the area around the Vouli from morning to 8.00pm on Thursday.
But by 7.00pm when the protest march started, the government backed down and lifted the ban, avoiding a clash with the determined demonstrators.
When marchers passed the Vouli building on their way to the European Commission's offices nearby, they found the road completely blocked by three police buses and scores of riot police.
Anti-EC and anti-government chants dominated the march, the most popular being: 'Forward people rise up everywhere – to overthrow the government, the EC and IMF'.
The march was organised by the Coordination of Trades Unions, a left coalition of trades unions, and supported by the Coalition of the Radical Left (SYRIZA) and the anti-capitalist ANTARSYA.
The bureaucrats of the GSEE (Greek TUC) did not even issue a protest statement, while the Stalinist leaders of the Greek Communist Party refused any mobilisation.