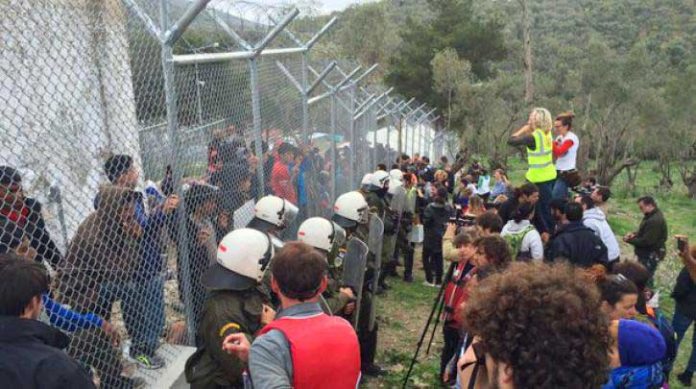 REFUGEES staged protests shouting 'freedom', in English, last Wednesday and Thursday, at the main gate of the Moria village 'Detention Centre,' that is, concentration camp, on the island of Lesbos. Greek riot police prevented them from leaving the camp.
Outside of the Moria camp's main gate villagers and aid volunteers staged solidarity rallies. It is estimated that over 1,500 refugees have been put in the Moria concentration camp to be expelled en masse in accordance with the EU-Turkey agreement.
Both the United Nations' Refugee Council (UNHCR) and the Doctors Without Frontiers have ceased collaborating with the Greek authorities on the 'detention centres' as well as on the vast refugee settlement at Idomeni on the Greek/Macedonian border.
The head of the Greek section of the Doctors without Frontiers, Marietta Provopoulou, stated on Thursday that 'we are refusing to be related to a cynical mechanism which puts the right to asylum in danger'. She said that they will still help refugees independently.  
The Greek Public Order Minister, Nikos Toskas, has confirmed that the Greek government is planning to remove all 13,000 refugees from Idomeni to 'camps'. He said that both the army and the police will be employed in the removal of refugees but 'peacefully'.
The Greek Minister for Migration Policy Yiannis Mouzalas, a physician, stated that 'I cannot rule out the possibility that children may die at Idomeni! What I can guarantee is that we are raising our efforts so that won't happen,' Mouzalas said.