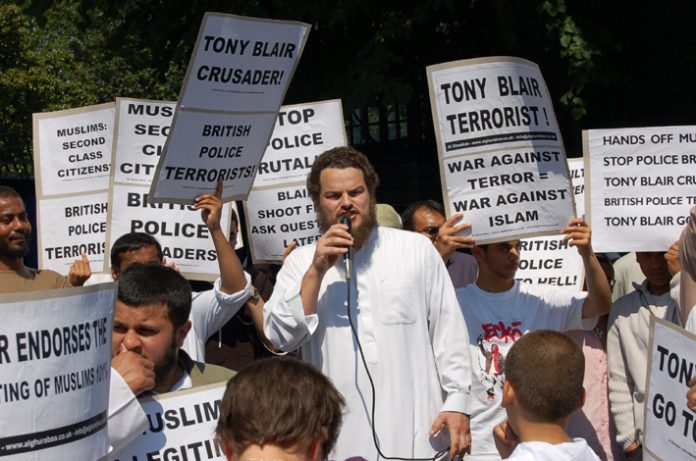 Hundreds of youth and workers demonstrated outside Forest Gate police station denouncing the capitalist state and declaring that 'Tony Blair is the terrorist!'
They were corralled and penned in a side road opposite by police who also made a defensive line around the police station, one hundred yards away across the main road.
Demonstrators carried placards denouncing the terror operation against a local working class family, the police shooting of a young postman and injury to his mother.
Workers and youth called for an apology for the shooting and detention without charge of postman Abdul Kahar, as well as the detention of his younger brother Abul Kohair, a Tesco worker.
Leaders of the rally shouted 'we are demonstrating against the shooting of a Muslim.
'Police say if you're Muslim, you're a terrorist.
'We are not the guilty ones. Tony Blair is the guilty one. He sent his army into Iraq.
'They tell us we should be silent, be respectful but it is the police who are doing the crime.
'The police are the criminals. Police policy is shoot-to-kill.'
Zufi Bukari of the Muslim Public Affairs Committee told News Line: 'The police have to get the investigation over but then they should apologise unequivocally.
'We know the guys are innocent. The raid was disgraceful, it was terror hysteria.'
Local resident Anup Patel said: 'What the police are doing is bad for Asian culture.
'The police have acted very badly. To them it's a joke but we feel very upset.
'You don't expect this kind of thing when you are living local.
'They've gone into a house, there's nothing found. Two brothers are still inside Paddington Green police station for questioning.
'They are innocent working class people.
'The police should let them out and apologise in full and do it immediately they let them out.
'They must be allowed to get on with their lives and their jobs.'
Local youth Ashadur Rahman, 16, and his mates added: 'It's a disgrace what has happened.
'The police had no right to raid that house at four in the morning.
'They were out of order. 'They arrested innocent young Muslims, young workers.
'The police must apologise and in public for their wrongdoing.
'They should admit they made a big mistake and it should never happen again.'
Student Ahmed Waqas said: 'The raid was racist. I don't believe there was a chemical bomb.
'They should apologise because they shot a young man without warning.'