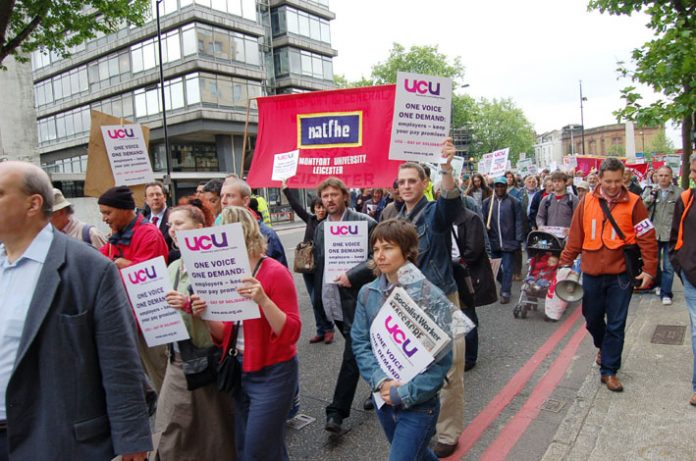 Cardiff University and College Union (UCU) lecturers branch has called on national union leaders to resign over calling off industrial action before consulting members over the latest national pay offer.
On Tuesday, at talks with employers brokered by TUC general secretary Brendan Barber, UCU leaders suspended an exams boycott after agreeing to put a 13.1 per cent rise over three years to the membership, with a recommendation to accept.
But many UCU members are angry at what they consider a sell-out by leaders of the just-merged AUT and NATFHE.
Cardiff UCU president Mark Aston said yesterday: 'The national leadership has breached the commitment they made to consult with members before suspending industrial action.
'The leaders' unilateral decision to suspend the action has left lecturers with little to show after months of pain suffered by students and lecturers alike.'
He added: 'I would expect that local associations up and down the country are likely to echo our sentiments and call for heads to roll.'
Todd Bailey, who spoke at a Cardiff branch meeting on Wednesday, said: 'When you consider that public sector wages have increased by over 15 per cent in the last three years, you have to ask by what stretch of the imagination does a pay rise of 13 per cent over the next three years constitute a pay rise?'
Cardiff UCU executive member Terence Iles said he had never known such strength of feeling over 'not just the deal but the way that all of a sudden the union folded.
'Colleagues are unanimous in saying this is ridiculous. I haven't heard anybody say it's a good deal.'
Elsewhere, Sheffield UCU member, Mike Stannett said: 'The pay deal accepted by Sally Hunt, (UCU joint general secretary) is an insult to all we have been fighting for over the past months, and she is clearly unfit to head our union.
'I therefore call on my colleagues throughout the union to bring a motion of no confidence against her at the earliest possible opportunity.'