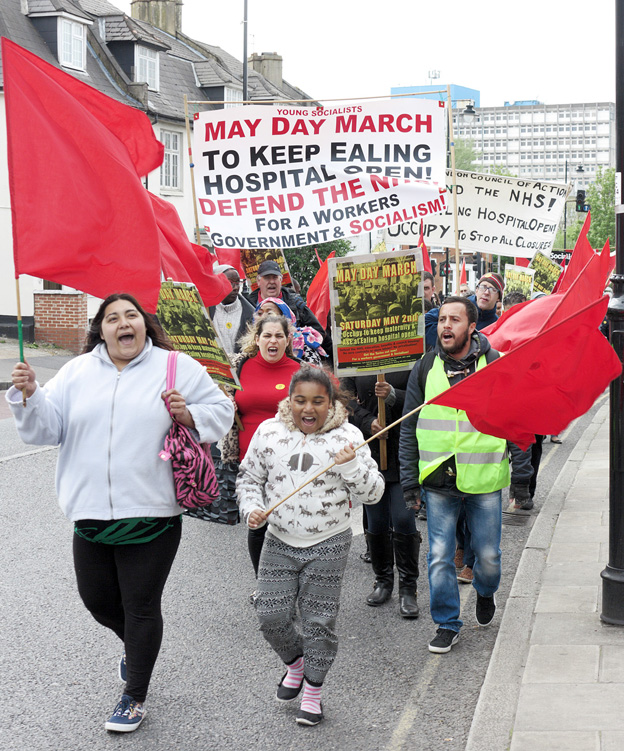 DOCTORS, midwives and local residents yesterday spoke out against the closure of Ealing Hospital maternity unit, planned for the 1st of July.
Ian McKenzie, doctor of anaesthetics, a Unison and BMA member, told News Line: 'It is going to be so inconvenient and unsafe for the local residents, especially if the baby is half way out and they have got to travel probably through terrible traffic.
'I deal with these mothers on a daily basis and I know they are going to be put at unnecessary risk.
'The trade unions should call action to defend our maternity. Action is needed, they won't listen otherwise. I would support action.'
Student midwives spoke out. One said: 'Closure would be terrible because it will affect the community in such a bad way. There is no justification. This is a marvellous unit in the middle of Southall. It is just the Conservatives who are to blame.' Another said: 'It is really sad for everyone, not just the workers, but the women and their families.'
Effie, a student doctor, said: 'In terms of all the health services in this part of London the amount of capacity for the population is already hardly adequate. This closure will be terrible there is always an increased demand on services'
18-year-old Tina Bulkowska said: 'It needs to be here for the mothers and babies, I do child care and Ealing maternity needs to be here to protect the mothers and their children. I would support an occupation to stop the closure.'