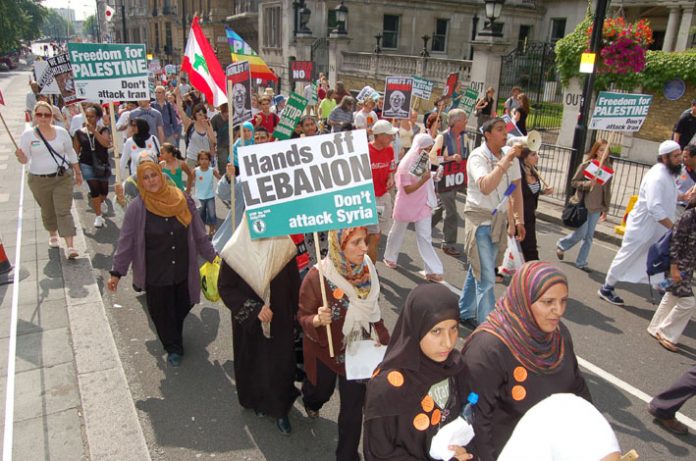 Lebanon's prime minister Fuad Siniora yesterday condemned the latest 'deliberate massacre' of over fifty innocent civilians in south Lebanon.
As the UN argued over an Israeli-biased cease-fire resolution, Israeli warplanes slaughtered whole families when they destroyed several houses in the border village of Houla.
Many more villagers are feared dead as rescuers are still digging men, women and children from under the rubble.
Lebanese security officials said F-16 jets first destroyed a house where 17 people were hiding in the Hamameer district of the village. Up to six other air strikes a short time later hit four nearby houses where about 40 other people were staying.
The UN Interim Force in Lebanon (UNIFIL) confirmed that there were heavy exchanges of fire all day along the border area.
'There has been no change in terms of territory. But there has been an intensification of exchanges of fire on the ground in  different areas all along the border,' Milos Strugar, the UNIFIL spokesman, said.
The Israeli Army admitted to one Israeli soldier killed and four other soldiers wounded in continuing fighting in Bint Jubayl.
Elsewhere, around 30 Israeli commandos were driven off by Hezbollah after landing by helicopter on a hill overlooking Ras al-Biyada, south of Tyre, and raiding an apartment.
At least five Lebanese people, including a soldier at a nearby checkpoint, were killed in the raid. The Israeli Army reported eight soldiers wounded, two seriously.
An Israeli air strike on a house in the border village of Ghazzaniyeh killed seven members of one family. Four other civilians were killed and 13 people were wounded in a similar strike in Kfar Tibneet village.
Two more died in a strike in the nearby Harouf village and fourteen civilians were killed in Ghaziye, close to Sidon.
The port city of Tyre has been completely cut off from the rest of the country by Israeli bombardments on bridges and roads, including a temporary bridge replacing two bridges that had been destroyed in earlier raids.
And Israel bombarded eastern roads linking the country to Syria as well as the Hezbollah stronghold of southern Beirut.
l In Iraq, three US soldiers were killed southwest of Baghdad on Sunday and in a separate incident six puppet Iraqi soldiers were killed yesterday near Baquba, the US military confirmed.
Early yesterday, puppet Iraqi and US forces fought a two-hour gunbattle with Mahdi Army militiamen after launching an overnight raid on Sadr City, eastern Baghdad.
The head of militant cleric Moqtada al-Sadr's office in Sadr City, Abdulzahra Al-Suwaidi, said the raid had targeted Mahdi Army supporters to punish them for holding an anti-American and anti-Israeli street rally last Friday.
Al-Suwaidi said: 'Because of the demonstration the occupation forces raided and carried out air strikes, killing and wounding people and burning several houses.'