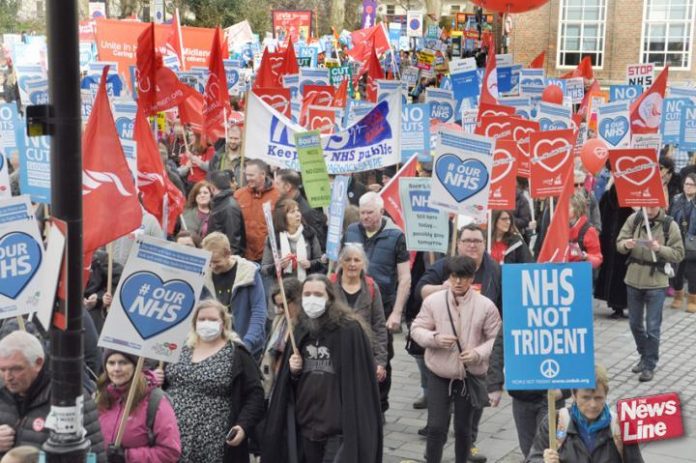 IT WAS announced on Tuesday night that all operations during the month of January are cancelled, leaving over 50,000 patients in pain and misery.
Also on Tuesday, an A&E doctor issued an apology for the NHS having reached 'third world conditions', with patients spending hours lying on trolleys in corridors. The outcry in response led Tory Health Secretary Hunt and PM May to make unscheduled appearances on TV yesterday, where they sought to blame the crisis on the season of year.
But this cut no ice with furious health workers and members of the public, who denounced the Tory leaders for their NHS cuts, closures and privatisation programme. On Tuesday night NHS medical director Sir Bruce Keogh issued the unprecedented instruction to all NHS Trusts to cancel all January operations.
Keogh said: 'The NHS needs to take further action to increase capacity and minimise disruptive last minute cancellations. That is why we are making these further recommendations today.' Dr Richard Fawcett, a consultant in emergency medicine at the Royal Stoke hospital, tweeted on Tuesday: 'As an A&E consultant at University Hospitals of North Midlands NHS Trust I personally apologise to the people of Stoke for the 3rd world conditions of the dept due to #overcrowding.'
Numerous NHS trusts have issued 'black alerts' it emerged yesterday, while others claim they are being gagged from reporting their situation. Twelve NHS trusts have declared that they have reached the maximum state of emergency, while another ten trusts say they are at the highest level of pressure – known as a 'black alert'.
Other trusts warned that NHS England no longer allows them to divulge such information, which used to be published in previous winters, including weekly updates of data showing how A&E units are performing against the four-hour target.
However, the Royal College of Emergency Medicine (RCEM) says before Xmas less than 81 per cent of patients were seen within four hours – against a target of 95 per cent – the worst ever. The RCEM audit of more than 50 hospitals also revealed thousands of operations cancelled during Christmas week, with 70 per cent more cancellations this year compared with last.
Prof Suzanne Mason, from the RCEM, described the situation as a 'huge tragedy' and warned: 'Patient safety is being compromised – there's no doubt about that. When patients are in crowded emergency departments and staff cannot actually move between patients and provide the basic level of care that's required, then safety is compromised.
'Patients who spend many hours on a trolley – and these are often elderly patients – they are the sickest patients in our department. They are much more likely to have a poorer outcome and even die as a result of their experience in the emergency department. And that is a huge tragedy for us in our specialty and that's why we are so desperate to see things improve.'
Dr Anthea Mowat, BMA chair, said: 'We have to look again at NHS funding, which remains well below what other comparable European countries spend on healthcare, to ensure the NHS has the staff and the capacity needed to deal with the pressures it faces year in, year out, but which are compounded during the winter months.'