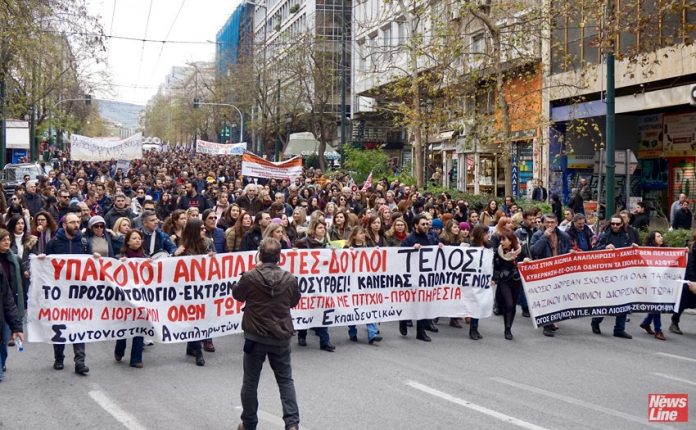 OVER 5,000 striking state schools teachers marched through the Athens city centre last Friday and attempted to storm into the Vouli building (Greek parliament) and then into the Prime Minister's Office.
They were demanding the government withdraw an Education Bill that condemns short-contract teachers with years of service to sackings and unemployment. Just before Friday's strike and march, called jointly by the DOE (Primary Teachers) and OLME (Secondary Teachers) trade unions, short-contract teachers occupied the central administration building of Athens University declaring it 'the centre of the struggle'.
They issued calls for an indefinite strike from Monday along with occupations of all Athens and regional Education Offices. They also called on students and workers to actively support them.
As the march reached the Vouli building (Greek parliament) rage and anger took over. Young men and women teachers attempted to enter the Vouli through staircases chanting 'Withdraw the Bill' and calling for indefinite strike. They were met by the armed riot police who used tear gas spray-guns, truncheons and shields against them.
Teachers then marched to the Prime Minister Office's mansion but the street was blocked by large police buses with scores of riot police behind them. The march's PA system called on the police to drive away the buses so that teachers' trade union representatives could walk through and call on the Prime Minister Alexis Tsipras.
The police buses remained put. Then the march's PA system gave the police forces a minute's deadline. When the sixty seconds expired, dozens of demonstrators started pushing the police buses. The buses were nearly overturned when the riot police fired missiles of tear gas and noise-lightning grenades over and under the buses.