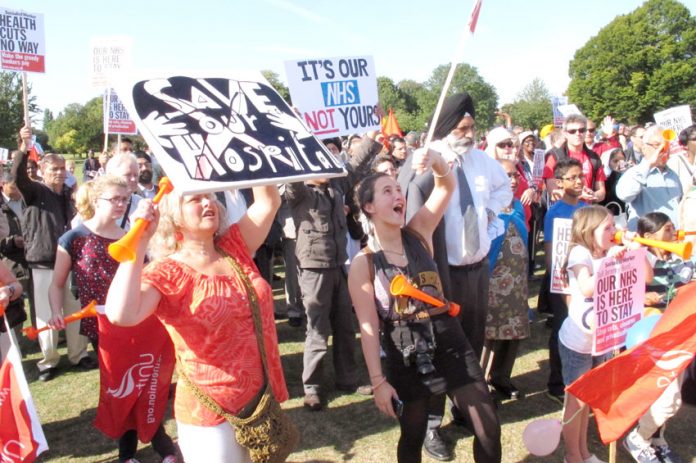 OVER 30,000 workers, trade unionists and local residents marched through Stafford on Saturday against Coalition plans to 'downgrade' Stafford District General Hospital and close its essential services.
They marched against plans by 'Monitor', the hospital closure and NHS privatisation body created under the Health and Social Care Act which came into force on April 1st, to order the closure of acute services at the hospital, including the A&E department.
Monitor put Mid Stafford shire NHS Trust into administration last Monday and ordered the administrators, Ernst and Young, to produce a cuts-and-closure plan within 145 days.
Over 30,000 people joined the mile-long march, from the town centre to the hospital.
Thousands of people had previously signed a petition calling for Stafford Hospital's services to remain and a campaign shop has been set up in the town centre.
Sue Hawkins, chair of the Support Stafford Hospital group, said: 'Today, 30,000 people turned out with their banners and placards to send out the message that they believe their hospital is now safe, and they are prepared to fight for its future.
'The special administrators were not there today but they will find it hard to ignore the views of so many people.'
She added: 'We've got a safe hospital today and we're looking to the future.
'We need to have an intensive care unit here, we need to have an accident and emergency 24 hours a day and we believe that's possible.'
The town of Stafford has a population of about 63,000 people, while its surrounding borough is made up of 122,000 people.
Putting the Mid Staffordshire trust into administration is entering 'uncharted territory', which could open the door to further NHS privatisation, Unite warned.
Unite head of health Rachael Maskell said: 'The trust has gone into administration, and its future is at risk. The fear is that it will be broken up and sold off to private healthcare companies, such as Virgin Care.
'We believe this would be very detrimental to patient care, and staff conditions and morale, as well as for the people of Staffordshire generally.
'We are entering into uncharted territory with the administration process. Other trusts in the country are in difficult financial circumstances, so the threat of NHS privatisation is greater than the situation that Mid Staffs finds itself in.
'The public in England need to wake up to this very real threat.'