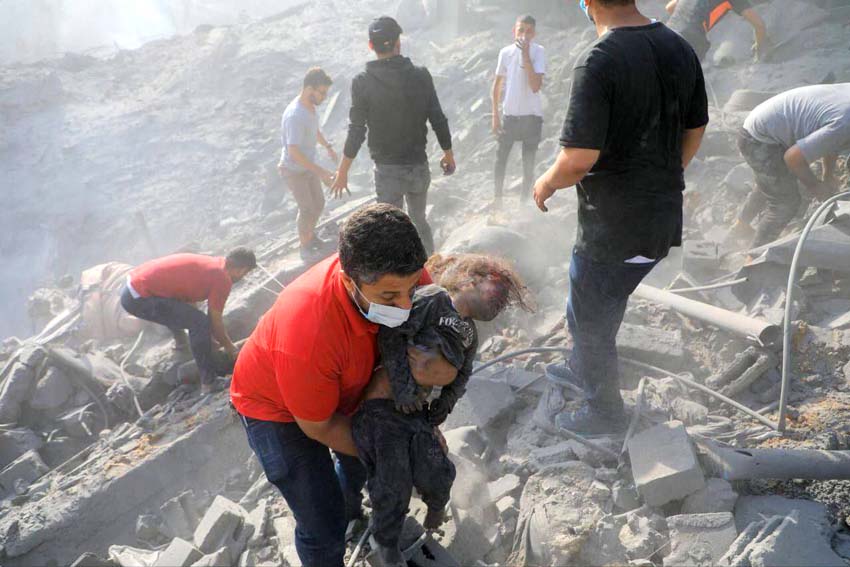 ISRAELI warplanes bombed the Al Jabaliya refugee camp again yesterday morning, killing scores of children, burying them in their homes.
Extending just one square kilometre, Jabaliya is home to 120,000 Palestinians, making it one of the most densely populated areas in the world.
Entire residential blocks were smashed into the ground, reduced to dust, burying hundreds of families beneath the debris.
Survivors used their bare hands trying to move the rubble to reach their relatives.
But during their desperate searches they could find only body parts, sometimes hundreds of metres away from where they had been hit.
The Israeli warplanes had dropped leaflets warning residents to leave the camp, but most were in no position to leave even if they had wanted to, while Israeli warplanes target any vehicles travelling on Gaza's roads.
Israeli warplanes dropped phosphorous and flare bombs, causing maximum fire and also targeting any moving object.
On many occasions the area bombed by flare bombs are then bombed by heavy metal or shelled from warships in the sea.
Hamas leader Ismail Haniyeh blamed the war on Benjamin Netanyahu yesterday, saying the Israeli prime minister has surrounded himself with a right-wing coalition 'to turn the world's eyes from his guilt'.
His comments were in reference to the various legal woes facing by Netanyahu.
In a live address, Haniyeh also said Israel is in a quagmire in Gaza.
He added that the captives taken by Hamas are being subject to the same Israeli bombardment as Palestinians, 'the last of whom were in the Jabaliya massacre'.
Haniyeh also addressed the US, saying it should stop support for 'this fascist government and to stop obstructing international efforts' to achieve a humanitarian ceasefire.
'You are choosing the wrong side of history,' he said. 'The region will not be safe or stable as long as our people don't get their freedom and independence and return,' he continued.
In battles with Palestinian forces in Gaza yesterday, 15 Israeli soldiers were killed.
The UN's humanitarian office in the West Bank said yesterday that Israeli settlers are carrying out expulsions of Palestinians.
At least 98 households comprising 828 people, including 313 children, in 15 herding communities across the West Bank, have been displaced amid settler violence or increased movement restrictions since October 7, OCHA said.
At the same time, Israeli settler violence has increased significantly – from an already high average of three incidents per day thus far in 2023 to a current average of seven per day.
Overall, nearly 2,000 Palestinians have been displaced amid settler violence since 2022, the agency said.
There was a total general strike carried out by Palestinians throughout the West Bank yesterday
Act quickly to prevent the total collapse of healthcare for 2.3 million residents of Gaza!
THE head of Gaza's Health Ministry called on 'all friendly countries and honest free men worldwide to act quickly' to prevent the total collapse of healthcare for the 2.3 million residents of Gaza.
Speaking outside Al Shifa Hospital in Gaza City, Dr Ashraf Al Qudra said: 'The Israeli warplanes hit Jabaliya Refugee Camp. As a result the total number of massacres committed by the Israeli forces since October 7th comes to 950 massacres against Palestinian families.
'As a result the total number of deaths since then came to 8,796, including 3,648 children, 2,290 women and 22,219 Palestinians suffered various injuries.
'The Ministry of Health continues to receive reports of missing persons and missing children who are still buried under the debris.
'The total number of reports has reached 2,030, including 1,120 missing children who are still buried under the debris. 120 paramedic and medical crew members have been killed, 25 ambulance vehicles were totally destroyed.
'The indiscriminate and intentional targeting of medical centres. 98 Medical centres were targeted, 15 are now out of operation, the last of which, the Turkish hospital which came out of operation due to the absence of fuel.
'I warn that after repeatedly targeting the Turkish hospital, namely the 3rd floor, grave destruction and damage was suffered. However, the paramedics and doctors and medical teams stood their ground and continued to cater for the cancer patients.
'The Turkish hospital is the only hospital in Gaza treating cancer patients. However, we have reached the end. We have been repeatedly warning that the hospital ran out of fuel. We have reached a dead end. The hospital is now out of operation. The power generators have come to a halt. The only patient treatment facility is out of service. The Turkish Hospital, the only hospital treating cancer patients is now out of operation.
'This is a death sentence against all cancer patients. There is no other medical facility in Gaza that can cater for the cancer patients.
'This was the only hospital catering for the cancer patients and delivering chemotherapy to them. The Turkish hospital is now out of operation.
'We are concerned that Al Shifa and the Indonesian hospital are about to come out of service too, in a few hours, if not in a few minutes. The only two remaining hospitals will come to a grinding halt.
'We call on the president of Turkey, President Erdogan, and the Turkish people, to act quickly, to provide fuel to the Turkish hospital in order to save cancer patients lives in Gaza Strip.
'We also call on friendly countries, on honest free men worldwide, international health and humanitarian organisations to act quickly to provide fuel to the Indonesian Hospital and the Al Shifa Hospital before the end of this daytime.
'In a few hours, if not minutes, these two hospitals will come to a total stop. This will have dire, if not catastrophic repercussions.
'We call on all countries and organisations to act swiftly to all the delivery of fuel and other medical supplies to Gaza Strip as we are now out of resources, we are helpless, we cannot save lives.
'At the same time we commend the move taken by the Egyptians to allow a number of patients and injured to receive medical treatment in Egyptian hospitals. However, we reiterate that we should do more in order to allow all the cases of significant injuries, those who cannot be treated in Gaza Strip to move out for medical treatment.
'Also we call for the delivery of fuel and medical supplies through Rafah and also any medical teams, local organisations and all citizens and individuals within Gaza to provide whatever fuel in their possession. Even a single litre of fuel will make a difference. In a few hours time we will run out of fuel.
'We call on all Palestinian citizens to approach their nearest medical centres in order to donate blood helping save lives as we continue to receive huge numbers of victims. We call on the International Red Cross to act, to provide maximum amount of blood and deliver it immediately to Gaza Strip swiftly and urgently.
'May God accept in his mercy the fallen martyrs, grant speedy recovery and may God save our people under this ferocious relentless belligerence by the Israelis.'