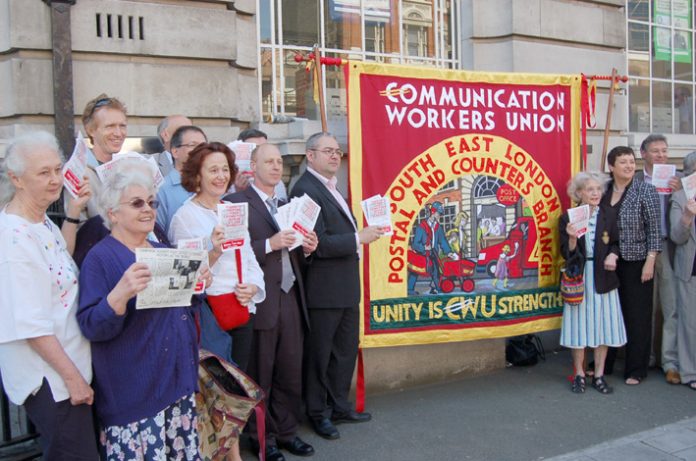 The Communication Workers' Union (CWU) yesterday said that job cuts in BT 'must not be met through compulsion' and pledged it will 'oppose any compulsory redundancies by whatever means necessary'.
The union was responding to an announcement by telecoms giant BT that it expects to have cut 10,000 jobs by the end of March 2009.
News of the cuts sent BT shares up 12% in early trade.
The job cuts will mainly affect agency and contract staff, including offshore workers, BT said, adding that it had already cut 4,000 jobs, with a further 6,000 to go by March from its global workforce of 160,000.
Many of the job losses will be in the UK.
BT chief executive Ian Livingston said: 'This is a reflection of the fact we have to become leaner.'
He added that he did not expect to make compulsory redundancies.
CWU deputy general secretary Andy Kerr said: 'Ten thousand jobs is a huge number and it will be difficult for BT to shed that amount in one year.
'We'll be holding BT to their statement, made by Ian Livingston this morning, that there will be no compulsion to meet these cuts.
'The CWU will oppose any compulsory redundancies by whatever means necessary.
'We have a meeting set up with BT to discuss the detail of how these reductions will be implemented.
'We'll be emphasising voluntary redundancies and natural wastage, but this is clearly far from an ideal situation for BT employees.'
Separately, CWU general secretary Billy Hayes welcomed Work and Pensions Secretary Purnell's confirmation yesterday that the Post Office is to retain the contract for the Post Office Card Account (POCA), as 'a victory for common sense'.
The CWU leader said: 'We're pleased that, following months of extensive campaigning and lobbying by our union and all those who care about the Post Office right across the UK, the government has listened and made the right decision.
'We hope that today's decision, following reports earlier this week that Business Secretary Peter Mandelson believes that the Post Office can "rebuild itself into a widely accessible, trusted provider of a broader range of financial services", represents a further indication that the government is now willing to adopt a more positive approach towards the future of this vital public service.'
As well as campaigning for the retention of the POCA contract, the CWU has also been urging the government to use the full potential of the Post Office to create a new Post Office People's Bank.
Hayes added: 'As well as defending jobs, this can help to meet the growing demand for secure banking and fight for the recovery of Britain's real economy.
'It's time for the Post Office People's Bank, which can become the next great British success story.'