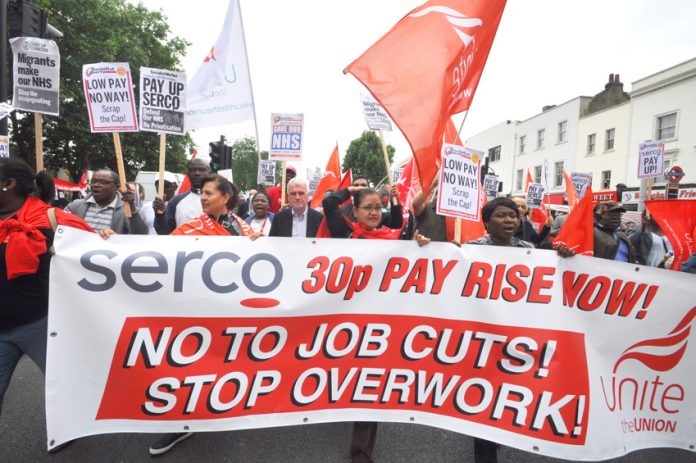 OVER 500 SERCO strikers and their supporters marched through East London on Saturday demanding 30p an hour wage increase.
What do we want? A pay rise! When do we want it? Now!' rang out across the busy Whitechapel market. They have been on a week-long strike since last Monday demanding a 3% pay increase and an end to the ever increasing workload.
London Hospital shop steward Mama Edna said: 'We are not treated well. We are getting the work of two people done by one. Striking is the only way we can get heard. We feel they will listen if they want to continue with the contract. If they don't we will continue striking until we win our pay rise.'
Catering worker, Abi, at the London hospital said: 'The work is too much.' She added: 'We work from seven in the morning until three in the afternoon under a lot of pressure. I am taking medication because of the pains in my legs due to standing up for so long. Before, when we worked for the NHS, there was nothing like the pressure. There is just no one to contact. They've just dumped us.'
Another catering worker, Rosemary, said: 'Serco are using us to do more jobs, and if we have problems, or make mistakes, there is never anyone to answer the phone, they have just dumped us.'
Jack, a porter at the London Hospital told News Line: 'Since Serco took over the contract everything has been nasty. They make people work like slaves.' Tony Williams a porter at Whipps Cross Hospital for forty years said: 'We have had three battles since 2003. Let's go forward and win this battle.'
London Hospital porter, Eric, said: 'Serco are collecting a lot of money from the NHS they should pay us the 30p we are demanding.' Hospital worker, Rujen Bachu, told News Line: 'I have worked at the London since 2010 when Carillion had the contract. We worked then with NHS terms and conditions but now with Serco it's all changed. They want to get rid of us but we will fight for as long as it takes to win our pay rise.'
London Hospital worker Adam said: 'I work in an isolation area which is very important to be cleaned properly. Now we are on strike, agency workers who have no experience are doing our jobs. I have worked at the hospital for five years and get training every three months. How can an agency worker on one day's training do the job properly.
'If an infection comes into the hospital all wards could be closed and patients who come in with minor illnesses are in danger of getting seriously ill. The wards are not cleaned properly it's just sweep and go.'
Mabel Gawanasas made a colourful placard to show her support for the strikers and told News Line I have spent three years detained in Serco-run Yarl's Wood and have only been out since May. They make the profit out of us and other vulnerable people. We shall not be ignored and will never surrender. No one should be detained there, Yarl's Wood should be shut down.'
At a rally at the London Hospital before the march Unite official, Mark Sandell, said: 'Serco have hired agency workers on zero hours contracts and brought in people down from Scotland and put them in hotels. They are desperate because we have had such a solid strike.'
Labour Shadow Chancellor, John McDonnell, addressing the rally said: 'I give my 100% support.
'Also fighting over low pay are Ritzy Cinema workers and BA cabin crew who are also on strike today. It was discovered yesterday that BA cabin crew who are no longer union members have been offered an improved pay deal.
'Here the company is making multi-million pound profits every year and lining their pockets at your expense by putting patients and the service at risk. You are sending a message out to other workers across the country that you are not taking it any more. With average rents in London at £1,500 no wonder there is a homelessness crisis with 8,000 sleeping on our streets. You have the right to have a decent living. It is a basic right and we will support you until you win.'
Bart's Unite branch secretary, Len Hockey, told the rally: 'The first privatisation in 2003 brought in a two-tier workforce. We took strike action then, and again in 2006. This though, is a historic strike. The austerity agenda has suffered a defeat with May on the ropes.
'We have had reports of agency porters wandering lost, of bags of rubbish left about, and phones being unanswered. We want our 30p rise and decent living and standards. On Monday, we will be back on the picket line. We are disciplined, we are united, and we will win.'
Gail Cartmail, Assistant General Secretary of Unite said: 'I want to thank you again for the jobs you do safeguarding our patients and keeping our hospitals safe. The company are making £82 million profit. We want a fair share of the pie. Inequality is right across London, and right across the world. They can pay up and they should pay up. I say to Serco, respect workers on the picket line. Negotiate now, negotiate with no strings attached. You can win if you stand together.'
London Hospital shop steward, Mary, said: 'Serco thought we were weak but together we are strong. When they took over the contract on the 1st of April, four days later they cancelled our 15-minute break. We said we are not having this, so 150 of us went into the canteen and held our break and again the next day, and then our break was reinstated.'
LSE cleaner Victor Ramos addressed the rally saying: 'We had a two-month strike and we won and the same will happen to you. Keep fighting to win.' A speaker from the BA mixed fleet cabin crew also addressed the rally.
He said: 'There is a low pay emergency going on just now'. He added their basic wages was £12,192 a year, less than the minimum wage. It was made legal by £3 an hour top ups for food in hotels. BA had £1.4bn profit. They offered to give individual pay rises to people if they left the union. He said members had been using food banks and some have second and third jobs to struggle to pay their bills. BA had brought in labour from Qatar to do their work.'
Martin Powell-Davis from the NUT said: 'Teachers from Charlton Park Academy in Greenwich are on strike this month because the school won't provide sick pay. I invite you all to attend a carnival against cuts tomorrow at Parliament Square.'
After the rally, the strikers and their supporters marched through busy Whitechapel market. Car horns blasted out support and shoppers joined the march to Mile End Hospital. After the march Serco catering worker Ellen Barzley told News Line: 'The workload is getting harder and harder.
'We are serving food in the morning. Our lunch break is supposed to be at 2 o'clock, but we are still washing up. By the time we finish, our lunch break is nearly over, then we have to get teas made so we end up with about a 15-minute break. This march has shown we have the support of other workers and we are not alone. We are going to win!'