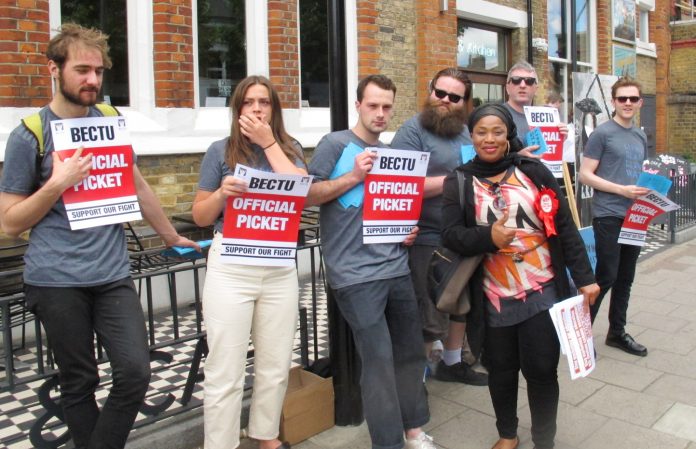 WORKERS and youth in southeast London on Saturday took a keen interest in the WRP's revolutionary policies.
Many said they will vote for Workers Revolutionary Party candidate for Camberwell and Peckham, Aminata Sellu, and a number joined the WRP and Young Socialists. A number spoke to News Line during Aminata's campaign in Peckham.
Single mum of five, Chantelle said: 'I chose to go self employed because my other options were apprenticeships at £3.50 an hour Monday to Friday. 'This is if I couldn't find part-time employment which is very difficult when you are trying to raise children on your own. I want to see my children, and be part of their life so I chose to go self employed.
'The Jobcentre puts pressure on people. How can you look after your kids when they don't pay you enough to eat. We have to get rid of the system. The system should be about people – genuine human beings. We should just be able to be human and live. Capitalism is not human. I agree with nationalising the economy and producing for people's needs.'
Amanda Phillips was disenchanted with the main parliamentary parties, saying: 'With politics a lot of people say what they think you want to hear and when they get in they do what they want. I've been out of work for a long time before now. I was applying for 50-odd jobs a week. It was quite disheartening, and the treatment you got in the Jobcentre wasn't encouraging. Overthrowing capitalism, nationalising the economy and running things for need sound good to me.'
School youth Precious, 15, said: 'A lot of teachers have been cut. Classrooms are overcrowded – that's ridiculous. You have lessons with one teacher for 45 minutes for 35 students in the class. It takes so long to get people settled, by the time they get settled the teacher has to leave. And prices are too high, so young people can't afford to buy things. I work at JD Sports and the money they pay is not enough to do shopping. If I could, I would vote for Aminata, I support revolution, only that can change things.'
Cesia Belen, also 15, said: 'People have to work a lot to get enough to live. The government is closing the door to refugees and immigrants – that's wrong. Housing is a problem. Rents are very expensive and people don't have enough money to pay them. I don't agree with university fees, you have to pay a lot of money. A lot of people want to study but they don't have the money and lose the opportunity. The young people need to change the world and make it better. Because if we don't do it, nobody will do it. It's good to help others and stop wars.'
Telesales worker Helder Lopez, 26, told News Line: 'I used to work for Sony, Serco was my employer there. You had to log in your comfort breaks, that was oppressive. I now work for Microsoft, its a bit better. I'm French and I voted against Le Pen. I've always voted against the far right. They always make the use of the far right to push us in the right direction. Now we've got Macron. He comes out of the blue and it's very dangerous.
'He is against the unions and wants to let the employers sack people easily. He comes from the Rothschild bank. There was the same sort of thing in Portugal. It's all about money and they are trying to divide and restrict us, keep us ignorant. Humanity has a different future to that. I'm for socialism, definitely. I will vote for Aminata.'
A young woman, Faidat Ola, declared: 'We need change. We have to save the NHS. we have to get prices down. We need to look after people, have good jobs, have free school meals and end tuition fees. Young people are put off by the debt. We have to get the Tories out, we don't want them. I will vote for Aminata.'
The WRP candidate, Aminata, went on from Peckham to East Dulwich where she spoke to striking Picturehouse cinema workers. One of the strikers, BECTU member Charlie Rutter said: 'I'm striking because (Picturehouse owner) Cineworld are still not listening, they are still not getting the message that we are not going to stop going on strike until they pay us a living wage, which we know they can afford.
'I'll vote for Aminata Sellu WRP in this election because we have to get rid of capitalism and go forward to socialism.' Fellow BECTU picket Guy Lewis said: 'It's not just about us, it's about big corporations taking responsibility and paying a living wage when they are making such huge profits. They can well afford to pay a living wage. I want to get the Tories out on June 8th.
Voting Labour is about preventing the Tories getting back.'
Hugo, another striker, said: 'We're out on the picket line because Picturehouse and and Cineworld are refusing to meet us and negotiate. They are reneging on their promise of paying the living wage. Living in London is hard to get by working these kind of jobs. The cost of living is pricing out young people.'
BECTU organising official Naomi Taylor told News Line: 'East Dulwich are out today to continue the fight for a living wage. Four of the other Picturhouse sites will be out on the 3rd and 4th June – Central, Hackney, the Ritzy and Crouch End. The four sites couldn't strike today because their ballot wasn't active. This struggle will continue until we get a living wage. Cineworld at its AGM said it is prepared to talk. Head of BECTU Gerry Morrisey has written to ACAS and ACAS has contacted Cineworld but they haven't responded yet.'
The WRP candidate Aminata Sellu said: 'We had a good campaign on Peckham high street.
'I had the opportunity to talk with young people and several of them joined the WRP. They agree we need a revolution, and that we need to kick the Tories out and go forward to a workers' government and socialism.
'People said they would vote for me because they are sick and tired of this system. They said the politicians keep lying to them and covering things up. Workers said they don't want to listen to the media, they want action. They gave their support to me for that action. One lady said she doesn't want to vote for Iris Hammond (Labour) because of all the people that were thrown out of their houses after Labour sold estates in Peckham.
'I came to give my support to the Picturehouse strikers. I was invited to address them. I told them I support their strike for better working conditions. Workers should not have to live on slave wages. All prices have gone up, so wages must go up as well. They should have an increase to a living wage of £15 an hour.
'You need that to cover bills, rents, travel and your food. The Tory government want a low wage economy, that's why we must kick them out on June 8th. 'Together we can win. On June 8th vote for WRP and make a big change. Vote for us to end zero hours contracts. I am a carer. It is not possible to live on the wages they give. There is no sick pay, no holiday pay. We need a good future through the WRP and get rid of this capitalist system.'