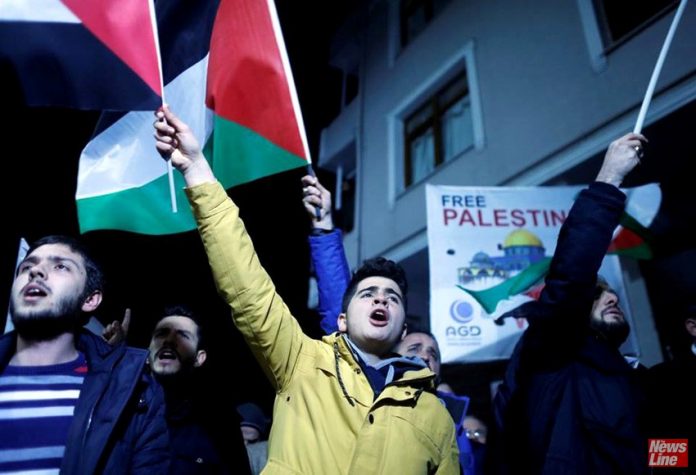 TURKEY has strongly censured Israeli Prime Minister Benjamin Netanyahu for promising to annex settlements in the West Bank if re-elected, saying that his 'irresponsible' statement will not change the status of the occupied Palestinian territory.
Foreign Minister Mevlut Cavusoglu said in a tweet on Sunday:
'The West Bank is Palestinian territory occupied by Israel in violation of international law, Prime Minister Netanyahu's irresponsible statement to seek votes just before the Israeli general elections cannot and will not change this fact.'
On Saturday, Netanyahu said that if he is re-elected prime minister in today's (April 9th) general election, he will not shy away from expanding Israel's illegal annexations to cover the whole of the West Bank, which the Israeli regime occupied in 1967.
Turkish presidential spokesman Ibrahim Kalin also criticised Netanyahu for making the statement.
'This is yet another example of how Netanyahu uses electoral politics to justify occupation and undermine the two-state solution.
'If he is re-elected, will this be a triumph of "democracy" or occupation?" he tweeted. "Will Western democracies react or will they keep appeasing?
Shame on them all!'
Additionally, Omer Celik, a spokesman for Turkey's ruling Justice and Development Party, complained that Netanyahu's pledge violates United Nations Security Council resolutions.
'This pledge not only transgresses the law, but it also attempts to completely destroy it,' he tweeted.
Celik also called on the international community to stop 'Netanyahu's madness' and condemn his 'discourse of hatred,' warning that the Israeli prime minister was blatantly risking peace and stability in the Middle East.
He said Netanyahu was encouraged by US President Donald Trump's recent moves to recognise Jerusalem al-Quds as the Israeli 'capital', and the regime's 'sovereignty' over Syria's Golan Heights.
'There is not a single value or legal provision that he (Netanyahu) did not attack,' Celik said.
'Those who support the occupation of others need to carefully think about the repercussions, as it poses the most fundamental threat to international law and security.'
Turkish President Recep Tayyip Erdogan has accused the United States and Europe of 'meddling' in Turkey's internal affairs after its Western allies issued statements following his ruling Justice and Development Party (AKP)'s challenge to local election results.
'The Turkish leader and his AKP suffered an upset in mayoral elections last week after results showed that the ruling party lost the capital Ankara and was narrowly defeated in Istanbul, Turkey's biggest city and economic hub.
The AKP then filed objections to the results with the country's High Election Board and contested the slim opposition victory in Istanbul, alleging irregularities.
However, US State Department spokesman Robert Palladino on Tuesday called on Ankara to accept the results after European Union spokeswoman Maja Kocijancic urged Turkey the day before to allow elected officials to 'exercise their mandate freely.'
'America and Europe are … meddling in Turkey's internal affairs,' Erdogan said on Friday, in his first direct remarks to reporters since Monday.
'Turkey gave a democracy lesson to the whole world,' he added, rejecting the statements and warning both the US and the EU to 'know' their 'place.'
Turkey's two main rival parties both claim victory in Istanbul's mayoral election, with the ruling AKP asking the Supreme Election Council to settle the dispute.
Meanwhile, AKP spokesman Omer Celik lambasted Palladino for his statement on the Turkish elections.
'No foreign government, or any organ or statement from it, is a source of legitimacy for the election process and election results in Turkey,' Celik said at the party's headquarters in the capital.
Before the elections, Erdogan tried hard to promote his party's candidates during numerous rallies across the country, describing the vote as a battle for the nation's survival.
However, voters, concerned with the soaring cost of living, double-digit inflation and unemployment, went for the opposition in the country's two biggest cities.
In Istanbul, the opposition's Ekrem Imamoglu narrowly emerged victorious.
However, Turkey's High Election Board on Wednesday said that it would recount local election votes in Istanbul after the AKP demanded a recount.
On Friday, Imamoglu announced that he was still the winner by nearly 19,000 votes even after the recount.
The opposition Republican People's Party (CHP)'s candidate added that nearly 120,000 previously annulled votes had been recounted in 17 Istanbul districts, with 2,184 extra votes being allowed for the AKP's candidate, Binali Yildirim, and 785 for himself.
Imamoglu estimated that, once the recounting has ended, the final difference could finish between 18,000 to 20,000. He added that nearly 200,000 more votes still needed to be recounted. 'It should be over by the end of the weekend,' he said.
However, the AKP claimed the recount would show its candidate has won.
A defeat in Istanbul would be particularly sensitive for Erdogan who commenced his political career as mayor of the city. The AKP or its predecessors have held Istanbul and Ankara since 1994.
Venezuela's foreign minister Jorge Arreaza has embarked on a Middle East tour taking him through Turkey, Lebanon, and Syria, amid US measures to prop up the Latin American country's opposition figure and self-proclaimed 'interim president' Juan Guaido against President Nicolas Maduro.
Arreaza arrived in Turkey on Monday and was assured by his Turkish counterpart Mevlut Cavusoglu of Ankara's support for the Latin American nation in the face of US pressure.
'It should not be in a way that "I am a big country and I can determine entire rules",' Cavusoglu said, referring to Washington's sanctions against Venezuela and its efforts to oust Maduro, the Turkish paper Hurriyet reported.
Arreaza has also travelled to Lebanon today on a two-day visit. Lebanese President Michel Aoun received him at the presidential Baabda Palace in Beirut. Arreaza, who conveyed a message from Maduro to Aoun, also met with his Lebanese counterpart Gebran Bassil.
He was also slated to meet with Lebanese Prime Minister Sa'ad Hariri. According to Lebanese daily al-Joumhouria, he will also be holding a meeting with the Hezbollah resistance movement's Secretary General Seyyed Hassan Nasrallah.
Back in January, Hezbollah conveyed its support for Maduro amid mounting US pressure for him to resign and hand over power to Washington-backed Guaido.
Hezbollah-associated lawmaker Mohammad Raad was cited by Lebanese TV channel Al Manar as saying at the time that 'Nasrallah stands with the Venezuelan people and with its free leadership.'
Venezuelan foreign minister Arreaza, meanwhile, expressed satisfaction with the visits to the countries in remarks to Cuban news agency Prensa Latina, he said:
'They are two countries that respect international law and with which there are friendly and fraternal relations.'
The visit to Lebanon 'opens a new stage in bilateral ties with the possibility to expand economic cooperation, especially Venezuela's advisory in the country's energy sector,' he was quoted as saying.
Also in January, the US took the lead in recognising Guaido as Venezuela's president after the head of the opposition-ruled Congress named himself the country's interim chief executive. Washington has been pressuring other countries into following suit and has not ruled out military intervention to oust Maduro's government.
Many countries, including Iran, Russia, China, and Cuba, however, back Maduro, spurning the subversive American efforts targeting Venezuela's sovereignty.
Russia says it will keep the roughly 100 servicemen it sent to Venezuela there over the weekend.