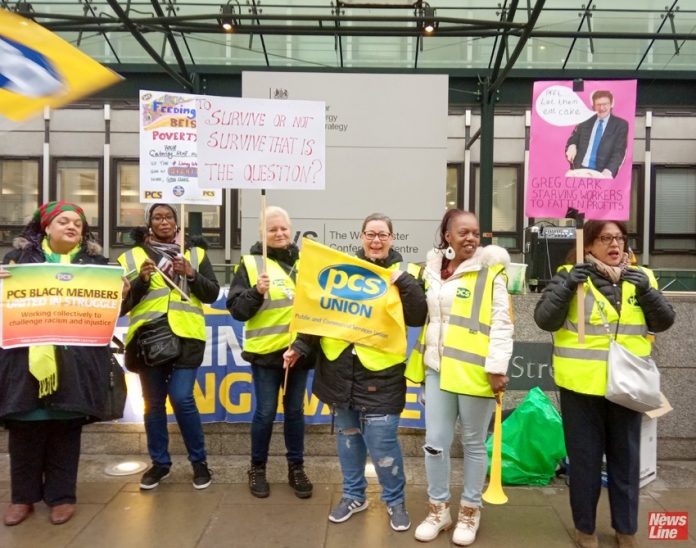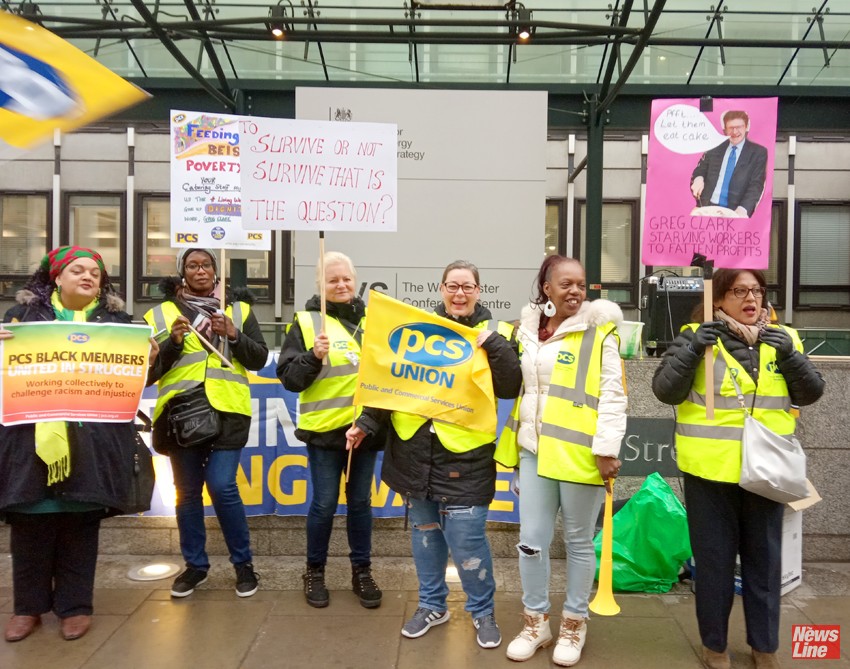 OUTSOURCED workers, who provide catering and cleaning services in government offices, took the first of three days of strike yesterday demanding the London Living Wage.
From early yesterday morning they were on the picket line outside the Department of Business, Energy and Industrial Strategy, (BEIS) ironically the very department which is meant to ensure that workers are paid a fair wage!
The strikers, who work for contractors Engie and Aramark, are demanding £10.55p an hour and parity in working conditions.
They have been taking strike action since January 22nd and since then their pay has risen from £8.50 to £9.01 an hour.
On the picket line Anna Joaquim told News Line: 'We were on peanuts, now they have given us sweetcorn to try and shut us up.
'We will not give up until we get the London Living Wage of £10.55 an hour.
'All prices have gone up, gas, electricity, council tax. We are really struggling.
'The company boss says it's not possible, yet he can afford a helicopter – we're struggling to pay our oyster cards!'
Mitie workers at both London City Airport and Sellafield nuclear reprocessing centre in Cumbria have both voted for strike action in separate disputes, with the airport workers voting 98% YES and the nuclear workers 100% YES, their union Unite announced yesterday.
The Sellafield dispute concerns pay and involves workers employed as security guards, catering, vending and laundry operatives. The workers at the category one nuclear site are paid just £8.45 an hour.
Unite's 180 members voted by 98 per cent in favour of strike action on a 70 per cent turnout.
There will be two 10-day periods of strike action, the first beginning at 00:01 on Friday 19 April, concluding at 06:00 on Monday 29 April 2019, followed by a further strike beginning at 00:01 on Saturday 4th May, concluding at 06:00 hours on Monday 13 May.
Meanwhile, the Unite members employed by Mitie at London City Airport are also set to take action in a dispute over pay, conditions, recognition and welfare facilities. They are employed as security guards and provide assistance to passengers with mobility issues.
The workforce is seeking a significant pay increase, enhanced rates of pay for overtime, and improved sick pay. They are also demanding that Mitie recognises Unite and that adequate restbreak facilities are provided. Currently, they have just a 45 minute break, but their restroom is a 15 minutes walk away from their workplace.
In this dispute, workers voted 100 per cent in favour of industrial action on a 69 per cent turnout.
Unite regional officer Michelle Cook said: 'Mitie is treating its workforce with complete contempt. Workers are being subjected to low pay and third rate conditions.'