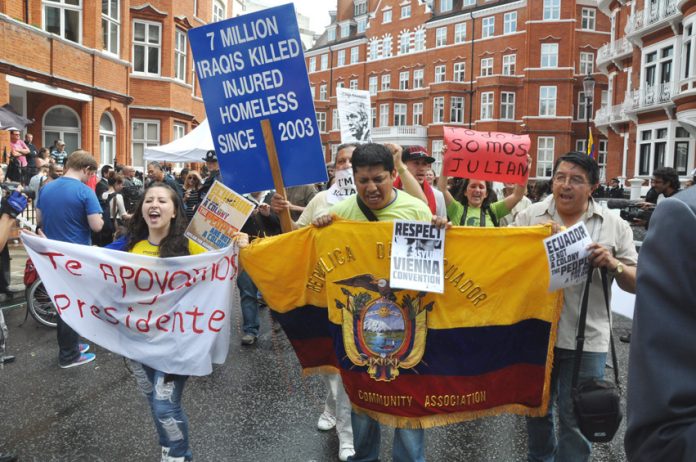 THE US government must prove that army private Bradley Manning knowingly helped Al-Qaeda and other 'American foes' by handing over secret documents to WikiLeaks, a judge ruled on Wednesday.
An order made by Judge Denise Lind at a preliminary hearing, raises the bar for convicting Manning of 'aiding the enemy', the most serious charge he faces.
She also ruled that the government can call as a witness one of the commandos who took part in the 2011 raid that murdered Osama bin Laden.
Along with 24 government witnesses – including ambassadors and officials from the Pentagon, State Department and intelligence services, three other secret witnesses will also be heard in closed session.
Manning admitted in February to leaking a trove of confidential war logs and diplomatic cables to Julian Assange's anti-secrecy website and said he would plead guilty to 10 of the less serious charges against him, which could see him sentenced to 20 years in military custody.
Judge Lind also said US prosecutors in the military tribunal must prove 'beyond a reasonable doubt' that Manning had 'reason to believe such information could be used to the injury of the US' by another nation or an armed group like Al-Qaeda.
The judge thus discarded a defence motion to 'preclude evidence that Al-Qaeda or Al-Qaeda in the Arabian Peninsula allegedly received' the information in question.
The hearing was the first since a group pressing for more government transparency flouted a military ban by releasing a secretly-recorded audio clip of Manning's testimony.
Since Manning was arrested in May 2010 the world hasn't heard his voice. It was secretly taped on February 28 when the accused explained why he funnelled a trove of US military and State Department documents to WikiLeaks, between November 2009 and May 2010.
'To say that the judge was unhappy about this violation of the rules of the court would be an understatement,' a military spokeswoman told reporters covering the hearing.
The next court date is set on June 3rd, with the trial expected to last 12 weeks at Fort Meade, near Washington. Preliminary hearings are also scheduled to take place behind closed doors on May 7th and 8th.`
• Foreign ministers of the G8 grouping of world nations holding the second day of talks in London, focused on Thursday on giving more support to foreign-backed insurgents fighting the Syrian government of president Bashar al Assad.
The talks came as Syrian insurgent chiefs renewed their appeal for lethal aid, including heavy weaponry, to be deployed against the Syrian nation and government.
Russian foreign minister Sergei Lavrov, in London for the G8 meeting, has said that neither side can win the battle in Syria.
He also has doubts on the motives of some of the countries interfering in Syria.
'We have long been trying to calm the situation in Syria. But as soon as the slightest glimmer of hope appears, someone immediately does everything possible to frustrate the hope. There will be no winner', Lavrov said.
The meeting is taking place amid escalation of the situation in the Korean peninsula.
South Korea has raised its alert level in response to reports that North Korea might launch a missile test on April 15, when birthday celebrations for the North's late founder Kim Il-Sung are expected.
MP George Galloway meanwhile blamed, on Thursday, the tensions in the Korean peninsula on the United States.
'I'm much more afraid of the United States of America and so are most people in the world,' Galloway said.
The British MP added: 'The US "trumped" up the current crisis with North Korea and is responsible for the country's dire economic situation.
'There have been achievements in North Korea.
'They have built a nuclear power industry even though they suspended it on false promises from President Clinton and other US statesmen.
'They do have a cohesive, pristine actually, innocent culture.
'A culture that has not been penetrated by globalisation and by Western mores, and is very interesting to see.
'But we here in Britain live where evil also stalks the land in the form of the British government,' he added.
Galloway also contrasted Kim Jong Un, who presides over North Korea, with former US President George W Bush.
'They say the young man who is the leader of North Korea is mad and he can't be allowed to have nuclear weapons, but George W Bush was mad and he had thousands of nuclear weapons,' Galloway said.