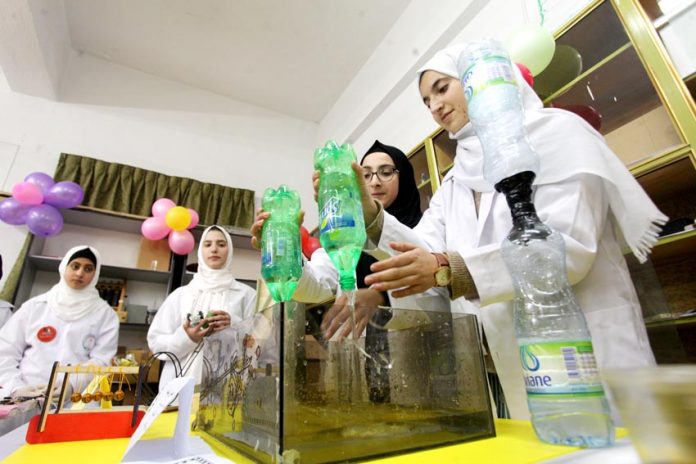 THE TRUMP administration has decided to cut more than $200 million in bilateral assistance to Palestinians in the occupied West Bank and Gaza Strip, the State Department said last Friday.
The money will be redirected to 'high priority projects elsewhere,' a notice sent to Congress stated. The amount cut by the Trump administration represents most of the $250 million in aid requested annually by the State Department for 2018 and 2019.
The US had already frozen millions in aid to the Palestinian Authority earlier this year after Congress passed the Taylor Force Act. That legislation requires the suspension of funds benefiting the PA until it terminates payments to the families of Palestinians imprisoned by Israel and those of slain alleged attackers.
The suspension of funding has already diminished Palestinians' access to medical services and food aid. The US has continued to transfer funds to Palestinian Authority security forces that serve as an enforcement arm of the Israeli occupation.
In 2016 the Obama administration and Israel signed the largest aid package in US history, giving Israel $38 billion in military assistance over 10 years. President Donald Trump recently signed a defence bill codifying that aid pledge into law, one of the few parts of his predecessor's legacy that he has wholeheartedly embraced.
Friday's announcement of further cuts in aid to Palestinians comes days after a UN official warned that essential services in the occupied Gaza Strip will soon shut down if the purchase of emergency fuel isn't immediately funded.
It is the latest such warning regarding Gaza, whose two million residents have long been kept dangling over a cliff. Donor-funded emergency fuel has become a lifeline in Gaza after 11 years of Israeli blockade that has deflated the territory's economy and sharply increased residents' dependence on humanitarian aid.
Emergency fuel is used to operate health, water and sanitation facilities, particularly backup generators at Gaza's hospitals. Chronic power shortages mean that most households in Gaza have electricity no more than four or five hours per day. 'We have now run out of funds and are delivering the final supplies in the next few days,' humanitarian coordinator Jamie McGoldrick said on Monday.
'Without funds to enable ongoing deliveries, service providers will be forced to suspend, or heavily reduce, operations from early September, with potentially grave consequences.'
Gaza patients depending on electrical equipment in intensive care units, those on dialysis or in trauma departments are most vulnerable to electricity shortages, according to McGoldrick's office. The electricity crisis has also forced doctors to postpone complex surgeries since they cannot guarantee that essential equipment can operate for long enough without interruption.
Almost the entire population in Gaza would be affected by reduction or cessation of health services if Gaza's main hospitals run out of emergency fuel, McGoldrick's office said. Half the population of two million faces the risk of sewage overflow if fuel for pumping stations is exhausted.
UNRWA schools to open – for now
Meanwhile the school year is set to start on time for more than 240,000 Palestinian refugee children in Gaza who are educated in United Nations facilities after fears that funding cuts would necessitate delay.
But UNRWA, the UN agency for Palestine refugees, said last week that it only has enough money to keep its more than 700 schools in the occupied Gaza Strip and West Bank, Lebanon, Jordan and Syria open until the end of September.
Another $217 million is needed to keep its schools running the rest of the year, according to UNRWA commissioner-general Pierre Krähenbühl. The agency is in crisis after the Trump administration withheld $300 million in funding earlier this year. The US was UNRWA's single largest donor.
Last month UNRWA announced cuts to emergency services which would result in layoffs of more than 100 of its nearly 13,000 employees in Gaza and salary reductions for hundreds more. That is a huge blow in Gaza, where half the population is unemployed.
UNRWA has faced fierce protests, causing it to 'lose control' of its compound in Gaza for more than two weeks, according to Krähenbühl. This week Krähenbühl suggested – as had already been made clear by Trump administration officials themselves – that the withholding of funding was meant to punish Palestinians for protesting against the president's recognition of Jerusalem as the capital of Israel in early December.
Krähenbühl told the Associated Press that 'I can say with a great degree of confidence that the decision (to withhold funding) was not related to UNRWA's performance, because in November I had received very constructive and openly positive feedback on those issues.'
After 'tensions increased around the question of Jerusalem' following Trump's announcement, Krähenbühl added, 'It appears that the humanitarian funding to UNRWA got caught up in the deep polarisation around that question.'
>
It was revealed by Foreign Policy magazine earlier this month that Jared Kushner, Middle East envoy and son-in-law to President Trump, advocated for 'an honest and sincere effort to disrupt UNRWA.' In an email sent to several other senior Trump administration officials on 11 January, Kushner stated that UNRWA 'perpetuates a status quo, is corrupt, inefficient and doesn't help peace.'
Israel and its most fervent advocates have long argued that the existence of UNRWA is what perpetuates the question of Palestinian refugees, rather than Israel's refusal to respect their rights. Such advocates therefore believe that dissolving UNRWA would make the issue of Palestinian refugees – whose fate has been repeatedly kicked down the road as a 'final status issue' during decades of fruitless peace negotiations – disappear as well.
Earlier this year, Israeli Prime Minister Binyamin Netanyahu declared that UNRWA 'needs to pass from this world.' Israel refuses to allow Palestinians to return to the homes and lands from which they were ethnically cleansed because they are not Jews.
'One cannot simply wish five million people away,' Krähenbühl has said in multiple interviews. Yet that seems to be the strategy the Trump administration is pursuing, regardless of the dire humanitarian and political consequences.
• Each year, over 700 Palestinian children in the West Bank are arrested, prosecuted and tortured by Israeli military forces. Their only crime: taking part in peaceful protests against Israeli occupation and terror. Tragically, under Israeli military detention and rule, Palestinian children are routinely and systematically:
• Taken from their homes at night and at gunpoint,
• Blindfolded, bound and shackled,
• Interrogated without a lawyer and with no audio-visual recording,
• Held in solitary confinement,
• Forced to sign confessions.
According to the child rights organisation, Defence for Children International – Palestine (DCIP), over 70 per cent of these children have endured violence and torture after their arrest. Israeli military authorities claim they have undertaken reforms that address physical violence and torture by Israeli military and police forces. In reality, that's far from the truth. DCIP says 'ill-treatment of Palestinian child detainees by Israeli forces is widespread, systematic and institutionalised throughout the Israeli military detention system.'
And the situation got particularly worse after the observer state of Palestine was chosen to lead the Group 77 at the United Nations, making it a big win for Palestine and increasing the tensions with Israel. G77 is the largest bloc of developing countries, currently with 135 countries, and Palestine spoke at the General Assembly. Palestine will assume leadership of the G77 by January 2019, replacing Egypt.
Nonetheless, Palestinian child arrests and imprisonments have become pervasive and the legitimacy of the methods used to process their arrests is quite questionable and illegal under International Law. Of the 727 children processed by Israeli military courts that DCIP represented, 700 had no parent or legal counsel present during the interrogation. Additionally, 117 spent more than two weeks in solitary confinement.
With Palestine's new leadership position at the UN, however, the observer state should draw international attention towards the violation of International Law concerning military courts and child prisoners. The key demands should be:
• Children must not be prosecuted in military courts because they lack basic due process guarantees,
• Detention must never be used even as a measure of last resort,
• Children must not be arrested at all,
• Children must not be subjected to any form of physical violence,
• Children must have access to legal representation and parents prior to and during interrogations,
• All interrogations of children must be audio-visually recorded,
• Any statement made as a result of torture or ill-treatment must be excluded as evidence in any civilian court proceeding,
• All credible reports of torture and ill-treatment must be thoroughly and impartially investigated in accordance with international standards, and perpetrators brought promptly to justice.
The G77 must also require Israel to make a UN statement that it will take immediate, effective and meaningful action – including allowing international bodies – to ensure all the above requirements are implemented by its military authorities without delay.
Under International Law and its own Charter, there must be more action and the United Nations must vigorously call Israel to account. The world body has already declared the Israeli settlements on occupied Palestinian lands as illegal. It must now do something about it.
At any rate, one of the greatest signifiers of Israel's military occupation and terror is the daily abusive treatment of Palestinian children at the hands of Israeli soldiers. This apartheid policy is part of the larger framework of systemic oppression used to silence Palestinian resistance. As can be seen in the violation of International Law concerning military courts and child prisoners, Israel not only punishes adult Palestinians for resisting the occupation but their children, too.
The United Nations Children's Fund and Defence for Children International – Palestine are two international humanitarian organisations that repeatedly call attention to Israel's illegal treatment of Palestinian children. There must be more vocal condemnation, more stringent policies against the Israeli regime, and certainly a binding resolution at the United Nations as well that addresses and ends the arrests, ill-treatment and torture of Palestinian children in Israeli military prisons.