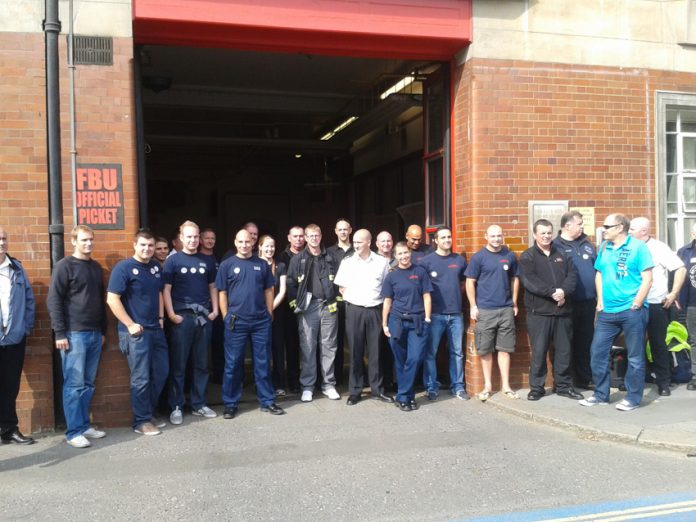 THREE of the eight fire stations that sent engines to the Apollo Theatre last night are set to close in less than three weeks, said the Fire Brigades Union on Friday.
Westminster, Knightsbridge and Southwark fire stations are all earmarked for closure on January 9th, 2014 under proposals from the Mayor's office to close ten fire stations in London on that date.
Current plans would see the loss of more than 500 fire brigade posts in London, in a bid to save £28.8m over two years.
Mayor Johnson 'will have blood on his hands', said London FBU after the failure of a challenge taken to the High Court by seven London councils.
Reacting to last Friday's court decision, Fire Brigades Union London Secretary, Paul Embery, said: 'The Apollo Theatre collapse demonstrates how dependent the safety of Londoners is on the stations that Boris Johnson intends to close.
'If the cuts go ahead, the mayor will end up with blood on his hands.
'These cuts are reckless, wrong and will jeopardise the safety of millions of Londoners: it will only be a matter of time before someone dies as a result of a fire engine failing to reach them in time.
'Although campaigners lost the legal case, we won the moral argument, and even at this late stage, we would urge the Mayor to reconsider.'
The Judicial Review case was brought to the High Court by seven local authorities, who argued that the cuts were dangerous, irrational, unlawful and 'could put lives at risk'.
The Fire Brigades Union was an 'interested party' in the case and argues that the cuts will lead to delayed response times for four million Londoners.
Ninety-four per cent of Londoners opposed the cuts in a public consultation exercise alongside the London Assembly and The London Fire and Emergency Planning Authority (LFEPA) which governs fire and rescue services in the capital.
The FBU is considering any rights to appeal the High Court's decision.
The ambulance service is also facing cuts.
A London Ambulance Service spokesperson said yesterday: 'We were called just after 8.10pm to the Apollo Theatre in Shaftesbury Avenue.
'We can now confirm that we sent a total of 54 resources to the scene.
'These included: 29 ambulance crews; seven responders in cars or on motorbikes; 18 officers and other vehicles, including members of our hazardous area response team and a medical team from London's Air Ambulance who also attended in a car.
'Our first staff arrived within three minutes and we worked closely with the other emergency services to care for the injured.
'By the time the scene had been completely cleared, we had treated 79 patients.
'Of these, 56 were subsequently taken to hospital – 47 had suffered minor injuries and were categorised as being walking wounded, and nine had suffered more serious injuries including head and back injuries.
'Thirty-five patients were taken to St Thomas' Hospital (32 walking wounded and three more serious).
'Ten patients were taken to St Mary's Hospital (nine walking wounded and one more serious).
'Nine patients were taken to University College Hospital (five walking wounded and four more serious).
'Two patients were taken to St George's Hospital (one walking wounded and one more serious).
'Among the vehicles used to transport patients with minor injuries were two London buses.'
Incident Commander Maria Smith, who was one of the first on scene, said: 'When I arrived it was dark and extremely dusty and people were lying on the floor of the theatre.
'We very quickly set up a casualty clearing area in the foyer of the theatre and the walking wounded were assessed and treated there for injuries such as cuts and grazes, breathing problems and head injuries.
'All the staff involved did an excellent job to help ensure that people received medical attention and those who needed further treatment were taken to hospital.'
• Meanwhile, firefighters campaigning against government attacks on their pensions will strike in England and Wales on both Christmas Eve and New Year's Eve, the Fire Brigades Union has announced.
Strikes will take place between: 7pm and midnight on Tuesday 24 December; 6.30pm on Tuesday 31 December and 12.30am on Wednesday 1 January; and 6.30am and 8.30am on Friday 3 January.
FBU General Secretary, Matt Wrack, said: 'Firefighters provide a first-class standard of service 24-hours a day, 365 days a year, and these strikes will remind government just how reliant they are on our members' professionalism, commitment and flexibility.
'However, there should be no need for industrial action, and it's absurd that firefighters' concerns over pensions have not been addressed already.
'The government must stop claiming they are negotiating when they have refused to talk for two months and insist on forcing through proposals that are unaffordable, unworkable and unfair.
'By simply conceding common sense and allowing firefighters a fair deal, the government could end this industrial action today.'
As with previous strikes, on the three dates all FBU members in England and Wales will stop work apart from those working in control centres.
However, on top of these strike periods – the seventh, eighth and ninth to take place – on Christmas Eve all members in Scotland and those working in control centres across England, Scotland and Wales will refuse to work voluntary overtime, meaning every firefighter in the three nations will be taking part in industrial action together for the first time.
And between 7pm on Friday 27 and 7pm on Sunday 29 December, all firefighters in England, Scotland and Wales, except those working in control, will refuse to work voluntary overtime.
The ban on voluntary overtime comes after a second ballot of FBU members voted by almost nine to one for additional industrial action on top of strikes.
Although negotiations in Scotland have so far prevented strike action, no settlement has yet been reached and the dispute remains live.
Firefighters' pension schemes are amongst the most expensive for workers anywhere in the public or private sector, but amongst the cheapest proportionally for the government.
Most firefighters who take home approximately £1,650 a month already pay £320 or more a month into their pensions, and from April 2014 this would rise for the third year in a row to over £340 a month (£4,000 a year), with many facing a fourth consecutive rise of 2.2% in 2015.
On top of this, a large section of firefighters face an additional threat to their pensions as a result of the government refusing to honour long-standing agreements.
As a result, they will not receive the pension they were promised despite paying into their scheme for many years.
The union claims that the government's proposals are 'designed to fail' because they ignore the physical demands and fitness standards required by the occupation.
Evidence suggests that at least two thirds of the current workforce will face dismissal or their pension reduced by almost half because they are unable to maintain the fitness standards required by the fire service beyond the age of 55.