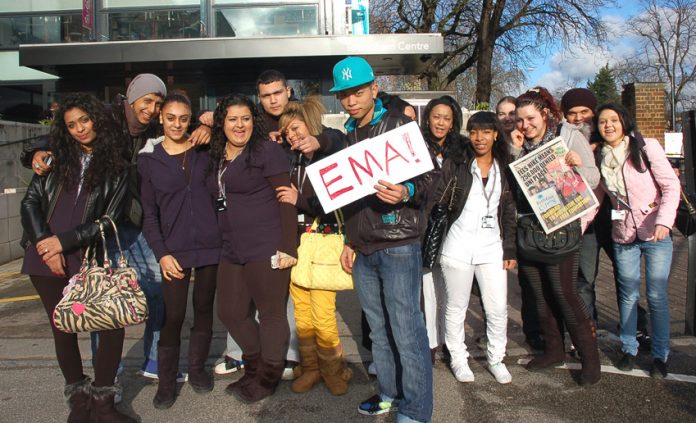 TEACHING unions on Thursday slammed the government's Education Bill.
The NASUWT said it was a Bill that 'has all the hallmarks of being conceived by power junkies' and the NUT warned it 'rides roughshod over the premise of a democratically accountable education system'.
Chris Keates, General Secretary of the NASUWT, said: 'The rhetoric surrounding the Bill is "localism".
'The reality is an unprecedented, massive centralisation of power.
'The Bill gives the Secretary of State for Education around 50 new powers.
'He can seize land to set up new schools, revise local authority budgets, close schools on a whim and make up his own definition of what early education means.
'This Bill should be a wake-up call to all those who care about children's education that time is running out to stop this Coalition from destroying our education system.'
Responding to education secretary Gove's statement that he will stop Ofsted from inspecting the content of children's lunchboxes, Keates added: 'This is a blatant attempt to distract the public.
'Whilst encouraging people to think about whether Ofsted should inspect lunchboxes, the Secretary of State is pushing through Parliament a Bill that will allow his favoured academies to charge whatever they like for milk, school meals and refreshments.
'Children's health and nutrition is clearly a low priority when compared with enabling privatised schools to profiteer.
'This is yet another barrier for some families to admission to these elitist institutions.'
National Union of Teachers General Secretary Christine Blower said: 'Despite the Education Secretary's claims that he wants to remove the "dead hand" of government from schools, this Bill appears to do exactly the opposite and will lead to a greater centralisation of power.
'By presuming any new school which opens will do so as an academy or Free School, the Government makes it clear that regardless of the wishes of the community, it intends to railroad this costly, unproven and unnecessary programme through.'
Commenting on the Committee of Public Accounts' report which found academies' finances were out of control, Blower added: 'The lack of clarity from government about the purpose of the new academies programme comes across loud and clear in this report.
'While previously under Labour the aim of sponsored academies was, and remains, to work within deprived areas, the new Academies have no such clear objective.
'The fact that concerns have been raised about the effectiveness of accountability in academies is a sad indictment on a government that spends much time devising endless ways to assess and judge local authority schools.
'There seems to be no desire to ensure Academies are subject to the same rigorous scrutiny.
'It is unacceptable that in some academies there continues to be financial mismanagement of what we have to remember is public money.
'Similarly it is quite unbelievable that, under the previous system, some sponsors never paid in full the money they pledged to open up Academies.
'How many times are we told that the private sector is so much better at delivering public services only to find the reverse is true?
'It is nothing short of reckless for the government to push ahead with the expansion of the academies programme when this report shows the Education Department is already struggling with the administration of, as the committee says, "the relatively small' number of Academies at present".
'Not for the first time the NUT calls on the government to stand back and look at the obvious flaws in the academies and Free Schools programme and stop rushing headlong down this unacceptable route. Education of our children and young people is far too important to make mistakes.'
The University and College Union (UCU) accused the government of ducking further scrutiny of its 'punitive' plans for university funding after it added reforms to the student loans system in England to an education bill that is dominated by school reforms.
The UCU said: 'The bill primarily concerns itself with bad behaviour in the classroom and new powers for teachers to exclude unruly pupils. However, the government has added on legislation that allows variable rates of interest on student loans.'
UCU general secretary, Sally Hunt, said: 'The general public will see this for what it is – a stealth tax on learning and achievement – and it doesn't matter what piece of legislation the government tries to hide it in.
'Sneaking these plans into a schools bill is yet another indication that the government has lost the argument on student funding and is terrified of further scrutiny of such a punitive policy.
'Graduate unemployment is at a ten-year high, yet the government has introduced policies to increase student debt to record levels and then charge even higher rates of interest. Surely now the government will stop trying to spin these damaging and unfair policies as progressive.'
The GMB union complained that new legislation to give protection to teachers, in cases where they are accused by school pupils of wrong doing, does not provide the same level of protection for school support staff who make up half of the school workforce.
The Education Bill extends the power of school staff to search pupils without consent and also promises teachers anonymity if accused by pupils of wrong doing.
All school staff currently have a legal power to use reasonable force to control or restrain pupils.
Part 3 of the draft legislation introduces restrictions on the public reporting of allegations made against teachers but does not include the restrictions for the school support staff.
GMB National Officer Sharon Holder said: 'School support staff make up half of the school workforce.
'This proposed legislation leaves them between a rock and a hard place without the necessary protection afforded to the teachers.
'These days, school support staff such as Teaching Assistants and Cover Supervisors are often left in sole charge of a class.
'They will be expected to use these new disciplinary powers, yet they won't be given the same protection from allegations that teachers will. This is palpably unfair.
'Staff will rightly be wary of exercising any disciplinary powers unless Michael Gove ensures equal protection for all.
'GMB call on the government to amend its proposals to include school support staff, otherwise Gove's discipline revolution could be stopped in its tracks.'
The National Union of Students (NUS) criticised the Education Bill's inclusion of the rise in interest on tuition fee loans to students.
Aaron Porter, NUS President, said: 'The government's misguided approach of forcing higher fees and higher loans is fundamentally flawed, and ministers are now passing considerably higher interest rates onto students before safeguards for students have even been properly discussed and scrutinised.
'Under the government's scheme, higher interest rates will hit those students who have to take out fee loans the hardest, whilst wealthier students who do not have to take out loans will escape higher interest charges.'