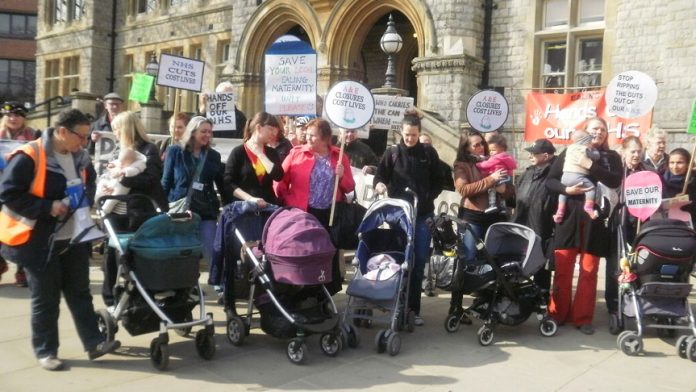 'ONCE we know we are ready it will take just six weeks to close the maternity at Ealing,' Pippa Nightingale, Head of Midwifery, Imperial NHS Trust told the NHS Ealing Clinical Commissioning Group (CCG) meeting at Ealing Town Hall on Wednesday afternoon.
Angry midwives, mothers with their Ealing babies and members of the community demonstrated outside the town hall and also went inside and heard the latest about the NHS cuts and closure programme of the CCG, cynically entitled 'Shaping a Healthier Future' (SAHF).
The CCG had previously indicated that they were going to announce the date for the planned closure of the much-needed Maternity Unit at Ealing Hospital on Wednesday.
However, it became clear that they are temporarily holding off.
When a BBC reporter at the meeting asked Nightingale: 'Why are you not setting a date for the closure at this meeting – is it because of the election?' there were loud jeers from the campaigners and shouts of 'YES'.
Nightingale replied: 'We have more work to do to make it safe. We are not sure if the building at Queens will be ready.'
She was referring to the maternity unit at Hammersmith Hospital, where the accident and emergency department was closed on September 10th last year.
She went on: 'It is unsafe at the moment because it can't take extra capacity. GPs should continue to refer to Ealing because there is no change in the service. But we will be training Ealing midwives at their new locations for one week. Once we know we are ready it will take just six weeks to close the maternity at Ealing.'
The CCG plans to close the Ealing maternity department ahead of closing the Accident and Emergency Unit and Paediatrics Unit at the west London Hospital.
Ahead of the meeting, outside the town hall, midwives and Ealing mothers spoke to News Line.
Andrea Smith, Ealing midwife and Royal College of Midwives member, said: 'Many midwives at Ealing are also Ealing mothers, some have been working there since the unit opened in 1989.
'The Birth Centre where I work is brilliant. It has recently had a £2 million re-fit, about one-and-a half years ago.
'All this is threatened, as are the jobs of the midwives. Of course, we're mostly worried about our ladies and our babies – there are going to be no more Ealing babies, it's so sad.
'There are about 3,000 births a year across the maternity and birth centre. I had my children at Ealing and I trained as a midwife at Ealing. There are about 150 midwives in total, although quite a few have moved because they are so worried about their jobs.
'They told us we were closing in March, then they told us May and now they are saying the announcement will be made after the election. It's another PR stunt. I would support an occupation. Sometimes direct action is the only way.
'We've tried so many other things. We have to defend the maternity. Of course the A&E is also threatened. They want to downgrade the whole hospital.'
Sara Moffat, RCM, told News Line: 'I have been at Ealing Maternity since it opened,' and agreed that it must not be allowed to close.
Kate Dowdall, a National Union of Teachers member and an Ealing mum, told News Line: 'I had Willliam at Ealing seven-and-a-half months ago. The birth centre is lovely and I had the best treatment.
'Subsequent problems with breast feeding were dealt with brilliantly. If Ealing maternity went it would be so sad. I would support occupying to stop the closure. I think the trade unions should take action to save Ealing Maternity Unit. The idea of having to go miles and miles and miles to have your baby is just awful.'
Linda Stewart, Ealing mum, said: 'I had my baby at Ealing in July. It's a disgrace to close the maternity.
'Ealing has the third highest birthrate in London. The other units that they are proposing that mothers should go to are not close enough and they are also very busy. They are not ready to take on Ealing births.'
Ravi and Sapna Matharu, with their baby son, Zorawar, said: 'Zorawar was born at Ealing in October and we had the best birth possible. The birthing centre is brilliant and the midwifery is outstanding. The key thing is that the human element was paramount.
'Closure would be an outrage. The care is superb. Also, with the huge influx of people into this area, the closure makes no sense. Ealing maternity serves Ealing, Southall, Hanwell, where we live, a whole different array of people, and closure is completely unacceptable. I would support occupying to stop the closure. It must not close.'
Ninety Ealing midwives recently wrote an open letter to the CCG, copied to Health Secretary Hunt, condemning the planned closure.
They wrote:
'We the midwives of Ealing Hospital are a truly exceptional group of professionals. Collectively we have accumulated 1,767 years of service to the NHS, most of those being dedicated to the care and wellbeing of the families of the Borough of Ealing …
'Many of our staff members have given birth to their own babies at Ealing Maternity Unit, with care delivered by colleagues who are close and lifelong friends. Leaving Ealing behind for us transcends the "just going to another job" – for many of us it is a whole way of life change …
'We know through indirect feedback to us that GPs have long since been instructed by the CCG to stop referring women to Ealing for their maternity care …
'Our confidence in and respect for the SAHF team is dwindling daily. We fear for our futures and for the future of the women we care for. We are all aware of the impact of the recent A&E closures in the North West London sector which has led to a serious impairment of care provision to the most seriously ill people in our community.
'Our concerns are that similar impairment will inevitably occur in maternity care provision and the very vulnerable women and families we see daily will not be able to access the services that they so badly need.
'How many mothers' lives will be lost in evidencing this observation? It is too sad to even consider.
'In the midst of a population of whom only 40% have English as a first language, we have a population whose voice is seldom heard. The minority who do voice their opinions publicly are seldom listened to.
'This is evident from the flawed consultation at the inception of the SAHF plan in how the opinion of the population of Ealing was canvassed. We as a group of professionals are no longer prepared to sit quietly and be "done to".
'We demand that the impact of SAHF process on us as a group of professionals who give our very selves to our job is made public…'
'Yours sincerely
'A group of the Midwifery Staff of Ealing Hospital'
This call from the Ealing midwives must not be ignored. The CCG states that it will give just six weeks notice of closure. The trade unions locally and nationally must strike and strike now to defend Ealing Hospital maternity unit, and closure must be prevented by an occupation.