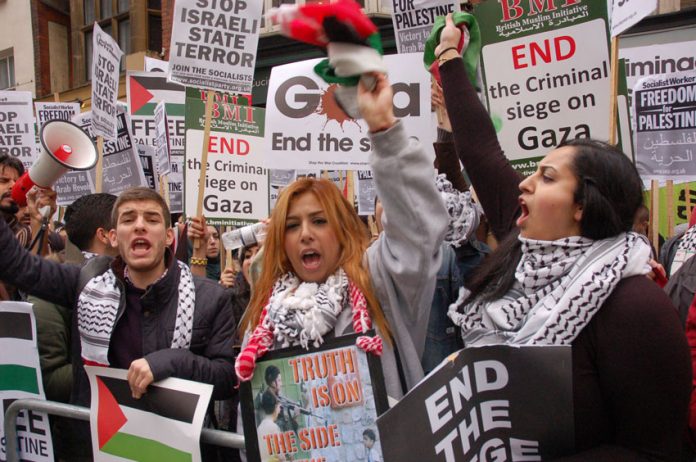 'STOP the killing, stop the crime! Free, free Palestine! Israel is a terror state!', over 2,000 protesters shouted at a picket of the Israeli embassy in west London on Saturday, following on from the same number on Thursday night.
Speakers from the Palestine Solidarity Campaign, Stop the War Coalition and Labour MP Jeremy Corbyn condemned the latest Israeli onslaught on Gaza and called for pressure to be put on the UK and international community to change their positions and to make Israel stop.
Another demonstration was announced for this coming Saturday starting at 12 noon at Downing Street and marching to the Israeli embassy.
News Line spoke to some of the angry protesters last Saturday.
Asif Bhayat from east London said: 'I'm here primarily against the killing now but generally against the occupation full stop.
'The tide is turning with this Israeli operation, call it Cast Lead 2, there is more of an alternative voice through social media and other independent media outlets.'
'Gaza is able to get its truth out through social channels which assists in the media war.
'The role of the British government and mainstream media is atrocious.
'The BBC and Sky reporting is totally biased towards Israel.
'It seems an Israeli life is worth more than a Palestinian's.
'But the resistance is posing a different challenge to Cast lead 1.
'An F-16 was shot down and three Israeli soldiers have been captured and are being held.
'In Gaza. civilians are being murdered wholesale.
'As of now, there are thirty-plus civilian deaths, of which a third are young children.
'There is one confirmed death of a pregnant woman and three to five pensioners.
'On top of that, there are three hundred-plus wounded.
'Gaza hospitals are running out of medicines and Gaza is under siege.
'It's time for international governments to change their policies and for the masses to wake up.'
Mesut Atalar from Wood Green told News Line: 'It's terrible what's happening.
'I've been following it for about four or five years now.
'This is the first time I'm coming to a demonstration. It's not going to be the last.
'I've got friends who are Palestinian.
'I just want to show my support to them.
'I came today because the BBC is giving us false information. They only show the attacks on Israel.
'The Palestinians are right to fight back. Israel is attacking a country with no navy, air force or army.
'Israel is calling it a war but I see it as genocide.
'Workers in other countries should boycott Israel.
'The British trade unions should take action.
'The British government are doing nothing for the Palestinians.'
Subah Sadiq Khan from Slough added: 'I'm tired of the hypocrisy of the British and US governments – over their support for Israel, their exportation of arms.
'I'm angry against Turkey, Qatar and Saudi Arabia with the steps they are taking.
'The fact that they are in a position to help but do nothing hurts me and angers me.
'What Israel is doing is genocide. It's amazing they can do this in front of the eyes of the world.'
Charity worker Barbara Crowther from Ladbroke Grove, west London, said: 'I'm appalled at the genocide of the Palestinian people.
'Israel is attacking civilians. I want William Hague and the government to stop defending Israel's acts.
'The 180 air strikes on Gaza last night is just criminal.
'If they want to stop the violence, they need to stop the Israeli settlements and the siege on Gaza which is destroying health services and businesses and the future of Palestinian children.
'I work with Palestinian olive growers and while Gaza is under attack, the olive growers in the West Bank are having their trees ripped up.
'The farmers only want to live in peace and have a sustainable livelihood.
'Anybody of conscience in Britain should be standing up against the destruction of a nation.'
Samer Abdelnour, a Canadian living in London, said: 'I came today to show my solidarity with the people of Gaza and to connect with others in London to send a message to the UK government that the bombardment of Gaza is unacceptable.
'The boycott, disinvestment and sanctions campaign is one of the most important initiatives which everybody and anyone can participate in.
'The trade unions support for a boycott of Israel is important.
'I think a new Intifada is inevitable.'
Hodan Hussein from Hackney added: 'I'm really annoyed about what is happening in Gaza and the media blackout.
'The Israelis are just looking for an excuse to invade Gaza again.
'The airstrikes ruin homes and buildings, people are dying.
'The British government is totally biased towards Israel. So is the media.'
Alberto Torres, a Palestinian living in London, said: 'What Israel is doing to Gaza is not human, it's not rational.
'There is no excuse. Israel says it is fighting terrorism. It's not terrorism, it's segregation.
'I think there's going to be a revolution.
'Workers here in the UK should boycott Israel and keep up actions like this today.
'The British government are hypocrites.'
Abdul Litiff from Essex told News Line: 'The current situation is somewhat imbalanced.
'In my opinion, it is a precursor to a full-scale invasion, two-thirds of which is occurring at the moment.
'Yet again, the UK government is supporting the Zionist state.
'I'm for one Palestine with everyone living together in harmony.
'There should be a trade union boycott of Israeli goods.'
Mehmood, a student from Pakistan living in London, said: 'I call the air strikes on Gaza "Pillar of Aggression" not a "Pillar of Defence" as Israel claims.
'The Israeli Occupation Forces are looking for an excuse to start aggression against the resistance group, Hamas.
'The Hamas commander who was assasinated was holding the truce deal in his hands.
'But the Israelis decided to provoke the situation.
'The Palestinian Authority and Hamas should unite, backed of the Arab League and international leaders, and call for a third Intifada which will make way for the end of occupation.
'British workers should boycott Israel.'
Sharaz Younas from Stevenage told News Line: 'I came here to show my support for the Palestinians in Gaza.
'War in not the answer. It's a lose, lose situation. You need talk and compromise.
'It's terrible what's happening. A lot of different countries in the world are being suppressed by the wealthy.'