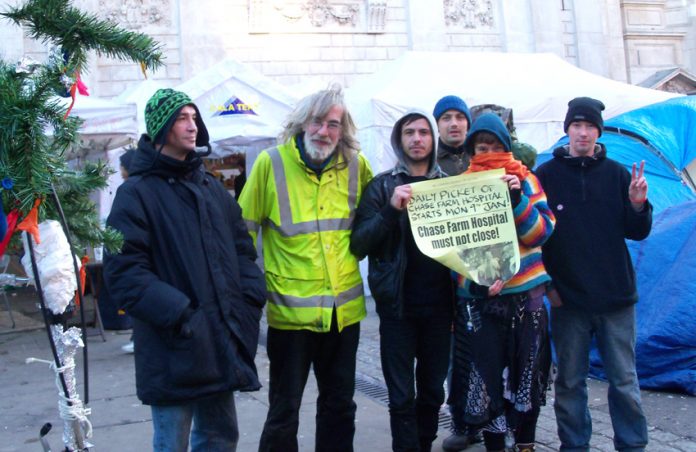 Anti-capitalist occupiers camped outside St Paul's Cathedral yesterday made it crystal clear that not only are they determined to stay indefinitely but will also come down to participate in the occupation of Chase Farm Hospital in Enfield to stop its closure.
On the January 9th the North East London Council of Action begin their daily picket of Chase Farm Hospital as a prelude to occupying the hospital to stop the closure and the occupiers at St Paul's also said that they would join in the daily pickets.
Wincey Cartwright said: 'We will not be driven out of what is now our homes!
'We have come this far and the City of London and St Paul's have no right to move us.
'Our cause is a just one and we will not give up our principles.
'It is not the occupation that must go, it is this system of exploitation where the 1% squeeze us dry of all our hard earned money to pay for their lavish life styles and sordid gambling habits.
'The defending of Chase Farm Hospital in Enfield is also a just cause and is intertwined with our struggle against the banks and the rich.
'Why should we pay for their mess with our public services? That is why I will do everything in my power to help the cause.
'We will bring people to the daily pickets of Chase Farm and help with strength in numbers.'
Occupier Marc Brady said: 'Everyone is determined to stay. The weather has not been too bad actually. It has been quite a mild winter, a bit wet but it could have been a lot worse.
'I have been left homeless by the council, I went abroad and when I came back I had no where to stay and Occupy London Stock Exchange (Occupy LSX) kindly offered me a tent.
'The rich have become far too rich for their own good and the poor have become much poorer.
'There is a lack of job creation with fundamental businesses such as manufacturing and engineering have all been left to rot.
'I support the idea of occupying any hospital or library or any other service that is being taken away from the public that we continue to pay for.
'The government is not listening to the people's demands so there is no alternative but to take affirmative action.'
Fellow occupier Nick Galbraith said: 'I have been staying here at Occupy for about a month.
'Something needs to be done, we can not sit at home and complain, we have to change the system completely, it needs doing.
'The NHS is on a tight budget as it is, if they close the hospitals the 1% will be fine because they all have private health care.
'However the 99% of the population will be in serious trouble if these closures go ahead.
'I support the struggle to occupy Chase Farm Hospital because the movement here is about the governments not being able to run their own country and if they can not run hospitals then this is what is happening.
'People are now standing up for themselves, there is something not right here and the government do not like it one bit.
'Occupying Chase Farm Hospital will be brilliant, they must not privatise or close hospitals as they belong to everyone!
'I will definitely participate in the daily pickets and occupation of Chase Farm.'
Marilyn Magnusen who had come down to support the St Paul's occupiers said: 'I also came down to check out the St Paul's occupation library which is a free book exchange.
'This economic crisis is really bad, why should the normal man or woman be held accountable for the mistakes of the big cooperation.
'I think that what Occupy London is doing is really good and that they are brave.
'I hope what they are trying to achieve comes through in the end.
'That the St Paul's occupiers are prepared to come all the way down to Enfield to support the struggle to keep Chase Farm Hospital open I think is brilliant.
'I have lived on the Chase Farm Hospital site all my life with my sister and my mum.
'My mum is a nursing assistant at Chase Farm.
'I have so many connections with the hospital, my cousin had her twins in the threatened maternity unit at Chase.
'Also a friend of mine whose dad sadly passed way because of a brain tumour, could not have received better care then he did at Chase Farm Hospital.
'The hospital did everything they could to make his his last few weeks of life as comfortable as possible.
'Chase Farm Hospital must stay open because of the local services.
'If you think about Enfield itself there is not another hospital any where nearby.
Michele Haines and her son travelled all the way from Suffolk to visit the St Paul's occupation and lend their support to the struggle.
She said: 'This is the second time I have come down to support the Occupy London struggle.
'I came down in the first week that the occupation began and I have never met such lovely people.
'I said to my family, I can not keep shouting at the TV and not come down and support people that are actually doing something about it.
Filsan Nur had also come down to the St Paul's Occupation to support their struggle she told News Line: 'I was in the occupation in Madrid in Spain when it first started on May 15 in 2011.
'There is massive unemployment in Spain and it is ridiculous!
'Spain was one of the countries most affected by the Eurozone collapse and the occupation in Madrid was demanding change and jobs for young people.
'I have come down to Occupy London today to show my support, London is my city.
'Getting rid of the system of capitalism will be incredible, but how do you do it, that is the question!
'When we do it we will have to start from scratch and it will be tough times, but definitely worth it.
'The working class run the city and we have to reach out to as many people as we can.
'The working class needs to take over, it does need to take control, that is something that needs to happen.
'We have to have a government made up of people who are looking after our interests.
'If we take control and occupy services threatened with closure then we are taking care of our own interests.
'That is why I agree with the occupation of Chase Farm Hospital.
'It is always better to be in control of your own future then to let a small group of rich people try to decide the future for you.'