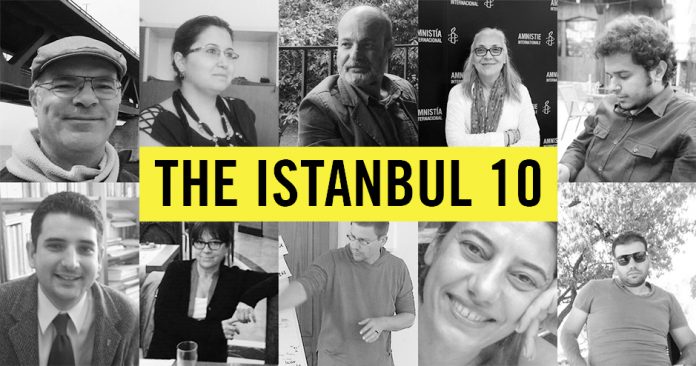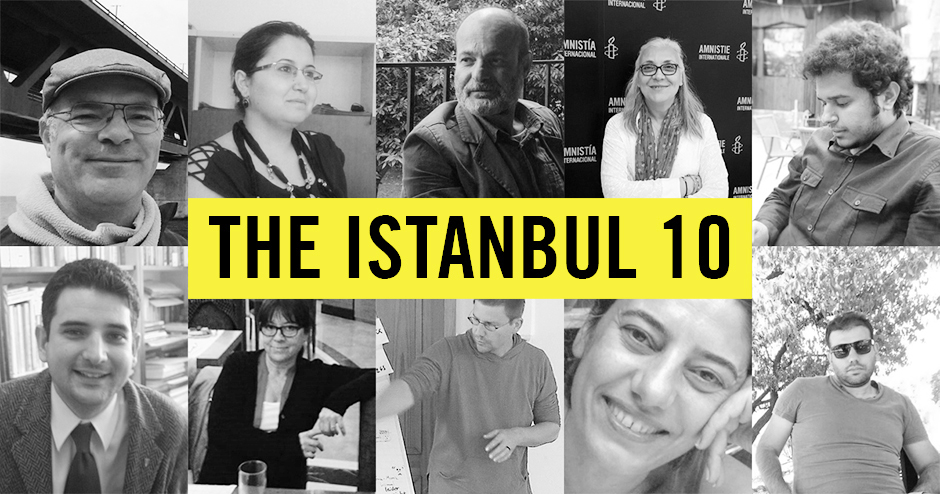 THE DECISION to renew the detention of Amnesty International's Turkey Chair just hours after a court ordered his release must be immediately reversed and Taner Kiliç set free, Amnesty International said on Thursday.
Salil Shetty, Amnesty's Secretary General, said: 'Over the last 24 hours, we have borne witness to a travesty of justice of spectacular proportions. To have been granted release only to have the door to freedom so callously slammed in his face is devastating for Taner, his family and all who stand for justice in Turkey.
'This latest episode of his malicious detention has dashed the hopes of Taner and those of his wife and daughters who were waiting by the prison gates all day to welcome him into their arms. This is the latest example of the crisis in Turkey's justice system that is ruining lives and hollowing out the right to a fair trial.
'By riding roughshod over justice and ignoring the overwhelming evidence of his innocence his re-detention only deepens our resolve to continue to fight on Taner's case. One million voices have already called for his release. He should never have been arrested, and we will not rest until he is free.'
Taner's renewed detention followed a decision on Wednesday by the Istanbul trial court to conditionally release him from pre-trial detention. The prosecutor appealed the court's decision.
A second court in Istanbul accepted the prosecutor's appeal and instead of being released, Taner was taken from Izmir prison where he had been held since June, and into custody.
It is now up to the trial court to either renew its decision to release Taner or accept the other court's decision to continue his detention. The next court hearing has been set for 21 June 2018.
Kate Allen, Director of Amnesty UK, said on Thursday: 'The decision to rearrest my colleague Taner is a complete disgrace.
'The court yesterday released him on bail because there was no evidence produced against him.
'Yet his rearrest raises more questions for the Turkish authorities to answer. It is not Taner that is on trial, it is the Turkish justice system. We will stand alongside Taner and his family, and we will continue our work until this travesty is brought to an end.'
Kiliç was detained on 6 June last year and sent to jail three days later, where he has since languished. Ten other activists 'the Istanbul 10', including Idil Eser, the Director of Amnesty Turkey, were detained a month later. Eight of them were held for almost four months before being released on bail at their first hearing in October.
The Istanbul 10 were accused of 'membership of a terrorist organisation', a baseless allegation for which the prosecution has yet to provide any concrete evidence. More than a million people from scores of countries have signed Amnesty appeals demanding the release of the 11 human rights activists since their arrest last summer.
Kiliç is alleged to have downloaded and used the ByLock messaging application, which the prosecution has claimed was used by the Gülen movement to communicate with each other. However, two independent forensic analyses of Taner's phone commissioned by Amnesty found that there is no trace of ByLock ever having been on it.
So far, the prosecution have not provided any evidence to prove their claim and demonstrate any criminal wrongdoing. Last month, the Turkish authorities admitted that thousands of people have been wrongly accused of downloading ByLock.
They published lists containing the numbers of 11,480 mobile phone users, leading to mass releases. Taner Kiliç is not yet among those listed for release on this basis. Amnesty noted: 'Since the attempted coup of July 2016, criminal investigations have been opened against 150,000 people accused of being part of the "Fethullah Terrorist Organisation", which the Turkish government claims masterminded the coup.
'Some 50,000 people are currently jailed, including at least 100 journalists, the highest number of any country in the world. More than 100,000 public sector workers, including a quarter of the judiciary and hundreds of academics, have been arbitrarily dismissed.'
• Despite their strike being banned by the government, Turkish metalworkers have won a wage increase of almost 25 per cent as part of a new collective agreement. The strike was scheduled to begin on 2 February 2018.
Unions refused to recognise the strike ban and vowed to continue the struggle, resulting in a remarkable achievement, advancing their wages and working conditions through a new sectoral level collective bargaining agreement covering 130,000 workers in 179 enterprises. The two-year agreement, backdated to 31 August 2017, was signed by the three unions representing metal workers, including IndustriALL affiliates Birlesik Metal-is and Çelik-is, with the Metal Industry Employers' Association, MESS.
The employers' association MESS withdrew from its previous concessions due to the determined stance of metalworkers, and made a substantial increase in their final offer to the unions. The first offer from MESS was a 3.2 per cent increase, at the level of realised inflation.
Afterwards they increased it to 6.4 per cent in the second and to 13.2 per cent in the third rounds of negotiation. However, in the end the employers accepted a 24.6 per cent increase in wages, and 23 per cent on social benefits.
Turkish metalworkers also gained complementary health insurance in line with their demands. As their demands were largely accepted by employers, Turkish metalworkers expressed their happiness and satisfaction with the victory. Workers repeated their motto, saying 'we said that this fight would never end until we say that it ends.'
In its statement, IndustriALL affiliate Birlesik Metal-is said: 'Signing this collective agreement is an achievement of metalworkers who did not recognise the strike ban. We thank everyone for their effort in this process.'
The general secretaries of IndustriALL Global Union and IndustriAll Europe, Valter Sanches and Luc Triangle, wrote to the Turkish metal affiliates. They said:
'We congratulate all the Turkish metalworkers on their determined stance in these hard negotiations. Your unity, struggle and determination made it possible for such a great victory. You have made a great example to the whole world that when you stick together, anything can be achieved. We trust that this unity will be maintained.'