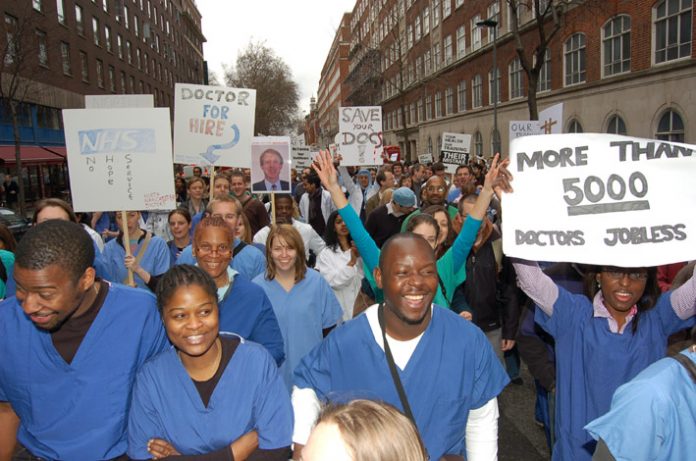 Over 12,000 junior doctors and supporters, including medical students, registrars and a number of consultants, marched through central London last Saturday against government 'reforms' which will see up to 15,000 junior doctors without a training post.
Hndreds of doctors also marched in Glasgow where BMA Scotland junior doctors committee vice-chairman Graeme Eunson called on health secretary Patricia Hewitt to resign.
The marches were called by grassroots organisation Remedy UK and backed by the British Medical Association (BMA) Junior Doctors Committee.
Both organisations are calling for 'an independent review of the failures of the new Medical Training Application Service' (MTAS).
MTAS is a new online training application system for junior doctors over which consultants no longer have control and gives insufficient weight to a candidate's qualifications and experience.
The mass of doctors say they want MTAS scrapped along with the new Modernising Medical Careers (MMC) training programme which proposes markedly shorter times for training up to consultant level, such that there is doubt whether consultant standard can be reached.
The London march set off from the Royal College of Physicians, Regent's Park, with the front banner declaring 'Government Fails NHS'.
Marchers wore white coats and medical scrubs and carried official placards saying 'Protect our training. Protect your NHS', 'My training, Your healthcare, Their mistake', and 'Training 4 Junior Doctors'.
Many home-made placards showed doctors' anger and opposition to the whole scheme, saying 'Stop thief! MMC stole our careers', 'Stop MMC, save your Docs', 'Labour's meddling kills patients and our careers', '8,000 Drs on the Dole', 'Terrible Waste', 'Computer says No' and 'Medical Talent Assassination Service'.
There was a lively delegation from North East London Council of Action with its banner saying 'Defend the NHS by all means necessary'.
Marchers took up the council of action members' chants of 'Jobs for Doctors– Scrap the MMC!', No to privatisation – Defend the NHS!' No cuts, no closures – Kick Blair out!'.
News Line spoke to a number of the marchers.
Junior doctor Pramod Kumar from Wrexham Park said: 'I'm applying for registrar training in psychiatry.
'I'm here because I don't think the new system is a fair system.
'They have cut down the number of training jobs, which is not good for the doctors and it's not good for the patients as well.
'My concern is the selection process has not been fair.
'The government is pushing the changes very quickly and we are seeing the results now.'
Sabeena Obaray from Newham Hospital added: 'I'm working as a child physician but I am training for A&E.
'I applied for ACCS ST2 and have been short-listed for my first two choices.
'I've had one of my interviews and it was devastating.
'Other people there were crying and angry because they felt they hadn't got the job and it was their only chance they had to work as a doctor.
'Almost half of the doctors in the country are not going to be working in training positions.
'Even many who do get a training job aren't going to be working in the region where they want to be.
'I blame the government.
'They shouldn't make such radical reforms to the NHS without properly consulting those that are going to be affected by their changes.
'Our union, the BMA warned the government that these changes would upset junior doctors and worsen patient care.
'But the government didn't care to acknowledge the BMA's warning.
'A lot of people feel let down by the BMA, but that isn't the issue today.
'The BMA, the junior doctors committee, and Remedy are all standing together today for a better NHS and better patient care.
'I think the junior doctors would be prepared to take a legal case against the government over this.'
Daphna Smith-White, from Brighton and Sussex Medical School, said: 'We want to be treated like human beings and not like servants of the system.
'My concern is we are going to get training but only to fit the agenda of this government.
'This agenda is not to make more knowledgeable doctors but to make the NHS more privatised and more economically driven.
'It doesn't serve the interests of the patients or doctors.
'The government is promoting managers and bureaucratic careers and we're just going to be servants.
'The government is saying the NHS has too many consultants but it is just they don't want to pay us the money we deserve.
'They want nurses trained to do doctors' jobs on lower pay.
'The whole NHS is being privatised.
'What they are doing with doctors, with training and government efficiency will mean patients only getting cured if they are rich.'
Jennifer Garrett from North Middlesex Hospital said: 'I'm here to support my friends whose lives have been a living hell for the past few months.
'Their futures are in the hands of politicians who do not know what doctors actually do.
'Our lives are being manipulated by government, we are mere pawns in this process. It's a disgrace.
'We should have been consulted before it all happened too fast.
'Today is about being heard.'
Junior doctor Ben While from Chelmsford told News Line: 'I'm trying to train as a plastic surgeon.
'Under this new system I will most likely be ejected from training – not based on my abilities or skills but through the failure of the system.
'MTAS needs to be scrapped now to stop a disaster in the future.
'It's all about the government wanting to wrest control from a powerful profession which it sees as a threat.
'We train ourselves, govern ourselves and are independent of direct government control of the profession.
'It's all wrapped up with ID cards, the new passport system and the erosion of civil liberties.
'They are making selection unfair – what other professionals apply for a job without a CV?'
Kate Yarrow from Brighton added: 'I've just come back from working with Medecins Sans Frontieres in the Congo.
'I applied with the new MTAS system for obstetrics and gynaecology.
'I've been training in it for two years already and I haven't even been shortlisted!
'I have an almost perfect CV, never had any troubles in the past, and now feel totally let down by the new system.
'MTAS appears to discriminate against good CVs, simply by not even looking at them in the first place.
'The government is trying to run a medical system that it doesn't understand.
'At least I felt wanted and needed in the Congo. I've come back and you feel you're not even wanted.
'They've reduced posts by about 8,000 – so who is going to cover the patients, as they are reducing the hours as well?
'Medical care should not be about business, it should be about giving good patient care – and if that involves spending more money and more doctors, then that's the way it should be.'
BMA deputy chair Sam Everington told News Line before the end-of-march rally got underway in Lincoln's Inn Fields: 'This new system is a disaster for doctors and a disaster for patients.
'The government need to completely review the system and scrap it if it can't be sorted.
'There is little confidence in the system from people here, who think it should be scrapped.'
Speaking at the rally opposite the Royal College of Surgeons, Paul Malone of the BMA junior doctors committee warned: 'The training of doctors is in jeopardy.
'The future of the NHS is in jeopardy.'
He added: 'Never in our memories have such changes in the NHS caused uproar amidst junior doctors and consultants.
'We want this system scrapped,' he said to cheers and applause.
'We're here to tell the government "please listen to us".
'The government doesn't listen and the medical profession is losing trainees.
'Tony Blair, Patricia Hewitt,' he warned to shouts of 'sack them', 'you are losing the hearts and minds of doctors.
'Patients will suffer the disastrous consequences of what you are doing.
'Stop this nonsense before it is too late, let us keep training.
'While you, the government push ahead with your flawed agenda, we will fight,' he concluded to more applause.
Colette Marshall, one of a group of West Midlands surgeons who revolted against the new system was given big applause.
She told the rally: 'I'm overwhelmed at the amazing attendance her today – there are over 12,000 people on this march.
'Remedy has galvanised junior doctors and senior doctors to put their heads above the parapet.
'In the West Midlands, I'm proud to be part of the panel to stand up.
'We felt we would be associated with a system, MTAS, that is basically flawed.
'We felt we could not give it our seal of approval and the only decision we could take is to withdraw from the process,' she said to more applause.
Marshall continued: 'Speaking on Modernising Medical Careers, better known as "mass medical culling", this policy will result in 8,000 talented and dedicated doctors being unemployed in August.
'It's a disgrace, a scandal!
'Patricia Hewitt, Tony Blair (more cries of 'sack them') listen to us – it is not good for the NHS, it is not good for patients.'
Specialist Registrar Clive Peedell from Leeds told the rally: 'I'm pleased to see some of the senior members of the profession here to stand up.
'Patients and doctors have been betrayed.
'The labour government has a clear agenda to control and disempower the medical profession so it can push its reforms at cut price cost.
'MTAS is a political tool. It aims at mass production of "fit-for-purpose" sub-consultants suitable for private treatment centres.
'This goes against the basic principle of the NHS, which is consultant-led care.
'I think a person goes from fit-for-purpose to out of their depth. I think patients are being put at risk,' he said to applause.
Peedell continued: 'MMC is a smokescreen for the public to think they are being seen by trained doctors.
'MMC will reduce a person's training and jobs for doctors.
'We want to know if the public want this. Let's get it out in the open, the government's method is to be secretive.
'The medical hierarchy have stabbed us in the back.
'I accept their job was not easy, they got told either you are in or you are out, but they betrayed us.'
He concluded to applause: 'The message from senior house officers is "this is ridiculous, scandalous".
'The sleeping giant of the medical profession is now awake.
'It's out in the open now and it's time to fight back.'
While thousands on the march were fed up with politicians interfering and damaging the NHS, unfortunately the BMA allowed Tory leader David Cameron to address the London rally, in an attempt to claim the Tories were a friend of the NHS.
The London rally was also addressed by Liberal Democrat MP Tom Brake.
• See photo gallery for more pictues