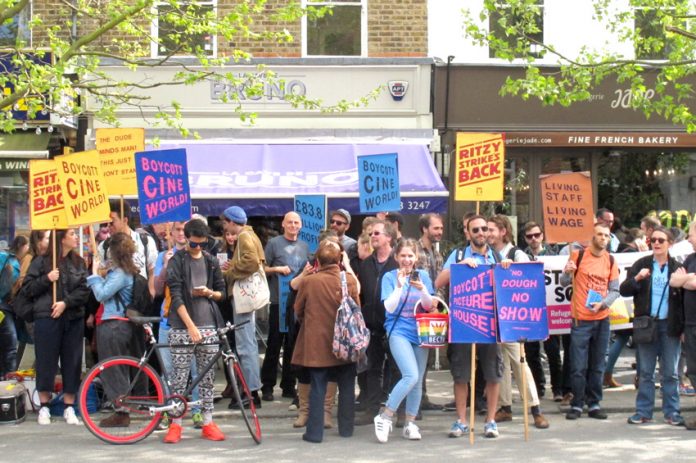 'WHAT do we want – the living wage!' 'When do we want it – now!' shouted over a hundred striking BECTU members and supporters outside East Dulwich Picturehouse on Saturday.
Five Picturehouse cinemas were on strike simultaneously on Easter Saturday 15 April. Workers at Picturehouse cinemas have been striking since last September for the Living Wage (currently £9.75 in London, £8.45 elsewhere, as set by the Living Wage Foundation).
Picturehouse continue to refuse negotiations despite owner Cineworld announcing £93.8 million profit for 2016 last month. Saturday's was the first strike day for BECTU Sector of Prospect members at the East Dulwich Picturehouse. Union members there walked out at 1pm and the strike ran until 5am on Sunday 16 April.
They were joined by staff from The Ritzy (Brixton), Hackney Picturehouse, Crouch End Picturehouse, and Picturehouse Central, in the demonstration outside the East Dulwich venue.
Strikes at the other sites ran for 24 hours from 5am on Saturday 15 April.
News Line spoke to several of the strikers and demonstrators. East Dulwich Picturehouse BECTU rep Charlie Rutter said: 'It's got to the point where we have lost faith in both head offices and the Forum, the company union.
'No-one wants to strike, we have a good relationship with our customers, but the company are not willing to listen. We've asked for simple things – to recognise BECTU, for a living wage, for maternity and paternity leave and sick pay. We had a meeting the other day and Picturehouse made their position clear. They said they wouldn't be recognising BECTU and they wouldn't be paying a living wage. The majority of staff supported the BECTU position and that support has strengthened in the last week.'
Goldsmiths student Tom Roseingrave said: 'I'm here in solidarity with my friend Ben Lennon who is one of the organisers of the strike. More generally, I'm here because if the cost of living outstrips your wage packet while the company is making profits of £93m last year, then something is wrong. Why should workers be the last people considered? They should be the company's priority rather than a source of cutting costs and neglect.'
Another student, Maeve Fennelly added: 'My dad works at East Dulwich Picturehouse, that's why I'm here today. Management are really dismissive and condescending. You need a living wage, especially to be able to live in London. Giving maternity leave and sick pay should be something that companies should want to do to meet those needs. I agree with the strike. It's good that people are standing up for their rights and a decent standard of living.'
Striking Hackney Picturehouse BECTU rep Alisdair Cairns said: 'We've been campaigning for Picturehouse to pay a living wage and recognise BECTU for well over a year now. They are refusing to negotiate with us, so we've been striking regularly since October. We have grown from one cinema on strike to six – East Dulwich is the sixth to join us. We are determined. Members are incredibly dedicated and believe Picturehouse should treat their staff fairly. They are a profitable company and can afford to do so.'
East Dulwich striker and BECTU member Jack Holden said: 'I'm not working today. Picturehouse owner Cineworld has made a huge amount of profit over the past couple of years. It was £83.8m in 2015 and it's risen above £90m this past year. The company is perfectly entitled to make a profit but when we are asking for a miniscule rise in wages it should respect that. The London Living Wage is calculated as the smallest hourly wage that you can survive on in London. It's not some number that's plucked from mid-air. In service roles whose hours are not guaranteed and the shifts can be flexible, there is even more reason that the hours people work are adequately remunerated.'
BECTU London and southeast Arts and Entertainment organiser Naomi Taylor said: 'We really want to talk to Picturehouse about the other cinemas apart from the Ritzy. Ritzy members won a 26% pay rise which is just below the living wage. We are always willing to negotiate.'
Ritzy cinema BECTU rep Holly added: 'We're here today to support East Dulwich colleagues, it's their first day out on strike. It's always great when another site joins the campaign. We are very lucky at the Ritzy because we are a recognised union there. The other sites which are on strike are also campaigning for a living wage but they are also campaigning for union recognition, which is really important in the workplace.
'The main point of the strike today is East Dulwich joining the campaign. The company is always claiming it's a minority of staff out on strike. But more people joining us shows this is not the case.
'The strikes are continuing, we are determined to win.'
Ritzy BECTU member Lois Stevenson said: 'It's great to be part of a movement that is getting stronger and stronger. We're all living in London, it's hard for young people. We're not just fighting for us, we're doing it to lead the way for other workers in other corporations. I'm for continuing the action until they give us all a living wage. The government encourages Picturehouse. The Tories are not for poor people and are trying to limit the right to strike.'
East Dulwich striker Vlada, a duty manager, said: 'I agree with the front of house staff. I was here when the cinema opened and was front of house and wished we were paid the living wage then. I'm on strike today, everyone deserves a living wage – it's in the name. The company is getting worse because Cineworld is implementing its system. It seems to be money centric rather than staff centric, which is rubbish. There should be more action until we get a satisfactory response.
'At the moment the company is refusing to negotiate.
'It is saying straight out "we're not going to pay a living age or recognise BECTU". Picturehouse say they have their own union and they only recognise that. The company union is not as strong, and anyway it's run by the company.'
Ritzy striker Ola Novak said: 'I want to support East Dulwich. I think they are doing great things, they are fighting for their rights. I came to London three months ago. It's not so easy living here. You need to have a job which is very hard to get and you need to earn enough money. The wages are only just enough for food and rent, sometimes not even that. So you can't afford to make your dreams come true, like travelling or other things. The only good thing is we get free cinema tickets, but we do need a living wage.'
Crouch End Picturehouse BECTU rep John Karley said: 'We're on strike today – staff from five cinemas are on strike. We want Picturehouse and Cineworld to recognise our union. We want them to sit down and negotiate with us. We're asking for the London Living Wage and proper sick pay and maternity/paternity/adoption pay that's given in the leave.
'At the moment they only pay the legal minimum. Cineworld just announced their profits for last year were £93.8m and their CEO is on over £2m for last year. We think that's ridiculous. We've been on strike for so long and they are not even willing to talk to us. But we think we've enough of our customers and staff joining our campaign that they won't be able to stay silent, they are going to have to come down and talk to us. We are definitely continuing the action until then and calling on people to boycott Picturehouse until we win a living wage. At least they must talk to us and recognise BECTU.'