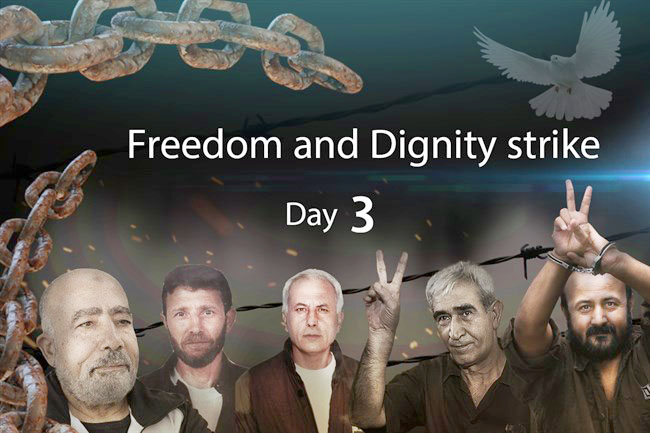 MANY HUNDREDS of hunger-striking Palestinian prisoners entered the third day of the 'Freedom and Dignity' hunger strike on Wednesday, with imprisoned Palestinian women launching protest measures, as lawyers representing the hunger strikers announced they were boycotting Israeli courts.
that Israeli prison authorities grant them basic rights, such as receiving regular visits, and are also calling for an end to deliberate medical negligence, solitary confinement, administrative detention, among a long list of other demands laid out by the Fatah movement and its imprisoned leader, Marwan Barghouthi.
Some 1,500 prisoners continued the strike that began on Palestinian Prisoners' Day, April 17th, according to a statement on Wednesday from a joint media committee comprising of the Palestinian Committee of Prisoners' Affairs and the Palestinian Prisoner's Society (PPS).
According to the statement, lawyers from institutions such as PPS and the prisoners' committee decide to boycott Israel's courts. As Barghouthi noted in a letter published by the New York Times ahead of the hunger strike, the conviction rate for Palestinians in military courts is nearly 90 per cent, according to the US State Department.
The piece has sparked widespread outrage among Israeli leadership; Barghouthi could face prosecution for writing it, while some members of Israel's government have also suggested shutting down The New York Times bureau in Jerusalem.
Meanwhile, head of the Palestinian Committee of Prisoners' Affairs Issa Qaraqe called upon the United Nations secretary general to hold an emergency meeting for the UN General Assembly to discuss 'the escalating and dangerous conditions' in Israeli detention centres and prisons, as the strike continues.
The committee reported on Wednesday that Palestinian women in Israel Hasharon prison, where 58 women are held, have launched protest measures in solidarity with the hunger strikers.
Lawyer from the committee Hiba Masalha said that the women would refuse meals every ten days, highlighting that their measures could escalate in the coming days if Israel does not respond to the demands of the hunger strikers.
Meanwhile, after seven Palestinian prisoners suffering from various illnesses held in Israel's Ashkelon prison decided to join the open-ended strike, prisoners' committee lawyer Karim Ajweh said on Wednesday that Israeli prison authorities continued to punish them.
After visiting the prisoners at Ashkelon, Ajweh said that the Israel Prison Service (IPS) confiscated their electronic devices and other possessions, leaving the sick prisoners with just three blankets, one pair of underwear, one small towel, and one toothbrush for the seven men to share.
The seven prisoners, identified as Said Musallam, Othman Abu Khurj, Ibrahim Abu Mustafa, Yasser Abu Turk, Nazih Othman, Ayman Sharabati, and Abd al-Majid Mahdi, had also been strip searched, transferred from their normal cells, and 'humiliated,' Ajweh said.
The lawyer added that the ill prisoners' decided to undertake the strike in protest of being medically neglected, despite the dangerous consequences the strike could have on their health. The seven men also threatened to stop taking their medication if they were to be force fed.
Since the hunger strike began, Israeli authorities have established field hospitals, Israel's Public Security Minister has confirmed, for Palestinian prisoners. The move has raised alarm that hunger strikers, who will likely face deteriorating health conditions in coming days, will be force fed en masse – violating international standards of medical ethics and international law that regard the practice as inhumane or even a form of torture.
Israeli doctors in civilian hospitals have so far refused to force feed hunger strikers, despite the Israeli Supreme Court's recent decision that ruled the practice to be constitutional. In addition to punitive measures taken against the group of sick prisoners, IPS has punished the hundreds of other hungers strikers by suspending family visitation rights, preventing lawyers from visiting some hunger strikers, and moving hunger-striking prisoners around in its detention facilities in order to separate them from Palestinian prisoners who were not participating in the hunger strike.
IPS officials have also placed a number of hunger-striking prisoners – including Barghouthi and Karim Yunis – in solitary confinement and banned the prisoners from watching TV, with IPS declaring 'a state of emergency' in detention facilities holding Palestinian prisoners.
Thousands of Palestinians marched in solidarity with the hunger strikers on Monday, with Israeli forces notably suppressing a demonstration in the southern occupied West Bank city of Bethlehem, and detaining four young Palestinians at another demonstration in the central West Bank district of Ramallah.
Israeli authorities have detained approximately one million Palestinians since the establishment of the state of Israel in 1948 and the subsequent occupation of the West Bank, East Jerusalem, and the Gaza Strip in 1967, according to a joint statement released on Saturday by Palestinian organisations.
• In the occupied West Bank district of Salfit, family members of Palestinians held in Israeli prisons have launched a hunger strike on Tuesday in solidarity with their relatives currently on a mass hunger strike that began on Monday. The family members have said that they would continue the strike as long as their relatives are refusing food.
Ayman Muhammad Bani Nimra, the mother of imprisoned Palestinian Nabil Bani Nimra from Salfit city, told Ma'an at a solidarity tent erected for the hunger strikers that she had started refusing food and 'would not stop unless our children in the (Israeli) occupation's prisons end their hunger strike and see improvements in conditions.'
Meanwhile, Rimah Shawkat al-Khuffash, whose brother Haitham is also among the hunger strikers, urged all Palestinian citizens to support the hunger strikers, adding that she has also launched a hunger strike and would remain at the solidarity tent until the hunger strikers in Israeli prisons decide to end their strikes.
Iss Ishtayya, whose brother Said is on hunger strike, urged international organisations and human rights groups to support the hunger strikers and help them achieve their demands 'before it's too late,' and highlighted the 'disastrous' living conditions in Israeli prisons.
Nizar al-Daqrouq, the director of the Salfit office of the Palestinian Prisoner's Society, also urged the Palestinian people to support the hunger strikers by visiting the solidarity tents, and 'launching a popular uprising.' He underscored that families of Palestinian prisoners would receive free medical checkups and medicine in the village of al-Zawiya on Wednesday, while a rally would also be organised in Salfit city to support the prisoners.
Palestinians from all the Salfit districts planned to perform to coming Friday prayers near the Israeli 'seam zone' – isolated areas in the occupied Palestinian territory falling in between Israel's separation wall and the Green line – in the village of Deir Istiya.
Next Saturday, a march will also be launched from the solidarity tent in Salfit to another tent erected in Kafr al-Dik. Initially called for by Fatah-affiliated prisoners, Palestinian prisoners from across the political spectrum have since pledged their commitment to undertake the strike, which by some estimates exceeded 2,000 participants when it began at midnight on Monday. Official Palestinian news agency Wafa reported on Tuesday the strike was being carried out by some 1,500 prisoners.
Israeli Foreign Ministry spokesman Emmanuel Nahshon said in a statement on Monday that Palestinians detained by Israel were 'not political prisoners,' but 'convicted terrorists and murderers,' claiming that 'they are treated properly under international law.'
However, the hunger strikers have denounced the torture, ill-treatment, and medical neglect of Palestinian prisoners at the hands of Israeli authorities, as well as Israel's widespread use of administrative detention – internment without trial or charges – which is only permitted under international law in extremely limited circumstances.
Earlier on Tuesday, the International Committee of the Red Cross (ICRC) told Ma'an that Israel Prison Service (IPS) had suspended family visits for Palestinians involved in the hunger strike. On Monday evening, the Palestinian Committee of Prisoners' Affairs released a statement saying that IPS officials had transferred a number of prisoners – including Barghouthi and Karim Yunis – into solitary confinement, confiscated hunger-striking prisoners' personal belongings and clothes, and banned the prisoners from watching TV.
Meanwhile, according to the Committee of Prisoners' Affairs, IPS authorities established a field hospital in the Ktziot prison especially for hunger strikers, while simultaneously banning the future transfer of hunger strikers with deteriorated health conditions to any Israeli civilian hospitals – which have so far refused to force feed hunger-striking Palestinian prisoners following an Israeli Supreme Court decision ruling that the measure was constitutional, in contravention of international medical ethics.
Palestinian prisoners' solidarity network Samidoun warned that it was 'highly possible' that Erdan's field hospital proposal was 'an attempt to impose mass force feeding on striking Palestinian prisoners outside the civilian medical framework.'