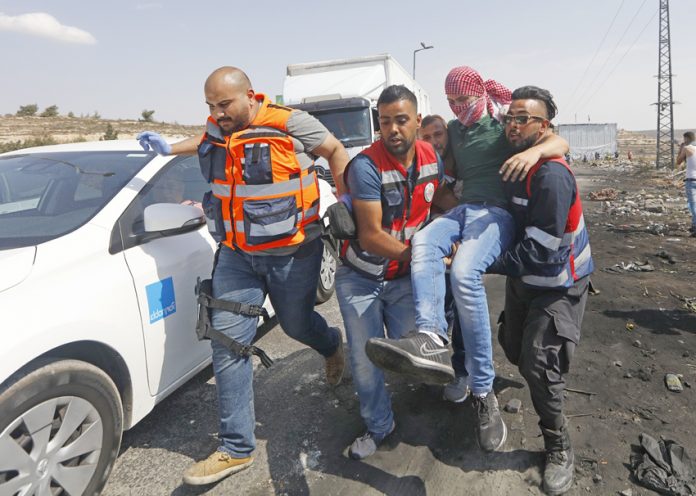 TWO PALESTINIAN university students were shot and injured with rubber-coated steel bullets and dozens of others suffocated during clashes that broke out with Israeli forces near Beit El checkpoint, north of Ramallah on Tuesday.
The Israeli soldiers fired rubber-coated steel bullets, tear gas canisters, and stun grenades toward the students who rallied against Israel's Nation-state Law and its planned demolition of Khan al-Ahmar Bedouin community, east of Jerusalem. The two students were struck with rubber-coated steel bullets in the foot area and dozens others suffocated due to tear gas inhalation.
The rally was called by the student movement in Bir Zeit University. A Palestinian construction worker died on Tuesday morning after slipping while waiting at the narrow corridor of Checkpoint 300, north of the southern West Bank city of Bethlehem.
Yousef Jum'a Ghawanma, 65, a resident of the Hebron-district refugee camp of al-Arrub, slipped and fell on his head while on line to pass through the Checkpoint 300 on his way to work inside Israel. He was rushed to Beit Jala Government Hospital, where he was pronounced dead shortly afterwards.
Thousands of Palestinian workers queue before dawn each day to pass through Checkpoint 300, which separates the West Bank cities of Bethlehem and Jerusalem. Workers crowd into the cement and metal-barred walkways, push through turnstiles, pass a metal detector and show their IDs and permits to Israeli soldiers in order to travel to occupied East Jerusalem and Israel for work.
The checkpoint was built in 2005 inside the West Bank despite the International Criminal Court of Justice's ruling that Israel's wall was deemed illegal in 2004. Large number of Palestinians, especially construction workers, pass the checkpoint every day, facing extreme overcrowding and often waiting for hours in line due to inspection procedures as every person must pass through metal turnstiles one-at-a-time.
Israeli severely restricts Palestinians' freedom of movement through a complex combination of approximately 100 fixed checkpoints, flying checkpoints, settler-only roads and various other physical obstructions. Israeli forces also on Tuesday detained at least eight Palestinians during multiple overnight raids across the West Bank, said Palestine Prisoners Society (PPS).
Israeli forces raided Meithalun town, south of the northern West Bank city of Jenin, detaining two former prisoners. They also detained a Palestinian after ransacking his family home in Jalqamus village, southeast of Jenin. Israeli troops conducted a raid into Tulkarem city, detaining two Palestinians, including a former prisoner. Another Palestinian was detained during a similar predawn raid into Abu Dis town, south of Jerusalem.
Elsewhere in Jerusalem district, police detained a Palestinian after brutally assaulting him from Hizma neighbourhood. In the southern West Bank, forces detained a Palestinian from Beit Ummar town, north of Hebron.
Israeli forces conduct overnight detention raids almost on a daily basis across the West Bank, triggering clashes with residents. Clashes often erupt between Palestinian youth who attempt to block soldiers' passage, throwing stones and empty bottles and are met with live fire, rubber-coated steel bullets and tear gas canisters, often resulting in serious, sometimes fatal, injuries.
Israeli police on Tuesday banned al-Aqsa Mosque guard Amin al-Abasi from entering the Muslim holy compound in Jerusalem for three months, according to officials at the Muslim Waqf (endowment) department in charge of the mosque.
More than 20 Palestinian Jerusalemites, most of whom are guards at al-Aqsa mosque, were banned from entering the mosque last week. Jordan is in charge of Al Aqsa Mosque compound and Jerusalem Waqf and its staff are considered Jordanian government employees.
The large-scale general strike held in the West Bank, the Gaza Strip, and the Palestinian towns of Israel in denunciation of Israel's Nation-State Law, widely criticised as enshrining apartheid into law, dominated the front page headlines in Palestinian Arabic dailies on Tuesday.
Al-Quds and al-Hayat al-Jadida reported that Palestinians held a general strike in the homeland and diaspora in denunciation of Israel's Jewish Nation-State Law. The dailies added that Israeli forces cracked down on rallies protesting against the law in the West Bank and the besieged Gaza Strip, injuring dozens of protesters.
Al-Ayyam printed photos of confrontations with Israeli forces at the northern entrance of the West Bank city of al-Bireh and north of Beit Lahia town in the Gaza Strip. Al-Quds and al-Hayat al-Jadida printed a photo of a similar protest in the Palestinian town of Jatt in Israel, while al-Hayat al-Jadida had another photo showing shops closed and busy streets brought to a standstill in the southern West Bank city of Hebron.
Additionally, al-Quds reported that Israeli Jewish settlers went on a rampage in the East Jerusalem neighbourhoods of al-Musrara and al-Wad, assaulting Palestinian residents and damaging Palestinian-owned vehicles and property. Settlers reportedly did so as they marked the end of the Jewish Succot holiday.
Al-Ayyam and al-Hayat al-Jadida said in this regard that settlers held provocative rallies in East Jerusalem and forced their way into the flashpoint Al-Aqsa Mosque compound. Moreover, al-Quds said that the deadline set by Israeli occupation authorities for Palestinian residents to vacate their village of Khan al-Ahmar and demolish their own houses has expired.
The dailies also highlighted the funeral procession of Mohammed Zaghloul al-Rimawi in his hometown of Beit Rima, northwest of Ramallah. The body of al-Rimawi, 24, who died after being brutally assaulted and repeatedly beaten by Israeli forces inside his family home on September 18, was returned by Israeli authorities to his family after being held for 13 days.
Yet, al-Quds said that Israeli forces cracked down on a rally in the northern Gaza Strip, injuring 93 protesters with live ammunition and tear gas bombs. According to al-Ayyam, 11 fires broke out in Israeli settlements in Gaza as a result of incendiary balloons launched by Palestinians from the besieged coastal enclave.
Al-Quds also reported that Israeli settlers attacked Palestinian farmers picking olives in Azzun town, south of Tulkarem, and that Israeli forces conducted a renewed raid into Nahalin village, southwest of Bethlehem. Regarding efforts to lift the Israeli-imposed blockade on Gaza, al-Quds reported Hamas affirming continuous contacts to break the blockade and setting three parameters to achieve reconciliation.
Regarding media reports indicating that Norway was mediating a prisoner swap deal between Hamas and Israel, al-Quds reported well-informed Palestinian sources stating that the issue of reaching such a deal is not on the table of Egypt-sponsored Hamas-Fatah talks. Al-Ayyam reported in this regard an Israeli source denying Norway was mediating such a deal.
According to al-Ayyam, the UN agency supporting Palestinian refugees (UNRWA) withdrew some of its employees from the Gaza Strip after they were 'subject to harassment'. According to al-Ayyam, PLO Secretary General Saeb Erekat sent an official letter to the UN Secretary General António Guterres urging him to list Israel as a state that violates children's rights.
Furthermore, Foreign Minister Riyad al-Malki was reported in al-Hayat al-Jadida stating that the speech delivered by President Mahmoud Abbas at the UN General Assembly 'complements his vision on the peace process' and 'we are establishing international terms of reference to achieve his vision.'