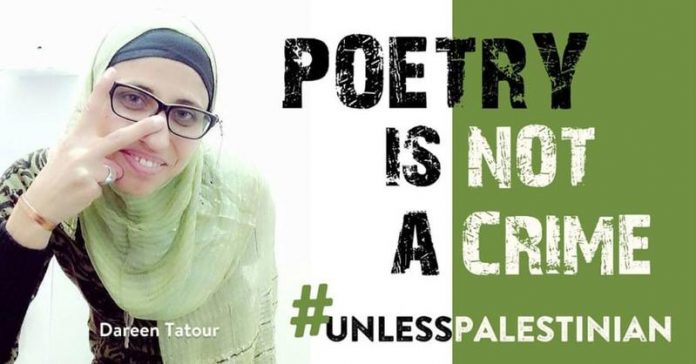 More than 80 theatre artists and 12 Palestine-based theatre and performance groups are demanding that New York's Lincoln Centre cancel upcoming Israeli government-sponsored performances by two Israeli theatre companies.
The letter signed by renowned playwrights, actors, directors, writers and theatre scholars was organised by Palestine solidarity group Adalah-NY. The signatories include award-winning playwrights Wallace Shawn, Tracy Letts and Naomi Wallace.
Lincoln Centre is advertising the performances of the play To the End of the Land, based on a novel by Israeli author David Grossman, as presented 'with support of Israel's Office of Cultural Affairs in North America'.
The theatre artists write that it is 'deeply troubling' that the iconic performance institution 'is helping the Israeli government to implement its systematic "Brand Israel" strategy of employing arts and culture to divert attention from the state's decades of violent colonisation, brutal military occupation and denial of basic rights to the Palestinian people.'
Brand Israel is the Israeli government scheme to market a liberal image of the country in order to advance commerce and tourism, as well as to improve its international standing. Lincoln Centre president Debora Spar rebuffed the call, telling The New York Times, 'While we acknowledge the feelings of those who would prefer that we not allow that performance to continue, we will not be cancelling it.'
In a response to the artists themselves, Spar asserted that 'as a cultural and education organisation, however, we do not make political statements and hope that the art we present can stand on its own.'
The artists maintain that Lincoln Centre cannot claim that hosting Israel's Habima and Cameri theatre companies with support from the Israeli government is 'apolitical patronage of the arts, when these Israeli institutions are directly involved in supporting the repression of the Palestinian people, including Palestinian theatre artists'.
The artists added: 'We are not raising concerns about any artists' content, or their nationality, but rather about institutions' structural complicity with a repressive state agenda that repeatedly violates international law.'
The two Israeli theatres have repeatedly held performances inside Israeli settlement colonies in the occupied West Bank, the letter points out, despite opposition from artists and writers, including David Grossman. Pulitzer Prize-winning playwright Annie Baker, a signatory to the letter, said: 'I think the phrase "cultural boycott" scares people.'
But Baker stressed that 'it's not a boycott against individual artists or nationalities' and noted that the boycott 'has historical precedent as an extremely effective way to call attention to apartheid' in South Africa'. She added that Israel is also 'an apartheid state'.
A second Israeli play set to be performed at the same Lincoln Centre festival is being held without Israeli government sponsorship, Adalah-NY notes. As that performance does not violate the guidelines Palestinians have set out for the boycott, it was not raised as a concern in the letter.
Israel's consul-general in New York, former settlement leader Dani Dayan, claimed that it was insignificant compared with Israel forging closer ties with India's right-wing Hindu nationalist government. He tweeted: 'Proportions. While India tightens its alliance w/Israel, this guy @AliAbunimah believes a letter by a bunch of anti Israelis will bother us https://t.co/yHzGhwWvQf
— Dani Dayan (@AmbDaniDayan) July 5, 2017'
In reality, Israel expends enormous sums to try to fight the BDS movement, an effort its propagandists concede is failing.
• The California Democratic Party has approved a resolution calling on the US government to promote 'a just peace based on full equality and security for Israeli Jews and Palestinians alike, human rights and international law'.
The resolution, which passed without debate at the annual state chapter conference in May, admonishes Israel's settlement activities, as well as its denial of entry to activists who criticise the state.
It also decries the historic failures of the US government to take action against Israel 'with actual steps to change the status quo and bring about a real peace process'. Endorsed by more than 200 delegates at the California conference, the resolution breaks from the traditional mantras of the Democratic Party of prioritising Israel's military security, support of the 'two-state' solution or pursuing yet another failed negotiations process, explained David Mandel, an author of the resolution.
Notably, the resolution also 'rejects any effort to restrict or discourage open public discourse' on issues related to Israeli policies and 'opposes any attempt to restrict or penalise those who exercise their views through nonviolent action to effect change,' signalling support for activists who engage with the Palestinian-led boycott, divestment and sanctions (BDS) campaign and who face expanding repression on campuses and by local, state and federal legislatures.
The resolution is 'based on human rights, and also, really importantly to me, it criticises any attempt to stifle debate, which has been happening all over the country, both in Congress and in a lot of states, including California, to stigmatise and suppress activism for boycotts and divestment,' Mandel told The Electronic Intifada podcast.
Mandel said he hopes that this resolution encourages other activists around the US who are fighting for progressive policy platforms in the national Democratic Party, especially as Democrats and Republicans are considering passing the federal Israel Anti-Boycott Act, which would make it a felony for companies to participate in an international commercial boycott of Israel.
Those found guilty could potentially face $250,000 to $1 million in fines and 20 years in prison. Mandel said: 'This resolution will be a small arrow in our quiver of opposing those kinds of things, but hopefully it will lead to examples in other states and help us out in opposing that kind of suppression of speech.'
The easy passage of the resolution indicates that the party's members are rapidly shifting their opinions about the US-Israel relationship, added Estee Chandler, a Democratic activist who campaigned for the resolution. Both Chandler and Mandel are members of Jewish Voice for Peace but worked on the resolution as private citizens.
Chandler said: 'Opinions are changing among American Jews and others who until recently were reticent to express any serious criticism of Israeli policy.' She added that the belligerent pro-Israel stance of the Trump administration and the appointment of settlement financier David Friedman as the US ambassador to Israel has deeply upset Democratic Party members. She concluded: 'What I'm finding as a Democratic activist is that more and more Democrats of all stripes are alarmed by the situation, the extreme policies of Israel and the violence of the occupation.'