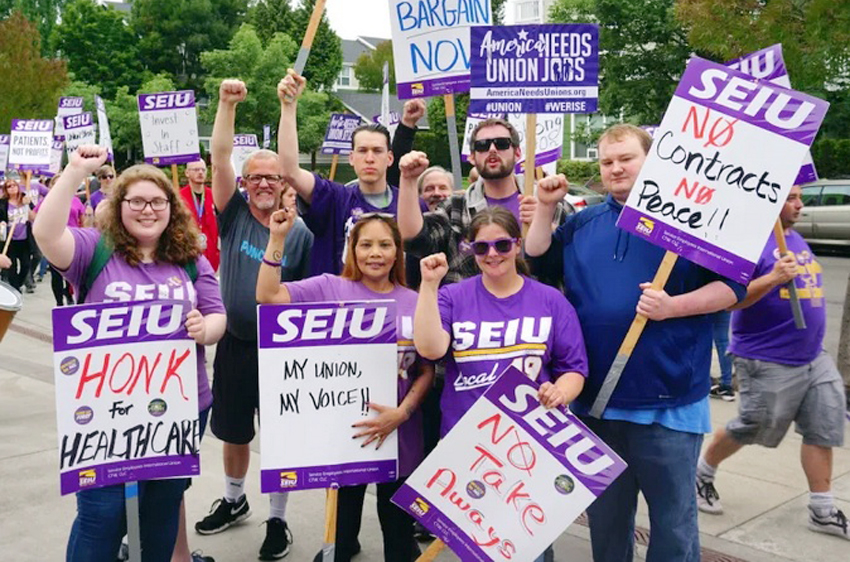 OVER 75,000 workers from various unions at healthcare provider, Kaiser Permanente, have initiated a strike, making it the most significant work stoppage by healthcare workers in US history.
The three-day action involves a range of professionals including nurses, pharmacists, and lab technicians. They are based in five states across the US including Washington DC.
While hospitals and emergency services will continue operations during the strike period, a previous labour agreement involving the eight unions within the coalition and the healthcare company lapsed on 30 September.
The Coalition of Kaiser Permanente Unions aims to use the strike as a lever to address ongoing issues such as staffing shortages, which became particularly acute during the Covid-19 pandemic, as well as to negotiate for better wages.
Kaiser Permanente stated that it had made considerable advances in talks with the unions and remained committed to securing a new agreement.
The most significant effects of the strike are expected in California, Oregon, Colorado, and Washington state, where hundreds of healthcare staff will take part in the three-day strike.
While the healthcare facilities will be partly staffed by temporary workers, some non-essential services might require rescheduling.
In Virginia and Washington DC, around 400 pharmacists and optometrists plan a one-day work stoppage. Kaiser Permanente has expanded its pharmacy network to ensure that medicines remain accessible if outpatient pharmacies shut down during the strike.
The unions have argued that the company's significant profits, reported to be around $3bn (£2.47bn) in the first half of this year, indicate that contract renegotiations are warranted.
Additionally, the coalition has highlighted the high salaries of the company's executives as a point of contention.
Caroline Lucas, the executive director of the Coalition of Kaiser Permanente Unions, has said that delays in addressing these issues have resulted in treatment backlogs.
'Such conditions escalate preventable issues into crises,' she said. Up to 13 million patients could potentially experience the effects of this strike, which has come about after protracted contract discussions between the unions and Kaiser Permanente reached an impasse.
Michael Ramey, an ultrasound technician at a Kaiser Permanente facility, shared that chronic staffing issues have made his job highly stressful. 'We need a contract that allows us to be staffed at appropriate levels,' he stated.
This strike is one among several large-scale labour actions in the US this year, with more than 309,000 workers having gone on strike through August, according to the US Bureau of Labor Statistics.
In a similar vein to the healthcare sector, the United States is witnessing significant labour actions with the automotive and entertainment industry as well.
The focus is on the United Auto Workers (UAW) union and their strikes at General Motors, Ford, and Stellantis plants, however, the repercussions are not limited to these companies alone; they are also resonating among non-union autoworkers at rival firms as well as workers in other industries.
James Bryant, an employee at a Nissan plant in Mississippi, talks about how conversations about strikes have become a common subject among his colleagues. 'If they don't, these companies are just going to keep doing whatever it is they want to do,' he says, highlighting a sentiment increasingly shared by workers in the industry.
UAW President, Shawn Fain, mobilised roughly 25,000 members at various locations to start striking from mid-September. The movement has inspired workers in non-union companies, leading many to reconsider the advantages of collective bargaining, from pay raises to improved working conditions.
The industry's future, largely moving towards electric vehicles, is also seeing a geographic shift from Detroit to states with traditionally less union activity and weaker labour protections.
Kate Bronfenbrenner, director of labour education research at the Cornell University School of Industrial and Labor Relations, notes that the current strike provides an excellent opportunity for workers across the board to rethink what benefits a union could bring.
The stakes are getting higher. Industry analysts warn that prolonged strikes could lead to further layoffs and furloughs, as carmakers argue that increased labour costs could undermine their investments in electric vehicles.
Nevertheless, with recent labour victories gaining media attention and changing public opinion, now could be a significant moment for labour unions to intensify their organising efforts, extending their reach to non-union plants as well.
Meanwhile, in the US entertainment industry, visual effects workers at Walt Disney Pictures have unanimously cast their ballots in favour of joining the International Alliance of Theatrical Stage Employees (IATSE). Conducted by the National Labor Relations Board, the 13-0 vote follows hot on the heels of a similar decision by VFX workers at Marvel Studios and occurs against a backdrop of ongoing strikes by the Writers Guild of America (WGA) and SAG-AFTRA.
Mack Robinson, a VFX senior coordinator, voiced his satisfaction, saying, 'This victory has been a long time coming. Each VFX worker aiming for a more sustainable future should feel proud today. We finally see the protections we've yearned for within reach.'
Mark Patch, the IATSE VFX Organiser, also expressed his elation. 'This unanimous win sends a message: there is a definitive route for VFX workers to gain a significant voice in their working conditions and overall well-being.
'Our next step is to work towards a contract that brings every studio and vendor up to these union standards,' Patch said.
Of the 18 in-house crew members eligible to vote at Walt Disney Studios, their key demands include fair pay for all hours worked and appropriate healthcare and retirement benefits.
These VFX artisans, who contribute to a diverse range of films such as 'Beauty and the Beast,' 'Aladdin,' and 'The Lion King,' are advocating for the same benefits and protections that their unionised colleagues under IATSE currently enjoy.
While other departments have successfully unionised, VFX workers have been an exception. Their decision to join a union comes in the wake of a broader call for enhancements across the VFX industry and is supported by findings from IATSE's 2022 VFX Worker Rate and Conditions Survey, released earlier this year.
With the voting process concluded, the next step for the union is to enter collective bargaining talks with Disney executives. The dates for these critical negotiations remain to be confirmed.