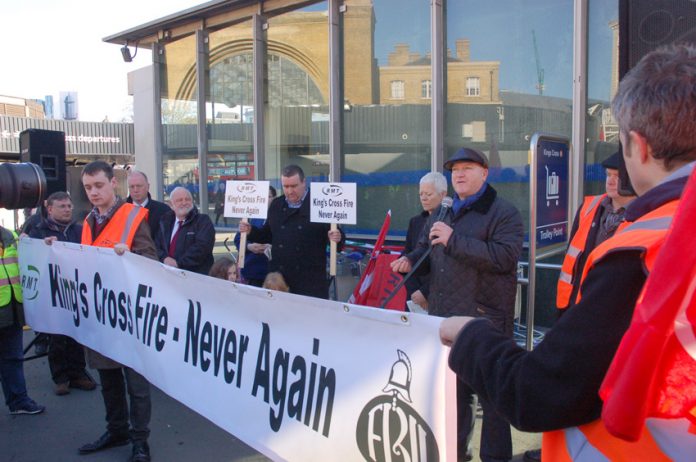 TUBE unions have reacted angrily to the announcement that all London Underground ticket offices will be shut by 2015 with the loss of nearly 1,000 jobs and a promise of 24-hour opening on five lines at weekends.
RMT General Secretary Bob Crow said on Thursday: 'No matter how this is dressed up by Boris Johnson and his officials, today's announcement is all about slashing £270 million from the annual London transport budget and the proposed cuts will decimate staffing levels and hit the most vulnerable users of tube services the hardest.
'The mayor must believe he is some sort of magician if he thinks he can slash a thousand jobs and still run safe services when everyone knows that staffing has already been cut to the bone while passenger demand continues to rise.
'Throwing in the plan for night-time operation at the weekends is just a smokescreen to try and camouflage the real issue which is a savage cut to jobs, access and safety.
'Any move to run through the night would require huge additional capacity and staffing and wholesale changes to fleet and infrastructure maintenance that would require the agreement of the tube unions and the issue has only been flagged up today as a diversion from the massive cuts agenda.
'Londoners should not be fooled.
'Axing staff and ticket offices is part of the drive to a faceless, automated tube where you take your chances the moment you step onto a station, a platform or a train.
'That is the real issue we have been confronted with today.
'RMT's position remains the same.
'We will work with sister unions and the public to fight these plans and that means using every campaigning, political and industrial tool at our disposal and our executive will be looking at a timetable and a strategy for that campaign, including a ballot for industrial action, later today.'
Transport and Salaried Staffs Association (TSSA) said on Friday: 'So first thing yesterday (London Undergound managing director) Mike Brown met with Manuel Cortes (your General Secretary) along with myself (TSSA lead officer for London, Wayne Geogheghen), outlining his branding of Fit for the Future – Stations.
'He told us he was no politician, but believe me this was a politician in full spin, spending most of the meeting on how the Underground has grown over many years and the projections for that to continue, before the hammer blow on proposals to:
• Close every ticket office on the Network
•Rip up current station grades and smash jobs by nearly a thousand!!
•60% cut in GSM, DSM grades and a new single grade with no detail on salaries, T&Cs etc!
• 45% cut in Supervisory grades with a new single grade with no detail on salaries, T&Cs etc, whilst making it clear you might end up as a CSA!'
The TSSA statement continued that Brown wooed the public 'with a 24-hour tube on a few lines at weekends, ensuring the bad news gets buried after his headline grabbing spin'.
TSSA went on to say of Johnson: 'After all he stood on a platform prior to his election in 2008 saying he will keep every ticket office open, and repeated this in the Assembly in 2010 as Mayor!
'U-turns come no bigger than promising to keep every ticket office open, to now shutting every ticket office!
What next? asked TSSA, in an appeal to members, outlining: 'An initial members' meeting took place following the announcement yesterday, when some of the detail was shared and the anger was palpable that we are not taking this without an almighty fight, so we have arranged further members' meetings next week, when it's essential you get along, make your feelings clear, share your ideas, and HAVE YOUR SAY.'
These will be held at:
Monday 25 November, 1600-1800 at O'Neils, 326 Earls Court Road
Wednesday 27 November, 1700-1900 at TSSA Head Office, Melton St, Euston
Thursday 28 November, 1600-1800 at Torch Pub, 15 Bridge Rd, Near Wembley Park tube
TSSA urged: 'Come along bring your colleagues, and have your say.'
It further announced: 'Week of Action, time to get the public with us and spell out the effects of de-staffing ticket offices, and stations!
'Following the McNulty Report on the Railways with recommendations to shut down 100s of ticket offices, we have mobilised staff, passengers, community groups, and politicians against these cuts and all but four stations have been saved!
'It's now our turn to fight for our lives and do the same on the Underground so we will be carrying out leafleting the public, and we will also take the Ghost Train to each action, highlighting the future and safety implications of mass staffing cuts on the Underground to get the public on board against these cuts!
'These actions will take place at:
EDGWARE tube station, 0700-0900, Monday 2 December
HARROW on the HILL tube station, 0700-0900, Tuesday 3 December
CLAPHAM COMMON tube station, 0700-0900, Wednesday 4 December
HAMMERSMITH tube station, 0700-0900, Thursday 5 December
STRATFORD tube station, 0700-0900, Friday 6 December
Also on Friday, TSSA said: 'The London Mayor was accused of gambling with Tube safety today after it was revealed that half of key safety supervisors will be axed under his plan to close all ticket offices by 2015.
'Figures from the TSSA rail union showed that 60% of station supervisors will be axed and 45% of station managers will be sacked under the planned shutdown of all 268 ticket offices across the capital.'
'We are talking about the key personnel who have to organise station evacuations in the event of an emergency,' said TSSA general secretary Manuel Cortes.
'Boris wants to replace these essential staff with mobile supervisors who are meant to cover four or five stations at the same time – a recipe for chaos in the event of a real emergency.
'Just how are they meant to get to another station if the line is closed by an accident or, even worse, a terrorist threat?
'How on earth can they be mobile if the whole system is in lockdown?'
Cortes alleged: 'The Mayor is gambling with the safety of the Tube by axing these vital jobs.'
Under figures disclosed to the union, the number of station supervisors will drop from 1,771 to 971, a cut of 60%. The number of duty and group station managers will fall from 238 to 97, a cut of 45%.
The union is launching a joint campaign with the Labour Party aimed at reversing a decision which they say is a complete contradiction of the Mayor's manifesto pledge in 2008 to keep open all ticket offices.
• Last Monday, November 18, on the annivesary of the King's Cross fire disaster, drivers union Aslef general secretary Mick Whelan said: 'Our thoughts today are with the people who lost their lives, and who were seriously injured, and their families who were left behind and had to learn to cope with the disaster.
'Many lessons were learned after the blaze.
'But I do wonder, after the savage cuts that Boris Johnson is forcing on the London Fire Brigade, just how we would cope with another King's Cross now.'