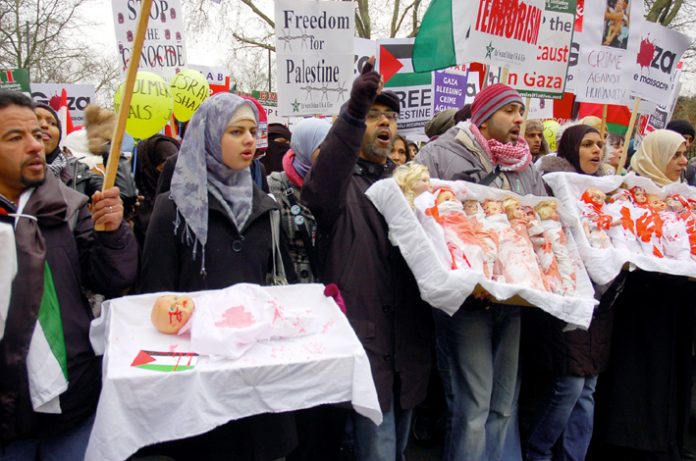 Testimony given to South African jurist Richard Goldstone's UN Fact Finding Mission on the winter 2008/2009 war on Gaza, illustrates vividly one of the daily massacres of Palestinian civilians that took place.
In the late morning of January 7th 2009, Israeli tanks moved onto a small piece of agricultural land in front of the house of Khalid Abd Rabbo and his wife Kawthar, on the ground floor of a four-story building in the eastern part of Izbat Abd Rabbo, a neighbourhood east of Jabaliya inhabited primarily by members of their extended family.
Speaking to Goldstone's UN inquiry, Khalid recounted: 'On January 7 at 12:50pm the Israeli army bulldozed our garden and the Israeli tanks were positioned in front of our house.
'They started yelling at us through the speakers and asked us to leave the house.'
Moments earlier, at 12:30pm, megaphone messages telling all residents to leave were heard across the neighbourhood.
According to one witness's recollection, a radio message was also broadcast by Israeli forces around 12:30pm announcing that there would be a temporary cessation of shooting between 1pm and 4pm that day, during which time residents of the area were asked to walk to central Jabaliya.
Khalid said: 'Of course this happened when Israel had declared a ceasefire for four hours, January 7 from 1:00pm-4:00pm, and that was a truce back then and that's when wounded civilians could be rescued, and in spite of all of that, in spite of all of this declaration, the Israeli army was there right in front of our house not attempting to move.'
Responding to the messages, Khalid, his wife Kawthar, their three daughters, nine-year-old Souad, five-year-old Samar, and three-year-old Amal, and his mother Hajja Souad stepped out of the house, all of them carrying white flags.
Less than ten metres from the door was a tank, turned toward their house. Two soldiers were sitting on top of it having a snack. It was 12:50pm.
Khaled added: 'So we stood by our entrance and holding flags, white flags. The tanks were seven metres away from our house.'
He continued: 'We were by the entrance holding white flags and waiting for them to tell us what we should do, whether to go back inside the house or move to somewhere else. They did not say anything to us.
'There were two soldiers sitting on top of the tank. One of them was eating chips. The other one was eating chocolate.
'We were looking at them like "what are we supposed to do, where should we go", but no reaction from them whatsoever.'
Without warning, a third soldier emerged from inside the tank and started shooting at the three girls and then also at their grandmother. Several bullets hit Souad in the chest, Amal in the stomach and Samar in the back. Hajja Souad was hit in the lower back and in the left arm.
'They starting shooting at the children with no reason, no reason, with no explanation, no pretext,' Khalid said.
'My daughter, three years old, her stomach was hit and her intestines were coming out.
'So really I was amazed at how could a soldier be firing at my daughter? So I carried my daughter, three years old.
'She could hardly breathe. Like I said, her stomach was wounded.
'My other daughter was also wounded in her chest. So I took both of them, Samar and Amal, inside the house.
'My wife and my mother and my other daughter Souad were still outside. All of a sudden my wife joined me carrying Souad.
'She was wounded also. Her chest was wounded by many bullets.
'My mother, 60 years old, she was carrying the white flag and she was wounded on her forearm and also in her stomach.'
Khalid and Kawthar carried their three daughters and mother back inside the house. There, they and the family members who had stayed inside tried to call for help by mobile phone.
They also shouted for help and a neighbour, Sameeh Al-Sheikh, an ambulance driver who had his ambulance parked next to his house.
Sameeh put on his ambulance uniform and asked his son to put on a fluorescent jacket. They got in the ambulance, had driven a few metres from their house, when Israeli soldiers ordered them to halt and get out of the vehicle.
Sameeh protested, saying he had heard cries for help from the family and intended to bring the wounded to hospital.
The soldiers ordered him and his son to undress and then redress. They then ordered them to abandon the ambulance and to walk toward Jabaliya.
Continuing his testimony, Khalid said: 'So we were all inside the house and we started calling the ICRC (International Committee of the Red Cross), the ambulances, anybody to come and rescue us but nobody came and all of a sudden we heard an ambulance but all of a sudden nothing, silence.
'But later, we saw that the Israeli soldiers asked the ambulance drivers to come out of the car, to undress, and they bulldozed the ambulance with the tank.'
Khalid's family decided to stay inside the house, all gathered on the ground floor, as they had done safely during previous Israeli incursions into the neighbourhood.
According to Khalid: 'Our house, or our area rather, was subjected to many incursions and each and every time the army would invade the area, would come into our houses, but no harm was done to civilians or to children.
'Last time, that is before the last war on Gaza, that was on January 3, 2008, the Israeli army came in our house and stayed three days and destroyed many things inside the house but left without harming the civilians or the children.
'Now during the last war that is on January 7, 2009, actually the ground war had already started and we heard that Israel had declared war on Hamas.'
Khalid stressed in his testimony to Goldstone's UN inquiry: 'We are civilians. We have nothing to do with Hamas and we were used to having the Israeli army come into our area.
'So I thought this time we could stay in our houses.
'We had nothing to do with Hamas. We did not pose any danger to Hamas.
'The war, the ground war, started on Gaza and as of the first half hour approximately on January 4, the Israeli army controlled the whole area.
'There was no resistance in the area. It's an area nearby the Israeli border.
'Of course we were inside the houses. We were surprised because the war went on for four days while we were still inside our houses.'
On 7 January 2009, however, when Amal and Souad died of their wounds, the family decided that they had to make an attempt to walk to Jabaliya. They would take Samar, the dead bodies of Amal and Souad, and their grandmother to hospital.
Khalid said: 'My mother, 60 years old, was also dying. I was helpless. I didn't know what to do for my children.
'There was my daughter dying in front of me. So I carried her and left the house even if I had to die myself because I couldn't take it anymore.
'So I carried my daughter and left the house again so that the soldier, he might as just well kill my daughter and kill myself because I couldn't take it anymore. I couldn't let my children die in front of me.'
Khalid explained: 'From 12:50 until 2:50 we were stuck inside the house.
'Once again, like I said, I went out to the soldier. They were there, three of them, and there was a Merkava tank positioned in front of the house.
'I was carrying Samar, even if I had to die, and I was surprised because the third soldier looked at me and two minutes later he went inside the tank and then he came out and he moved his hand just, you know, telling me you can go ahead.
'So I immediately went back home inside the house and told them we're going to die anyway. So we don't want to die inside the house. Let's die outside the house. Let's move.
'Although inside the house there were more than 25 children, my brothers, my sisters, my dad, my mom.
'So we had to bring children's mattress to put my mom on top of the mattress because she was very tired.
'I carried my daughter Souad, three years old. She was dead . . . While we were moving, every ten metres they were shooting, once above our heads and the other time by our feet.'
Khaled and Kawthar, as well as other family members and neighbours, carried the girls on their shoulders.
Hajja Souad was carried by family and neighbours on a bed. Samar was transferred to Ash-Shifa Hospital and then, through Egypt, to Belgium, where she still is in hospital at the time of writing.
Khalid continued his testimony: 'So we were trying to move and every now and then we would fall down. We walked for almost a kilometre and a half until we reached the edge of Jabaliya downtown.
'Of course, we reached the Kamal Idwan Hospital and they confirmed that the three of them were martyred. . . surprisingly enough they told me that Samar, no, she had survived and she was moved to Ash-Shiffa Hospital.
'I took the bodies of my two daughters in order to bury them. We didn't have any time.
'This was an outrageous war and the Israeli army was moving around.
'So we had to bury them, Amal and Souad, and wait until they would bring Samar because we thought and we knew that Samar was going to die.'
According to her parents, Samar suffered a spinal injury and will remain paraplegic for the rest of her life.
'Samar, of course, and with God's will, Samar survived, survived so that she would be the witness before the world for the atrocities,' Khalid said.
'Samar survived, paralysed. She can move only her arms. She can speak but the rest is paralysed.
She can speak for herself and she can tell her tragedy.'
According to Khalid: 'I haven't seen Samar since the events. My tragedy is still going on. It's not over.
'So what crime did I commit? I have always been a peace-loving person. I'm for peace.
'I've always supported peace and despite all that happened to me I'm asking the world please, please help us live in peace.
'The Israeli army knows that, that I've never been a terrorist . . . why did it happen to me, why did they come to my house, kill my children without having committed any crime. What did I do?
'There was no war. It was cold-blooded murder of children.
'That was not just accidental. No, the soldier even chuckled, like I said.
'I know that Israel has a very sophisticated technology and that every operation it carries out is actually filmed and I'm asking Israel please broadcast the film of the killing of my children. Did you see my children carrying any rockets?'
When Khalid returned to his home on 18 January 2009, his house, as most houses in that part of Izbat Abd Rabbo, had been demolished.
He drew the UN fact-finding mission's attention to an anti-tank mine under the rubble of a neighbour's house.
He added: 'I call upon the international community and ask the international community why my children were cold-bloodedly killed?
'Why were they fired on? My mother, 60, she was hit in her chest; my daughter Souad, eight years, in her chest; Samar, four years, in the chest; Amal, three years, in the chest, and this is despite the fact that they are all different sizes, all the targeting was at the chest.
'This was execution. This was utter execution and I'm asking the world what crime did my children commit?
'What danger did they pose for the Israeli army? I myself was there. Why didn't they fire at me?
'Why didn't they kill me and not let me see my children die in front of my eyes. My children, until now, I cannot get myself to realise there I was looking at them while they were dying.'
Goldstone's team found Khalid and Kawthar Abd Rabbo to be credible and reliable witnesses.
The mission also reviewed several sworn statements they and other eyewitnesses gave to NGOs about the incident and found them to be consistent with the account it received, according to the report.
Goldstone's report notes that, in general, Izbat Abd Rabbo and the nearby areas of Jabal Al-Kashef and Jabal Al-Rayes saw some of the most intense combat during the military operations.