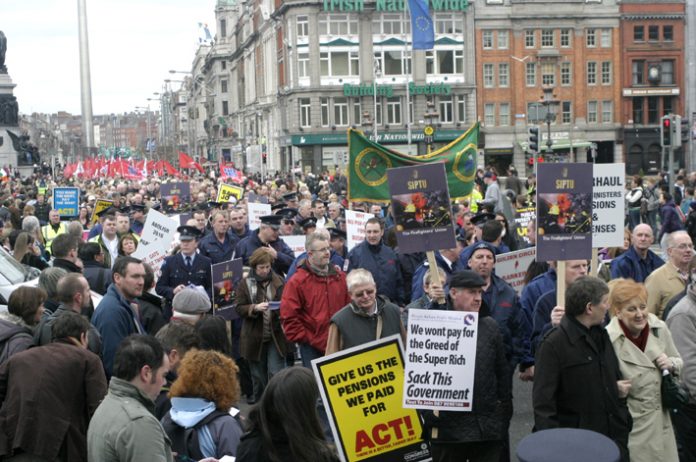 Irish Congress of Trade Unions (ICTU) General Secretary David Begg said on Wednesday that the Dublin government must now 'choose between continued deference to the very wealthy or genuine support for low to middle income earners and the vulnerable in Irish society.'
Speaking at the launch of the Congress pre-Budget Submission, Begg said new taxes on wealth could 'generate substantial new resources for the state.
'We no longer have the luxury of maintaining the fiction that all the wealth in this country has suddenly evaporated.
'It has not and, in the interests of wider society, it must be pursued and taxed.
'Our own figures show there is real scope for raising substantial sums in this area – perhaps as much as 2.3 billion euros in 2010 and more in the years ahead.
'We're talking about a new top rate for high earners, a new rate of minimum tax for the wealthy, pursuing tax exiles and raising Capital Gains.
'These are just a few examples from a range of options we have compiled.'
Begg also said that if Budget 2010 was to have any hope of assisting a general recovery in the economy, it would have to make job creation and protection a centrepiece.
He said: 'Last week Congress held a Jobs Conference in Dublin, at which we heard speakers from Germany, Holland and Denmark outline how their countries have successfully tackled unemployment.
'There is nothing – apart from an absence of political will – to stop us learning from their good example and adopting similar schemes.
'Equally, we have published proposals detailing how several thousand new jobs can be created in the "green economy" and have also proposed a National Recovery Bond to assist the construction sector, create jobs and address deficits in our infrastructure.'
Congress also believed that homeowners in difficulty with mortgage repayments, should have recourse to a 'NAMA-style scheme that addresses their problems and allows them to stay in their home. It is not good enough to bail out banks and ignore homeowners,' Begg concluded.
Meanwhile, the Garda representative body has expressed 'deep anger and frustration' at being barred from the main pay talks process.
The General Secretary of the Association of Garda Sergeants and Inspectors, Joe Dirwan, has written to the government calling for the Garda representative bodies to be given full representation in the current talks with the Public Services Committee of ICTU.
He said it was unacceptable that there was no proper industrial relations process available to Garda organisations to address the issues, which could have a serious consequences for members of the force.
The letter was sent to Philip Kelly, the Assistant Secretary at the Department of the Taoiseach responsible for the Social Partnership and Industrial Relations section, on November 26.
In the letter Dirwan states that: 'The National Executive of AGSI has directed me once again to express our deep anger and frustration at the total failure of government to provide us with acceptable industrial relations mechanism that will assist to resolve our many issues at this time of national crisis.
'AGSI has noted the resumed talks between the Government and ICTU and we urge both sides to ensure that, if agreement is possible, no one section is treated unjustly.
'As emergency service 24/7/365 workers one third of our pay is made up of allowances and other payments.
'They are inseparable from our core pay and they are there in recognition that we are the people who are available at nights and at weekends and that we face many things that other workers do not – including putting our lives on the line in the course of duty.
'We are emphatic that our members have already been hit hard enough and cannot take any more cuts and we also deplore the fact that we are not permitted to negotiate our pay and conditions directly as social partners so that we can point this out to those also seated at the table.
'I will point out that to date under the "parallel" process we have had one meeting under your chairmanship and two under the chairmanship of Michael Flahive.
'Not one iota of progress was made at any of those meetings.
'A meeting scheduled for Friday 20th November was cancelled without explanation and, as I write, no new date for a meeting has been forthcoming.
'It is totally disgraceful and dishonest of the government to force us to sit on the sidelines while other parties sit around the main negotiation table and attempt to arrive at an agreement which no doubt will affect our members deeply.
'At the best of times we fiercely resent the failure to recognise us as one of the social partners – we who represent some of the most socially conscious participants in society – but at this time of crisis and emergency we resent it with every fibre of our beings.
'I call on you and the Government to give us a place at the table where momentous decisions may be made which will affect the wellbeing and future of our members.'
The Garda representative body resumed parallel discussions with the government on Wednesday morning at 10am but remain committed to entering the mainstream process.
In another development, a growing number of Fianna Fáil backbenchers have expressed unease about the prospect of a pay deal with the public sector that involves unpaid leave.
A meeting of the Fianna Fáil parliamentary party took place on Wednesday, at which backbench TDs were expected to voice their concern at the prospect of a cost-savings deal with the public sector unions which involves unpaid leave.
With less than a week to go before the budget, Minister for Finance Brian Lenihan was expected to brief deputies and senators on progress in the ongoing negotiations between the government and the unions on the issue.
Talks between the two sides on the public sector pay bill resumed Wednesday morning.
In the Dáil on Tuesday Taoiseach Brian Cowen said union proposals for reducing the bill through unpaid leave did not provide the basis for agreement in their present form.
Talks between unions and the government on the public sector pay bill were adjourned on Tuesday night without agreement on how best to secure the 1.3bn euros sought in savings.