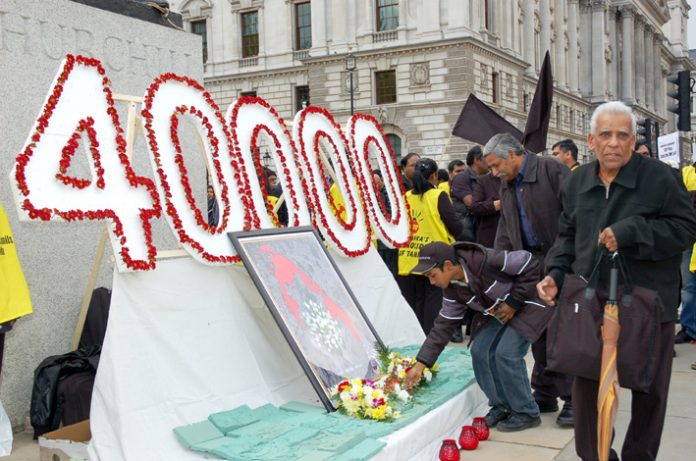 'WE CALL upon the British trade union movement to work with us in solidarity, to bring about an international investigation into war crimes against the Tamil people in Sri Lanka,' Kumar Kumarendran, of the British Tamils Forum told News Line at Parliament Square on Tuesday.
He was speaking at a demonstration by British Tamils to remember the victims of the Sri Lankan army massacre of Tamils in Sri Lanka in 2009.
The British Tamils Forum quoted a report in 'The Times' on May 29 last year, which said there were 'An average of 1,000 civilian deaths every day' as the Sri Lankan army bombarded Tamil areas during their war against the Tamil Tigers.
Gordon Weiss, a former UN spokesman in Sri Lanka, was also quoted as saying in February this year that: 'As many as 40,000 civilians could have been killed during the final stages of the Sri Lankan civil war.'
The British Tamils joined the Tamil Diaspora to remember the victims of the final offensive by the Sri Lankan forces last year to remember all the Tamils who were massacred.
The British Tamils Forum said that over 280,000 Tamils were also incarcerated by the Sri Lankan forces in 'concentration camps'.
'One year on… Tamils unite to call for justice for the victims of war crimes in Sri Lanka,' the British Tamils Forum said.
It added: 'On May 18, 2009, the Government of Sri Lanka declared victory over the Liberation Tigers of Tamil Eelam with little mention of the Tamil civilian catastrophe of the final onslaught.
'Forced to retreat by Sri Lankan Army (SLA) offensive operations, hundreds of thousands of Tamil civilians were herded into a narrow strip of land on the North-Eastern coast of Sri Lanka.
'Sri Lankan forces repeatedly and indiscriminately shelled areas densely populated with civilians using heavy weaponry.
'The government unilaterally declared "no-fire zones'' on three different occasions, urging civilians to seek shelter there and then continued bombardment of these "Safe zones''.
'Government forces also fired artillery that directly struck or landed near hospitals on too many occasions.'
The British Tamils Forum continued: 'There has been increasing media evidence of torture, summary executions, rape and sexual violence, and of food and water being used as a weapon of war against civilians by the Sri Lankan military.
'A US State Department report mandated to detail incidents during the recent conflict in Sri Lanka that may constitute violations of international humanitarian law or crimes against humanity was published on 22 October 2009, raising further calls for an independent investigation into war crimes.
'After the war ended, President Mahinda Rajapakse signed a joint statement with UN Secretary General Ban Ki-Moon promising that the government would take measures to address allegations related to violations of international humanitarian and human-rights law, but no substantive steps have been taken since.
'On May 6, 2010, the Sri Lankan government announced that it will establish a commission to report on the lessons learned from the conflict and reconciliation efforts following mounting pressure from Secretary General Ban.
'Sri Lanka has established at least 10 such commissions to deflect international criticism, none of which have produced any significant results.'
The British Tamils Forum quoted Brad Adams of Human Rights Watch, who said on May 7 this year: 'Every time the international community raises the issue of accountability, Sri Lanka establishes a commission that takes a long time to achieve nothing…
'Ban should put an end to this game of smoke and mirrors and begin a process that would ensure justice for all the victims of Sri Lanka's war.'
They also quoted Arthur E. Dewey, 'former assistant secretary of state for population, refugees and migration'.
Dewey said in January: 'In 2007-8, I was a member of an independent international advisory group observing Sri Lanka's investigation of human rights violations dating from 2006.
'I concluded that the government lacked the political will to hold accountable the perpetrators of these egregious crimes.
'When the United Nations secretary-general said this month that he is considering naming a commission of experts to "assist the government'' of Sri Lanka to look at evidence its soldiers committed war crimes last year, my reaction was a chilling feeling of deja-vu.'
In a Memorandum to British Prime Minister Cameron, the British Tamils Forum said: 'On the 1st anniversary of the massacre of nearly 40,000 Tamil people by the Sri Lankan state, we the Tamil people of the Diaspora and other peace loving people are gathered here today to remember those who died as well as those who had their lives shattered by the physical and mental scars inflicted upon them…
'Cluster bombs and chemical weapons were also alleged to have been used in the onslaught.'
The Memorandum said: 'the perpetrators of these heinous crimes against humanity are still at large and are still charged with governance…
'Today the Tamil people have been left totally defenceless and in danger of obliteration in their own homeland under the jack boot of the Sinhala armed forces of Sri Lanka.
'Over 80,000 Tamil people are still held in concentration camps guarded by the Sinhala armed forces.
'Over 11,000 Tamil youth are held in undisclosed torture camps with scant disregard to their human rights.
'Local media reports give gruesome accounts of the fate of these youth who are held without accountability.
'The Sri Lankan government is continuing to decimate the Tamil homeland.
'The land and property belonging to the Tamil people are being plundered by Sinhala settlers with state patronage…'
The Memorandum to the British government said: 'Owing to Britain's political involvement in the history of the island, the Tamil people have reason to expect the British government take decisive and effective measures to protect the Tamil community from total annihilation.'
In a ceremony in Parliament Square on Tuesday evening, silent tributes and floral tributes were made by British Tamils to those who were massacred.
There were speeches and the signing of a war crime book by MPs and others.
Kumar Kumarendran told News Line: 'It's a very sad day. The people here are very sad because they have lost their loved ones.
'They are angry and frustrated that the international community has not done anything about the killing of 40,000 Tamils.'
He added: 'President Obama was awarded the Nobel Peace Prize in anticipation of action, but it seems that it was a misjudgement.
'The genocide in Sri Lanka happened under his watch.
'The EU has imposed a temporary suspension of GSP-plus trading concessions with Sri Lanka, but it should really be a permanent sanction.
'The people who are responsible for the killings, President Rajapakse, Gotabaya Rajapaksa, and senior army officers, must face justice.'
Among the Tamils' demands are:
• Uphold international law and release all the people held in concentraiton camps across the island and resettle them in their places of origin.
• End illegal, indefinite and arbitrary detention of more than 11,000 youths held in so-called rehabilitation centres and be given access to legal representation.
• Allow unhindered access to the international media and aid agencies to the North & East of the island of Sri Lanka.
• Halt all Sinhalisation of the Tamil areas, ethnic cleansing and decimation of the North & East.
They said: 'We want the British Government to ensure that;
• 'International aid is not diverted to purposes other than those for which it was entrusted to the Government of Sri Lanka.
• 'The Tamil people are protected from ethnic cleansing and annihilation by the Sinhala State.
• 'An independent international inquiry into the war crimes committed against the Tamil people during the war is initiated and the perpetrators are brought to book.'