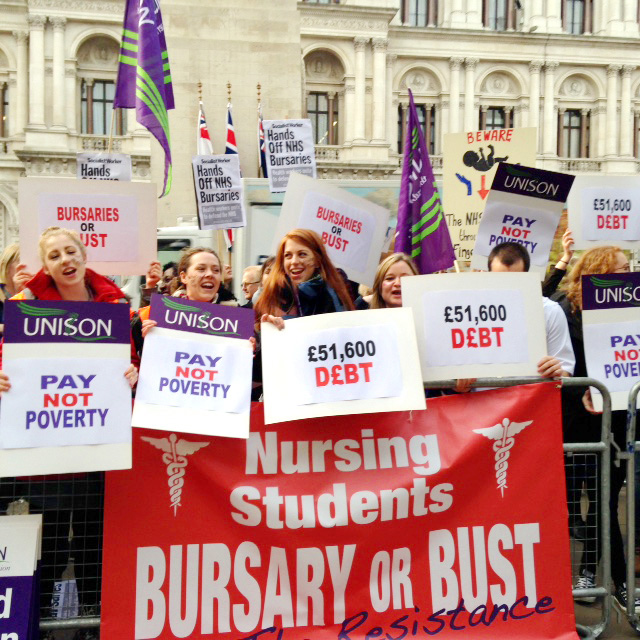 CATHY WARWICK, the Chief Executive of the Royal College of Midwives has issued a 'wish list' of her hopes for maternity services in 2016.
She calls for an end to the midwifery shortage and calls on the government to 'rethink' its plans to remove bursaries for student midwives. She warns that removing the bursary and making student midwives pay tuition fees could leave midwives mired in debts of over £63,000, a sum that the first graduates would still be paying back in 2050.
The Tory plan to abolish the bursary risks the future supply of qualified midwives, she warns.
Cathy Warwick's wish list:
• End the shortage of midwives in England. The country is short of 2,600 full time midwives. This is a shortage that has been persisting for over a decade.
• Ensure women using maternity services get continuity of care.
The evidence about the impact of this on the safety and quality of care that women receive is strong and increasing.
The RCM hopes that the upcoming findings of the National Maternity Review in England will stress the importance of this.
• Government must unshackle and respect the recommendation of the NHS Pay Review Body (PRB).
RCM members had to strike to get the 1% pay award recommended for all midwives, maternity support workers and nurses by the independent PRB last year.
• The Government and the NHS as a whole recognise the vital public health work that midwives perform.
This is in many areas including smoking cessation, tackling obesity and supporting women with mental health problems. Cathy Warwick, said: 'I hope 2016 will herald some step-changes in maternity services and how they are delivered and in how this Government values its NHS staff. The National Maternity review in England could be a wonderful agent for change and I am looking forward to seeing the proposals that come from it. It will also be a challenging year.
'England remains 2,600 full-time midwives short of the numbers needed. The Secretary of State for Health has admitted that more midwives are needed, but as yet has failed to say he will end the serious midwifery shortage. Student midwives also face the possibility of taking on decades of debt just to be able to work in our NHS and care for mothers and babies.
'This is a short-sighted plan from the Government and one I strongly urge them to re-think. The Government has also got to show that it values the staff working ever harder in the NHS. They care for the people who use the NHS, the Government must in turn care about NHS staff. They can show this by unshackling the PRB and respecting and implementing their decisions on pay.
'Last year they recommended a very modest 1% pay award, which was cynically rejected by the Government, who themselves received a 10% pay increase. What I do know is that in 2016 our midwives and MSWs will work just as hard as they always have to support and care for mothers, babies and their families. Our politicians and the NHS have got to give them the fair pay and resources to enable them to do it even better.'
Meanwhile, a Freedom of Information request on temporary closures of maternity units revealed that half of NHS maternity units have turned away mums-to-be this year because they have no beds available.
The figures show that 45 out of 93 maternity units closed their doors to pregnant women at least once during 2015. Women in labour were turned away at least 575 times in total, a sharp rise on 461 in 2014. Labour's shadow health secretary Heidi Alexander, who obtained the figures, said they were 'nothing short of a scandal'.
In one case, patients at the Royal Berkshire Hospital in Reading were sent on a journey of at least an hour to the Great Western Hospital in Swindon. Leeds NHS trust alone has turned women away 220 times this year, the report said. And on January 25 The Dudley Group NHS Foundation Trust closed its doors for 34 hours, forcing six women to be diverted.
Alexander said: 'David Cameron promised to recruit 3,000 more midwives – but he broke that promise – and now, on his watch, maternity units are understaffed and under pressure. Behind these statistics are awful stories of mums being turned away due to a shortage of staff and beds. You couldn't find a more depressing example of how the NHS is going backwards under David Cameron if you tried.'
The Freedom of Information Act request obtained responses from 93 of the 138 maternity units in the country. Commenting on the findings, Louise Silverton, Director for Midwifery at the Royal College of Midwives, said: 'Birth is of course unpredictable, and sometimes units get a rush of births that is unavoidable and cannot be planned for.
'We respect and support decisions made to close maternity units when failing to do this will compromise the safety of the service and the women and babies already being cared for. However, if units are regularly and persistently having to close their doors it suggests there is a serious, underlying problem around capacity and staffing levels that needs urgent attention.
'We are very concerned about these figures from the Labour Party, especially as they show an increase in closures. Closures should be a red flag for the Government and providers of maternity services. We would expect each closure to be on grounds of safety and the causes leading to it identified and addressed.
'When units close their doors it leaves those women turned away upset and disappointed because they are not giving birth in the unit of their choice. It is also very worrying for those women who may be in labour and may be distressed to have to travel to another unit, possibly some miles away. These closures appear to be a result of capacity problems and show the significant pressures on the system, especially in midwife numbers and postnatal bed capacity.
'There has been a long-term increase in the number of midwives. However, England remains seriously short with 2,600 extra full-time midwives needed in the NHS. Birth rates remain very high and services are seeing more complex pregnancies arising from issues such as obesity and other health complications.
'These women often need more support and advice in their pregnancy. It is crucial that services have the right number of staff and resources to give all women, babies and their families the care they deserve.'
• A report issued in December by the Independent Healthcare Commission, chaired by Michael Mansfield QC, called for the reopening of Ealing Hospital Maternity Unit, which was closed on 1st July 2015. Under NHS North West London's Shaping a Healthier Future (SaHF) programme, the A&E departments at Hammersmith and Central Middlesex hospitals have closed, along with Ealing maternity unit.
Further Ealing hospital cuts are underway, with the A&E already downgraded and not receiving road traffic accident victims, along with the intended closure of the Paediatrics Department in June 2016.
Under SaHF, Charing Cross Hospital in Hammersmith is to lose its A&E and faces demolition.
Michael Mansfield QC said: 'The findings of the Independent Healthcare Commission for North West London are stark – the reforms, both proposed and implemented thus far, are deeply flawed. There is no realistic prospect of achieving good quality accessible healthcare for all, and any further implementation is likely to exacerbate a deteriorating situation.
'Our recommendations are equally stark. It is the view of the Commission that the Shaping a Healthier Future programme should be halted immediately, and that the affected councils should consider a legal challenge if it is taken forward in the current circumstances.
The report's key findings are:
• Cutbacks are being targeted on the most deprived communities
• The public consultation was inadequate and flawed
• The escalating cost of the programme (£1bn) does not represent value for money and is a waste of precious public resources
• There is no business plan to show the reconfiguration is affordable or deliverable
• NHS facilities have been closed without adequate alternative provision being put in place
• The plans seriously underestimate the increasing size of the population in North West London and fail to address the increasing need for services.
The report recommends that:
• The programme needs to be halted.
• Local authorities should consider a legal challenge.
• Ealing and Charing Cross hospitals must retain full 'blue light' A&E services for the foreseeable future
• The decision to close Ealing maternity unit should be reversed with immediate effect
• The A&E department at Central Middlesex Hospital should be re-opened
• The National Audit Office should undertake a review of the value for money of the programme
• A new public consultation is needed as the proposals have changed significantly
• Substantial investment should be made in GP and out-of-hospital services, which are clearly overwhelmed and inconsistent.