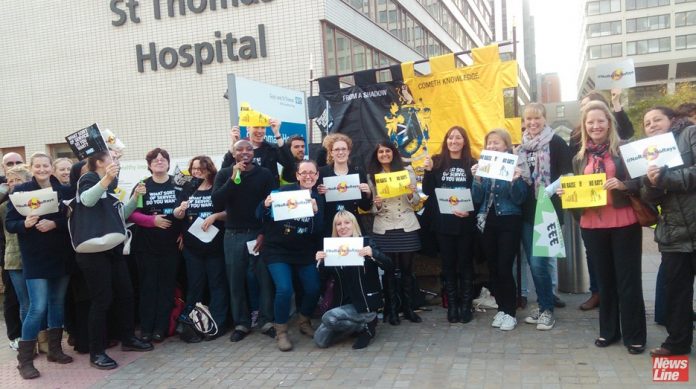 Annual workforce figures released on Tuesday by The Royal College of Radiologists (RCR) reveal the 'dire' staff  shortages at cancer centres across the UK.
Clinical oncology leaders question how the NHS will be able to roll out cutting-edge life-saving innovations – such as immunotherapy drugs and high energy proton beam radiotherapy – without more investment in staff.
The RCR's Clinical Oncology UK Workforce Census Report 2018 details the staffing crisis among clinical oncologists – the doctors who treat cancer with radiotherapy, chemotherapy and immunotherapy.
Based on data from every UK cancer hospital, the report reveals:
•    One-in-six UK cancer centres now operates with fewer clinical oncology consultants than five years ago
•    Vacancies for clinical oncology posts are double what they were in 2013 – with more than half of vacant posts empty for a year or more
•    The UK's clinical oncology workforce is 18 per cent understaffed, and without increased investment the shortfall is predicted to grow to at least 22 per cent by 2023
•    To close the gap between supply and demand for cancer doctors, oncology trainee numbers need to at least double and even with that investment, the gap would not be closed until 2029.
The RCR report shows there were 922 clinical oncology consultants working across the UK's 62 cancer centres in 2018.
This equates to 863 doctors working full-time – an increase of 46 full-time consultants in practice compared to 2017.
But although the number of consultant clinical oncologists in the UK is growing, the increase is not keeping up with the needs of hospitals and patients.
Nearly 1,000 people are diagnosed with cancer every day, and demand for radiotherapy and chemotherapy services are going up by two and four per cent a year respectively.
The UK is now short of at least 184 clinical oncologists – the minimum number needed to fill vacancies and cover the extra hours doctors are working to treat patients.
This compares to shortfalls of 144 doctors in 2017 and 78 in 2016.
While 53 new UK-qualified consultants are set to enter the workforce in 2019, these new recruits will not be enough to fill the 70 posts left empty in 2018.
And with not enough consultant clinical oncologists being trained, cancer centres are reporting increasing difficulties with recruitment.
Last year, there were 70 funded vacancies for clinical oncology consultants, compared to 33 empty posts in 2013.
However, this number only gives an indication of the real need for more doctors, as it is based on how many jobs centres were able to fund and advertise.
One cancer centre admitted to having no new job applicants since 2015, stating that 'the situation is dire', while others stated they could not fund, let alone recruit to, much-needed extra posts.
Meanwhile, attempts to recruit from abroad have been patchy, with only five centres successfully hiring overseas doctors last year.
Reported issues included not having the resources to support consultants trained overseas, as well practical problems with remote job interviews and needing more hospital HR expertise to deal with complex overseas recruitment issues.
The RCR's workforce report estimates that by 2023, the NHS will need a bare minimum of 1,214 full-time clinical oncology consultants to look after cancer patients.
However, based on current trends, there will only be 942, meaning the UK will be 22 per cent short of the number of consultants it needs.
The report forecasts that we can close the gap between supply and demand if the number of trainee placements is doubled – from 64 placements a year to around 138.
However, it would still take another decade before consultant numbers catch up.
Dr Tom Roques, the RCR's Medical Director of Professional Practice for Clinical Oncology and lead author of the workforce report, said: 'The UK is seeing more and more fantastic innovations in cancer treatment – from the introduction of new immunotherapy drugs to the NHS' first high energy proton beam radiotherapy centre.
'Clinical oncologists are vital to the rollout of these new therapies but we do not have enough of them and our workforce projections are increasingly bleak, which begs the question, what kind of service will we be able to provide for our patients in future?
'Today's RCR workforce figures and forecasts show our cancer hospitals under immense strain – some centres have seen a reduction or stall in consultant numbers and many are desperate but failing to recruit, predominantly because we do not have enough consultants in training.
'We predict that by 2023 the workforce will be more than 20 per cent short-staffed, and we are really concerned that it is people with cancer who will suffer, with less clinical oncologists' expert time to go around.
'Central and devolved governments and their related health workforce agencies must face up to these findings and act on them now to boost clinical oncologist numbers, as well as improving working practices to help keep them in the NHS, for the sake of all current and future cancer patients.'
Meanwhile, doctors' leaders have warned that a lack of expertise and resources in infection control is putting patients in Scottish hospitals at risk.
The BMA in Scotland has called for action to ensure hospital buildings and other healthcare settings are built and maintained in a way that minimises risk of infection.
Responding to a Scottish Parliament health and sport committee inquiry into health hazards in the healthcare environment, the union says clinicians with expertise in infection control should be part of hospital design.
However, it warns the consultant workforce is stretched, and that few infection-control teams have the capacity to contribute fully to major projects, even where they asked to do so.
The BMA points out that infections acquired directly from healthcare environments are rare but that consequences can be severe.
'With well-engineered and maintained buildings, with sufficient staff to deliver healthcare, the risks should be low,' the BMA says in its evidence.
'In a system under financial pressure, with staffing levels often stretched thinly and a significant maintenance backlog, the risks can begin to rise and infection, while still relatively rare, can be more common.'
The BMA warns that tightening resources across the health system as a whole can have a negative effect on infection control.
For example, staff shortages mean that nurses are working with increased numbers of patients, raising the risk of cross-infection, and hospitals.
A high maintenance backlog and cost-cutting – for example, making compromises to squeeze in as many beds as possible, or using temporary buildings beyond their design life – also contributed to increased risk.
The BMA says that some health boards should be praised for creating specialist nurse or scientist posts in the infection-control team to develop the knowledge and expertise needed to deal with the problems of buildings.
However, it warns of a lack of budget for training staff to ensure they are able to do this, saying that while there are courses available, the fees vastly outweigh study-leave budgets.
The committee's inquiry was announced amid concerns about infection control at the flagship new Queen Elizabeth University Hospital in Glasgow, where patients have been infected with a fungus linked to pigeon faeces.
A 10-year-old boy and 73-year-old woman who had contracted cryptococcus later died.
A Healthcare Environment Scotland inspection revealed areas of concern including a maintenance backlog and cleaning deficiencies.
Speaking when the inspection report was published, Lewis Morrison, chair of the BMA in Scotland, said that it was 'unacceptable' that some parts of the site were in such poor repair that they could not be cleaned.
'A further theme that comes through is shortages of staff – including infection control doctors, who play a crucial role with the assessment and mitigation of infection risks presented by the built environment,' Dr Morrison added.
'Without the right staff in place, it is hard to see how real improvements can be made.
'Equally, there would also appear to be issues with senior management acting on concerns of the clinical staff who are in place – for example in estates meetings.
'The board must act urgently, as they have set out in their action plan in response to the report, to deal with these critical issues and make improvements across the board.'
NHS Greater Glasgow and Clyde, the health board responsible for the hospital, said work was under way to address the issues raised in the report, and that infection control and prevention was a top priority.