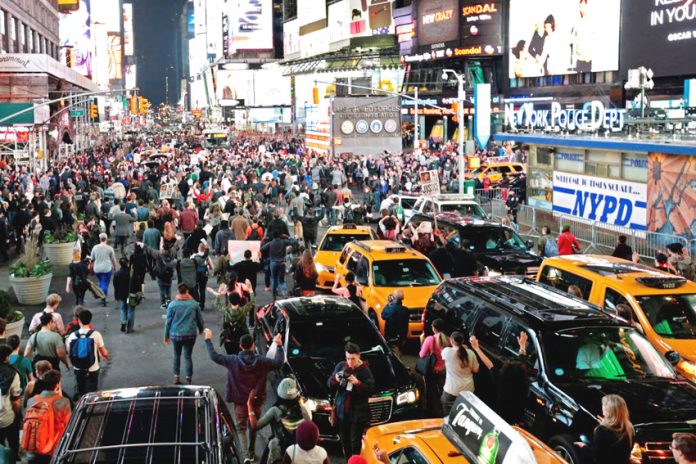 DEMONSTRATORS have called for the US unions to take strike action, in united action with the mass uprisings against the police which have spread to every corner of the US.
On August 9, 2014, in Ferguson, Missouri, a suburb of St. Louis, Michael Brown, an 18-year-old black teenager was shot dead by Darren Wilson, a white Ferguson police officer.
Since the Missouri grand jury's decision not to indict the officer who shot Michael Brown dead, the US has erupted.
'What needs to change is, one, we need as many more people to be involved as possible,' one protester said. We need trade unions to start work stoppages.
'We need community groups to take to the streets and say, "We will no longer have occupations in our neighbourhoods by the police."
'I live in Flatbush. There's an increase of police that's happening. Our communities are occupied right now. We need to say that this can't go on.'
The New York City Police Department arrested several more people participating in a nationwide walkout in solidarity with Ferguson, Missouri. Protesters were in Union Square on Monday before they marched up to Times Square. They were greeted with a large police presence when they arrived in Times Square.
Protesters chanted: 'Hands up, don't shoot,' something that many believe Michael Brown said before he was shot dead by Darren Wilson.
• US unions including teachers unions are boycotting Coca-Cola for its 'violation of human rights' and 'exploitation of children' in South America.
Many labour organisations, including the New York State United Teachers, have agreed not to serve or sell Coca-Cola products because of Coca-Cola's complicity in violence against its workers, especially in Latin America.
Coca-Cola deliberately circumvents its own 'code of conduct' by hiring workers through subcontracting rather than hiring permanent employees.
Between 1990 and 2012, nine union leaders of the National Union of Food Industry Workers (SINALTRAINAL), the union representing Coca-Cola bottling plant workers in Colombia, and their family members have been murdered.
SINALTRAINAL President Javier Correa, and Vice President Juan Carlos Galvis, have escaped assassination attempts, and they, along with local SINALTRAINAL President William Mendoza, continue to face constant death threats.
Despite El Salvador's minimum working age of 18 for dangerous occupations, children as young as 8 in El Salvador wield machetes to harvest sugar cane for Coca-Cola's sugar processor.
Three general secretaries of the union representing Coca-Cola workers in Guatemala City and five workers were killed, and four more workers were kidnapped.
Guatemalan trade unionist José Armando Palacios survived an assassination attempt and has been granted asylum in the United States after Palacios' counsel presented, at the negotiation process for his asylum, a letter from Coca-Cola acknowledging that if he were to return to Guatemala the safety of Palacios and his family would be threatened.
The American Federation of Teachers (AFT) has passed the following resolution.
'The AFT has a proud history of involvement in the worldwide trade union movement . . . and has lent support and solidarity to unions all over the globe, from those fighting apartheid in South Africa to those struggling against Pinochet's dictatorship in Chile, to those emerging from the ruins of the former Soviet Union.
'The AFT resolves that the American Federation of Teachers refrain from serving or selling Coca-Cola products at its offices and to the extent possible, at any venue for its events, meetings, conferences and conventions.
'That the AFT recommend to all its affiliates that they not serve or sell Coca-Cola products at their offices and to the extent possible, at venues for their events.
'That the AFT share this information with affiliates and encourage them to participate in campaigns to remove Coca-Cola products from their schools, colleges, hospitals and other places in which they work.
'That the AFT call on Coca-Cola to cease circumventing its own code of conduct by hiring workers through subcontracting rather than hiring permanent employees. That the AFT communicate this resolution to Coca-Cola."
• For American companies 'Tis The Season To Be Greedy'.
America's largest companies Pay their CEOs more than they pay in taxes.
America's largest companies are using a wide variety of loopholes to bring their collective tax bills into negative digits. Following are the 10 highest-paid CEOs of 2013.
Anthony Petrello, Nabors Industries, $68.2 million.
Leslie Moonves, CBS, $65.6 million.
Richard Adkerson, Freeport-McMoRan Copper & Gold, $55.3 million.
Stephen Kaufer, TripAdvisor, $39 million.
Philippe Dauman, Viacom, $37.2 million.
Leonard Schleifer, Regeneron Pharmaceuticals, $36.3 million.
Robert Iger, Walt Disney, $34.3 million.
David Zaslav, Discovery Communications, $33.3 million.
Jeffrey Bewkes, Time Warner, $32.5 million.
Brian Roberts, Comcast, $31.4 million.
Out of 30 of the largest companies in the United States last year, nearly a quarter paid more to their chief executive than they did in federal taxes, according to new research.
That proportion appears to hold true for a larger sample of US companies, as well. Of the country's 100 top-paid CEOs last year, 29 received more in compensation than their companies paid in taxes.
And that trend appears to be strengthening.
'The last two times we looked at these figures, 25 out of the top 100 fell into this category. This time it's gone up to 29,' Sarah Anderson, director of the Global Economy Project at the Institute for Policy Studies said.
She is also the co-author of the new report, titled 'Fleecing Uncle Sam: A growing number of corporations spend more on executive compensation than federal income taxes'.
She added: 'So clearly there isn't a lot being done to crack down on the massive tax loopholes that these very large corporations, in particular, are able to take advantage of. In fact, the problem is getting worse.'
This was the first time that the report, jointly produced by the Institute for Policy Studies and the Centre for Responsive Government and released last week, has included exploration of the compensation and tax-payment practices of the country's 30 largest companies.
Of these, the seven companies that paid their CEOs more than what they paid the US Treasury are among the most well-known names and brands in the world – Boeing Co., Ford Motor Co., Chevron Corp., Citigroup Inc., Verizon Communications Inc., JPMorgan Chase & Co. and General Motors Co.
Further, each of these corporations was extremely profitable in 2013, collectively taking in some $74 billion in profits before taxes, according to estimates in the new report.
Yet these companies were also able to make use of a spectrum of tax breaks that resulted in significant refunds.
Using public information, the researchers were able to estimate that these seven companies got back nearly $2 billion in tax refunds for last year.
That would result in 'an effective tax rate of negative 2.5 per cent,' the report states.