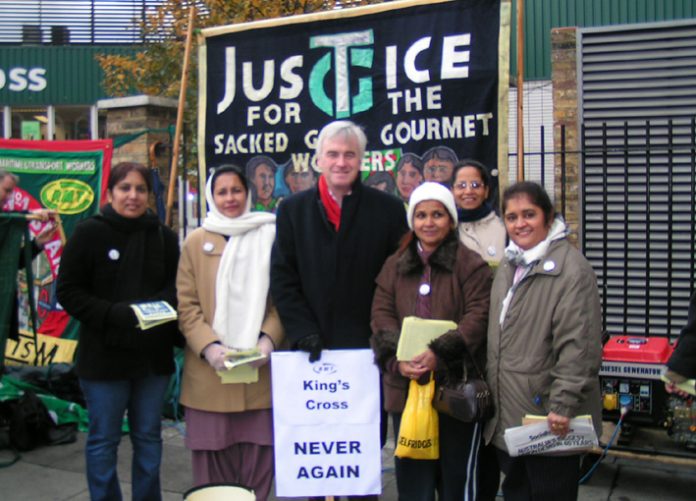 US autoworkers union (UAW) President Ron Gettelfinger and Vice President Richard Shoemaker, who directs the union's General Motors and Delphi departments, yesterday issued a statement on Delphi's decision to postpone its motion to petition for rejection of its collective bargaining agreements and modification of retiree health care benefits.
'We consider today's announcement by Delphi a positive sign.
'But if Delphi CEO Steve Miller is serious about accelerating efforts to reach a mutually acceptable resolution out of court, he must now back up his words with action.
'As we have said before, Delphi's second contract proposal, which would slash hourly wages by nearly 62 per cent, is not a framework for an agreement, but a road map for confrontation.
'If Delphi is serious about restarting discussions, taking that insulting proposal off the table would be a good place to start.
'While today's announcement is welcome, what's really needed to restart discussions is action not just words.'
Meanwhile Local 651 of the UAW has taken its concerns to Capitol Hill in Washington.
Officers from UAW Local 651, representing workers at the Delphi-Energy and Chassis Systems facility in Flint, Michigan travelled to the capital last week to discuss the Delphi situation with lawmakers.
Local President Russ Reynolds, Vice President Art Reyes, Recording Secretary Val Nevels and Shop Chairman Jeff Austin met with Representatives Dale Kildee and Joe Swartz of Michigan, as well as Ted Strickland, Tim Ryan and Sherrod Brown of Ohio.
The local delegates expressed their concerns over the future of American industry and good paying jobs if Delphi succeeds in forcing the deep wage and benefit cuts it's proposing.
UAW Local 651 President Russ Reynolds, (Representing 3000 UAW Members) wrote a 'Straight Talk' Open Letter to the American people and the Congressional leaders.
He wrote: 'I am a proud member of the "United Auto Workers Union of America"!
I've been a member since November 1967. I am proud of my affiliation with my union! I'm writing this article to those sceptic American brothers and sisters that do not believe in unionism or its existence.
There is a myth in America that the autoworkers of our country are over paid and do nothing but gripe and complain all the time to management.
To set the record straight – the wages and benefits that we receive weekly were negotiated honourably and collectively at the bargaining tables between the UAW and the corporation.
Presently our UAW National Agreement is 600+ pages of negotiated language that has been honourably bargained for our union's membership since our beginning as a union in 1937 – 68 years ago.
Many Americans believe we in the union are overpaid and do nothing to earn our wages and benefits!
Well – I disagree with these statements. The facts are in 1948, since COLA (Cost of Living Allowance) was established today's wages are based on a wage amount (per hour) negotiated by the corporation and the International Union, COLA is added to the base wage in (4) quarterly instalments yearly.
At the end of a negotiated contract (3 or 4 years respectively) the amount of COLA received in the previous contract is rolled into the base wages to keep in step with inflation rates – the economy!
For the record a production worker (light classification) makes as of 9-19-05, $25.89. an hour.
If you take away from this wage the COLA accumulated from 1948 to today ($15.71) our negotiated wage less that COLA is $10.18!
Some are led to believe that UAW members are allowed to do nothing for their paycheck, which is another false myth. The company, at times makes the decision to place workers in a "job bank" status and pay them to do nothing instead of electing to bring new work to the North American operations to fully utilise their employees!
Work ethics within the auto industry are both established and enforced by management. Safe work habits are established and enforced by management and the union.
Most facilities are not air conditioned as some people may believe, 100+ degrees in the summer is more the norm than not. Many of the same plants suffer from poor insulation and little or no heat in the winter. Life inside the walls of a manufacturing plant is not the rosy and easy life that many on the outside seem to believe.
The men and women who work in today's industrial atmosphere are still susceptible to work conditions that could cause injury or loss of life in the performance of their jobs. I believe the "Boo Birds" on the outside of industry have no right to criticise what we have honourably negotiated over the years for our membership across America!
"Until you have walked, worked and sweated in our shoes you have no right to criticise us!"
In my 38 years as a union member I cannot remember any time that our union broke a contract with the corporation, I cannot say that for the corporation! Over the years, on numerous occasions the corporation has come to the union to adjust or modify the contract to eliminate language or rewrite language for the benefit of the corporation.
Today in America "big business" is coming after concessions in wages, benefits, and health care costs for the active workforce and retirees! Why? My answer is "corporate greed!"
If we all take a look at the trade agreements we have today, all Americans can see why companies like Delphi are crying the blues about North American operations losing millions to billions of dollars annually because of high wages, benefits and stated (per the corporation) legacy costs (retiree's and future retiree pensions).
Let's look at the truth, daily we have to deal with NAFTA, CAFTA, GAPP, and the WTO (World Trade Organisation)!
Within these trades agreements companies and corporations are within their rights to move work (JOBS) out of America, build products outside of our American borders and bring them (foreign goods) back into the United States tariff free for the American consumer to purchase.
What's not contained within these trade agreements is language protecting the rights of American workers, the rights of a good paying job and a secure future to look forward to!
This may be good for corporate America, but it's devastating for working America!
Robert 'Steve' Miller, CEO for Delphi believes in the corporate American image, he was hired to run Delphi Corporation to do one thing and only one thing – belittle the working class within the corporation by filing Chapter 11 bankruptcy and continue the fall of the American middle class.
Steve Miller has a history of fast tracking companies out of existence. The truth – the workers within Delphi are not to blame for what's happening to this company in America!
The truth lies within the corporation itself, with years of mismanagement at the top, egos within the industry larger than anyone can imagine. No loyalty to workers that built these corporations to the stature they possess today.
Worst of all – no loyalty to America! The challenge before us is enormous, but the truth can never be overshadowed by corporate greed.
I call on all Americans, union and non-union alike to stand together in a cause larger than America itself. We must stand together as a nation of workers to stop the exploitation of our America. Our elected government officials in Washington must come to the call of the American people, a call for stability for our nation and our way of life! God bless our America, God bless all her citizens! In Solidarity,
Russ Reynolds, President
UAW Local 651'