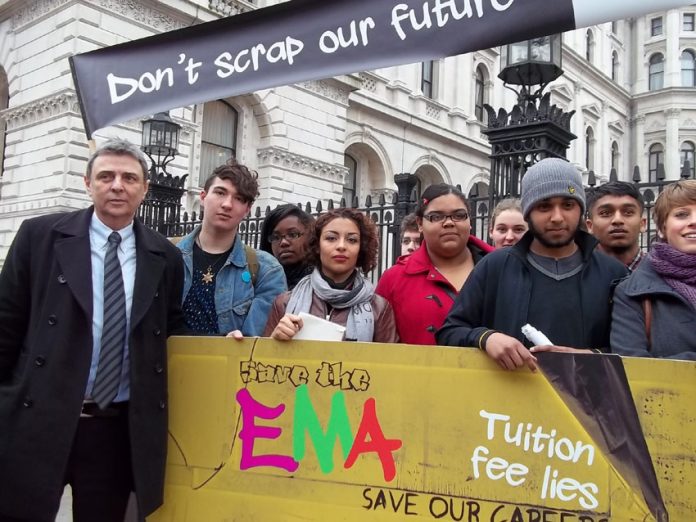 GOVERNMENT education cuts are depriving many young people and adults of the chance to contribute fully to society, Unison has warned.
A new freedom of information survey, sent by Unison to all of the 248 further education colleges in England, has revealed the devastating impact government funding cuts are having on learners and staff, with the situation set only to get worse.
The survey results demonstrate how the cuts are limiting access to further education, through course closures, reductions in admissions and job cuts.
More than 60 per cent of respondents said they had closed courses that ranged from aerospace engineering and construction, through to a-levels and part-time adult learning.
Colleges gave funding cuts and changes to funding eligibility rules as the main reasons for cutting courses.
In addition, despite record youth unemployment figures, the survey also reveals a drop in enrolment figures for this academic year – with nearly 70 per cent of respondents reporting a fall.
This was blamed primarily on the loss of the education maintenance allowance (EMA).
Jon Richards, Unison national secretary for education & children's services said: 'In these tough times, the need for education and training has never been greater.
'Yet our survey has highlighted the devastating impact government funding cuts are having on our further education college staff and students.
'In the first year of this Tory-led coalition government, we saw nearly 6,000 redundancies in colleges.
'This – teamed with more than 60 per cent of colleges cutting courses, and nearly 70 per cent reporting a fall in admissions in this last academic year – all paints a very grim picture for our further education services.
'These cuts are depriving too many young people of the chance to contribute to and take part in society.
'We know that many employers are looking for the very skills that FE colleges are able to provide.
'If the government does not stop this attack on education services, then we are looking at losing a generation to hopelessness and unemployment.'
A University and College Union (UCU) statement said: 'Over three-fifths of colleges have cut courses and two-thirds reported a reduction in student enrolments, according to a survey released on Thursday.
'Furthermore, nearly 6,000 college staff lost their jobs between 2010 and 2011.
'A survey of 190 colleges shows that 5,737 posts were lost from the further education sector in the 2010-11 academic year.
'The figures, obtained by Unison under the Freedom of Information Act, reveal that over three-fifths (61 per cent) of colleges axed courses over the same period, ranging from aerospace engineering to part-time courses for adults looking to retrain.
'The study shows a considerable fall in college attendances with two-thirds of institutions (67 per cent) reporting a drop in enrolments in the last academic year (2011-12).
'Colleges cite the abolition of the student grant, the education maintenance allowance (EMA), as the main reason for the drop.'
The UCU warned that further job losses and course closures were likely following the introduction of further education loans for older learners.
It added: 'According to the government's own impact assessment of the controversial policy to make students take out loans to fund their tuition, ministers expect a 45 per cent drop in the number of over-24-year-olds studying at college.'
Key findings from the survey:
• 5,737 posts were lost from further education in 2010-11
• 61 per cent of colleges reported closing courses in 2010-11
• 67 per cent of colleges reported a reduction in student enrolments in 2011-12.
UCU general secretary, Sally Hunt, said: 'If this trend of cutting continues quality will inevitably suffer.
'The further education sector simply cannot continue to be asked to do more for less.
'Investment in our colleges is essential if we are to kick-start growth in the economy.
'At a time when other countries are investing in producing more highly-skilled workers we cannot afford a repeat of these large-scale course closures and redundancies.
'We are losing the very people we need to up-skill our workforce and train the next generation.
'We fear the situation could get worse with the introduction of loans for older learners and the government must ensure that participation does not fall any further.
'We simply cannot afford to be sacking staff and slashing opportunities.'
Labour's shadow minister for further education, Gordon Marsden, said: 'This survey provides detailed evidence of just how the Tory-led government's cuts in further education funding are blighting the life-chances of hundreds of thousands of young and adult learners.
'They are being prevented from getting new skills and jobs to kick-start our economy, and with the government now scrapping direct financial support for many adult learners in favour of a debt-producing loans system, many of them could drop out.
'That would make life for colleges and those who work in them even tougher.'
• THE primary school population of England is set to rise by 18 per cent in the next eight years, experts are predicting.
And by 2015, numbers are expected to grow by eight per cent, according to statistics from the Department for Education.
Secondary school numbers have been falling and will continue to do so until 2015, when the surge in primary pupils will start to feed through, it is estimated.
Labour says the figures confirm there is a crisis in school places, but Schools Minister Lord Hill has accused Labour of ignoring warnings about population growth when in power.
Responding to the projections for future pupil numbers, Martin Johnson, deputy general secretary of the Association of Teachers and Lecturers (ATL), said: 'School staff will treat this political point scoring with contempt.
'Both they, and we, want to know why the government is wasting money funding free schools in places where there aren't any shortages at all.
'Why a third of free schools are being set up in areas with no severe shortages of places?
'Why nearly half of free schools getting the go-ahead are secondaries when the crisis is in primary?
'And lastly, why free schools are being offered as the only option in communities which do not want one, but want a new good local state-funded school for the whole community?'