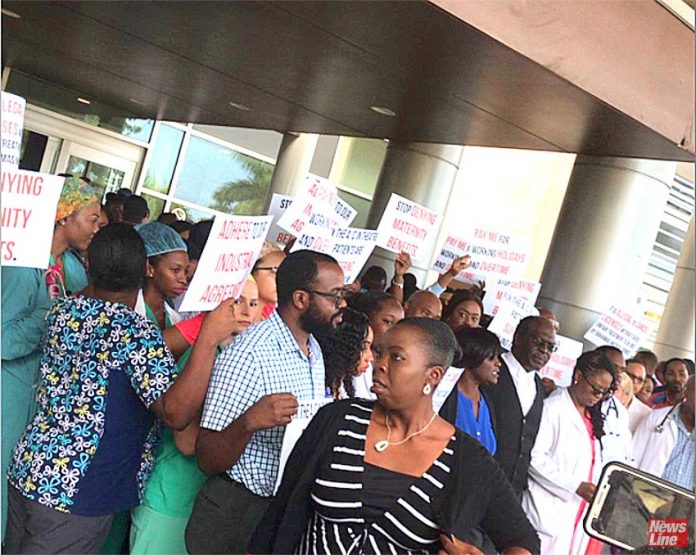 BAHAMAS Nurses Union President (BNU) Amancha Williams said on Monday that the Public Hospitals Authority (PHA) and the government have pushed frustrated nurses to the brink of industrial action.
In a letter addressed to staff, dated March 27, the PHA advised that due to 'extenuating circumstances, overtime payments due for the month of February 2019 to Princess Margaret Hospital staff were unable to be paid as part of our regular payroll cycle'.
It continued: 'We are currently working on processing these overtime payments and anticipate that these will be available by manual voucher by April 5, 2019.
'We apologise for any inconvenience caused as a result and will keep you informed of any changes in the information provided above.'
The letter was signed by Deputy Managing Director Lyrone Burrows.
Williams responded that the union feels compelled to take action to demonstrate how serious it is.
'Do you work (at) Wendy's overtime and not be paid? No. Do you work the gas station and not get paid? No … Why are we doing it in the hospital?
'Then what you are saying to your nurses is they don't really need you, so the nurse is going to go out and work somewhere else and realise her employer respects her and she is going to quit PMH and you're going to have more nurses leave … 30 plus another 30.'
She said when nurses sacrifice and work 16 hours in a high-pressure environment that requires professionalism and excellence, they expect the same of their employer.
The BNU president said what nurses have received instead is a 'level of disrespect that is disappointing'.
'You have some islands with the nurses working 24/7, around the clock,' she said.
'You come to their door at 2:00am and they have to serve you; plus you have to go back in the clinic at 9:00am to open to serve the public.'
She continued: 'The type of messages I am getting … from the nurses are they are tired.
'We are saying to them, why are you trying to drive us to that? You don't have staff now, so imagine what happens if we strike. This country will be in a serious state. At the end of the day, why not do things the right way?
'You are adding more stress and causing the morale of the workers to go down. People are getting fed up the management.'
Williams thanked the public for their continued support and said the fight of the nurses is not intended to disadvantage them, but to bring about fairness for hard-working professionals.
Last year, Health Minister Dr Duane Sands acknowledged a critical shortage of nurses in public healthcare, saying more than 600 were needed to fill the gaps, but instead of launching a training and recruitment campaign, he called for nurses to be put onto a more exploitative shift pattern.
Since then 30 Bahamian nurses left Princess Margaret Hospital (PMH) in a span of two months, Amancha Williams reported.
The BNU president demanded that her members and other health workers must be paid their outstanding overtime.
She said: 'The overtime occurred in the month of February and it is not just the nurses. It is the porters, maids, X-ray department, the ECG department. It is everybody who works in PMH, not just the nurses.
'I am the president that is speaking up for the nurses.
'There are other unions and they've already told their members not to work the overtime if the government is not going to pay them.
'So, let the hospital remain dirty, nobody to sweep it, nobody to mop it, nobody to clean up the bathrooms … let the hospital remain dirty.
'No X-rays will be done if you don't pay the people. No blood works will be done and definitely no nurse will be working overtime if it's not paid.'
She said 30 nurses left the public healthcare system in December 2018 and January 2019.
Williams said: 'Not foreign nurses, it was Bahamian nurses who left. Doesn't that speak volumes? Obviously, you have incurred a shortage.
'Shift change will not make a difference if you have a manpower shortage. You will incur overtime so you can't tell the individual you can't pay them.
'The employer must be able to treat the employees reasonably, respectably in order to keep the function of an institution. Duane Sands isn't making no sense. You ain't got no money? What you mean you ain't got no money?
'This government promised it was going to be better for the past two years. For the nurses, we've been catching hell. Qualified nurses … you don't appreciate us. We are spending 16 hours in your institution. You are begging us to stay because (you don't) have nobody.
'At the end of the day I really don't want to talk about the strike because if we strike … could you imagine? We have a shortage now, who you think gone hold up your fort. Wouldn't we be putting our country in a serious state?
'(A strike) would not be in the interest of the Bahamian people so why are you pushing these people to a level that you don't want them to get.'
BNU and the government have been at an impasse regarding overtime pay and a new shift system the Public Hospitals Authority wants to implement.
Williams said PHA is still offering an unsatisfactory rate of $1.75, but the union wants at least $3.00.
She said: 'At this point we are at an impasse. We're now at a state where we're trying to retain and recruit our nurses and we have a shortage which is causing the hospital, specifically Princess Margaret Hospital, to run at a deficit.
'We have had issues such as overtime not being or said to be not going to be paid, which causes an imbalance in the healthcare system.
'We realise that we want to keep our Bahamian nurses in the Bahamas, not to go to Canada, or to the US, so we have a challenge and so this challenge is to be said because there is no money.
She continued: 'The question is to our government if you're going to bring in foreign nurses, if you're going to recruit workers, where are you going to find the money if you can't pay overtime?
'We are asking the government if the nurses in the Commonwealth of the Bahamas are facilitating your shortage by giving their day off to ensure that the hospital is providing quality care, then at the end of the day pay the nurses. Overtime is to be paid in a timely fashion.
'The government still wants to pay $1.75 for a shift change. We can't agree to that. You have to be competitive. When you come to a bargaining table you can't stay at $1.75. We must see that you have some interest in the worker and move to at least $3.00.
'But when you're staying to $1.75 and a dollar it don't make no sense to come to the bargaining table. We're not going to accept that,' she further explained as a key reason for the deadlock.
'Like I said we have a strike certificate and we will move forward. When they take an action, we will move forward. We have a strike certificate in hand. We received it December 2018 and we will move forward.
'And we also want the public to join with us. This is our country.
'When we have Accident and Emergency not functioning the way it's supposed to be functioning, when we have children's ward not functioning, when we have no bed space, we want the public to look at the whole of the hospital running.
'This year we've had tuberculosis. We've had measles. We've had a whole lot of diseases here in the Bahamas.
'Come on Bahamas, if there is no nurse, who is going to manage these disease processes? The first person in line is the nurse.'