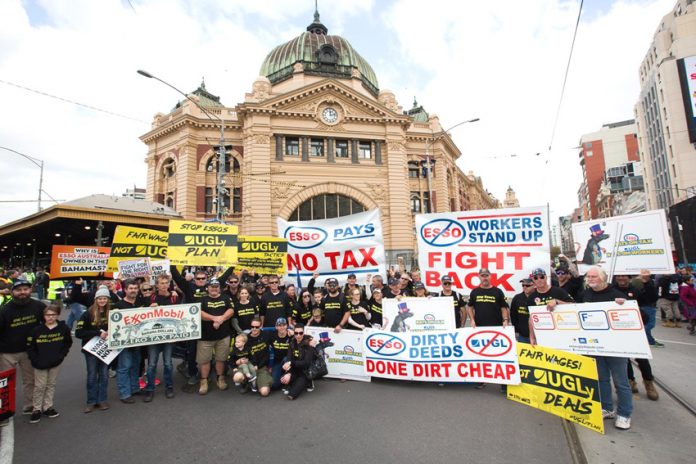 MORE THAN 500 Australian trade unionists marked the first anniversary of strike action by 230 workers employed by energy giant Exxon Mobil's maintenance contractor – Esso Australia Pty Ltd (Esso) – outside the Longford gas plant in Victoria last Thursday.
Three unions represent the sacked workers at the plant and offshore oil and gas platform – Australian Manufacturing Workers Union (AMWU), Australian Workers' Union (AWU) and Electrical Trades Union of Australia (ETU).
Bus loads of supporters from Geelong, Melbourne and interstate boosted the numbers of protesters and their supporters at the rally to mark one year since Esso's contractor UGL sacked 230 maintenance workers after they refused 30 to 40 per cent pay cuts and a new roster. Some of the sacked workers have worked on Esso's platforms for more than 40 years.
Their dispute, which includes a round-the-clock picket of Esso's gas plant, is now more than 365 days old, making it the longest industrial dispute in Australia for the past four decades.
The rally first assembled outside the gas plant for a lunch and heard the Victorian Trade Union Choir sing.
Then, because the Victorian Supreme Court has banned trade unionists using microphones and speakers near the gas plant, the demonstrators proceeded 500 metres back toward Longford.
From the back of a truck, AWU secretary Ben Davis told the rally: 'Two hundred and thirty maintenance workers had to go on strike for a year just to keep the conditions they already had.
'Not to get a pay rise, not to get improvements, but to keep what they have spent 30 years building and bargaining for.
'That is a national disgrace. If ever you needed evidence the rules are broken, there it is.
'How can a federal government in good conscience allow the seventh richest company in the world to pay less tax than I paid on my coffee this morning, and allow 230 workers to stay out on the grass for 12 months?
'Two months into this dispute the Supreme Court, in its wisdom, told us we had to get rid of Scabby the Rat. 'Our inflatable toy was somehow so intimidating, that it scared the scabs. 'We got told we couldn't use speakers because we had a few choice messages running on loop. 'So how is it that the Australian industrial laws are so restrictive towards people's right to strike… but at no point do those laws tell Esso and UGL to pay up what they should?' Davis finished by pointing out such a scenario could be played out elsewhere.
ETU state secretary Troy Gray said the protest was the longest picket line in his experience, and had gathered support nationwide. 'There is a message to Exxon. You need to fix it, and fix it today. If there is any company in Australia that can afford these rates of pay, it's Esso. 'They pay virtually no tax and they are one of the world's most profitable companies.'
Australian Council of Trade Unions (ACTU) secretary Sally McManus said: 'When earthquakes happen they don't just come out of the blue, they don't happen without warning, they happen after years and years of pressure and build up and jolts. 'That's how I see this dispute, that's how I see these guys here, because you're not just a tremor – you are a really big jolt. 'I'll tell you what you have achieved.
'You have taken the issue of corporate tax avoidance to another level.
'You have put it on the national agenda, you have taken it to Canberra.
'It's something! At every single place I go to and talk about Exonn-Mobil, everyone boos. 'That would not have happened if were not for your bravery, your courage and your principles and the other thing you have done is you have taken the Change the Rules Campaign to another level.
'Because of your brave steps, it's meant the issues of not being able to negotiate with the real decision-maker – in the end its Exxon who makes the decisions – the issue of the dodgy EBA (Enterprise Bargaining Agreement) is now a national issue.
'It's meant one political party has made commitments to stopping that. 'The fact the independent umpire cannot even intervene is a huge issue, as is the right to strike. 'For one year people in this region have been standing up to a brutal multi-national corporation that has too much power.
'They have endured a year of struggle. 'They've paid a huge price for standing up against injustice. 'But they have stood firm.
'People in this community are a vital part of the movement to change the rules so we can have fair pay and more secure jobs. 'We can and will change the rules so that companies like Esso, UGL and ExxonMobil can no longer cut people's pay, fire people and force people into unfair and insecure work.'
Shadow Assistant Minister for Workplace Relations and Rural and Regional Australia, Lisa Chesters, told the rally the sacked workers were highly skilled people who repaired the scaffolding, the rigging and the cranes, and were the people who made sure that the gas supplies reliably flowed to Victoria and south eastern Australia. 'Labour believes that collective bargaining should not be able to be undermined by sham enterprise agreements, which is exactly what has happened here.
'ExxonMobil and contractor UGL, attempted to rehire 200 workers at a 30 per cent pay cut.
'Because these workers said no, they have now been out of work for 12 months.
'A Bill Shorten Labour government will change the law to end this corporate gaming of the Fair Work Act. 'Malcolm Turnbull and his Liberal government should adopt Labour's proposal and move quickly to introduce this change to the Fair Work Act.'
Chesters pointed out the same tactic – of sacking workers then demanding they re-apply for their jobs at reduced wages under a 'sham' contract – is being applied to cleaners at Parliament House.
'Your fight is their fight,' she said. 'Can you imagine if we put the politicians on six months probation? 'Maybe we wouldn't be in this mess. 'Enough is enough — the laws need to change.'
Among those addressing the crowd was Vanessa Britton, a family member of a sacked Esso-UGL worker who argued that in Australia people should be able to have a say in how long they work for, and for what wages. 'Surely it's our right to be treated with respect?' she said.
'Our boys work hard and safely.
'UGL won the Esso contract on the back of the hard work of my husband Mick and his workmates.
'They have given the company everything, and this is how they're repaid.' Former Labour candidate Darren McCubbin described the loss of income for the sacked workers as a blow to the local community's economy, felt in local car sales and in local sporting clubs.
The Longford dispute is now the longest running dispute since the Wave Hill Walk-Off, which began in 1966 and lasted nine years. The walk-off occurred when Aboriginal stockmen of the Gurindji people walked off the Wave Hill Station near Darwin to campaign for wage justice and protest against the treatment of Aboriginal people. Esso has repeatedly distanced itself from the dispute, saying it was a matter for UGL. UGL has consistently declined to comment.